Ultra-Low Circadian Impact

Our SUPERWARM™ LED bulbs feature a very low color temperature of 1700K. With an M/P ratio of 0.274 that is even lower than candlelight, these bulbs are an excellent option for use during evening hours where light exposure is most likely to affect sleep patterns.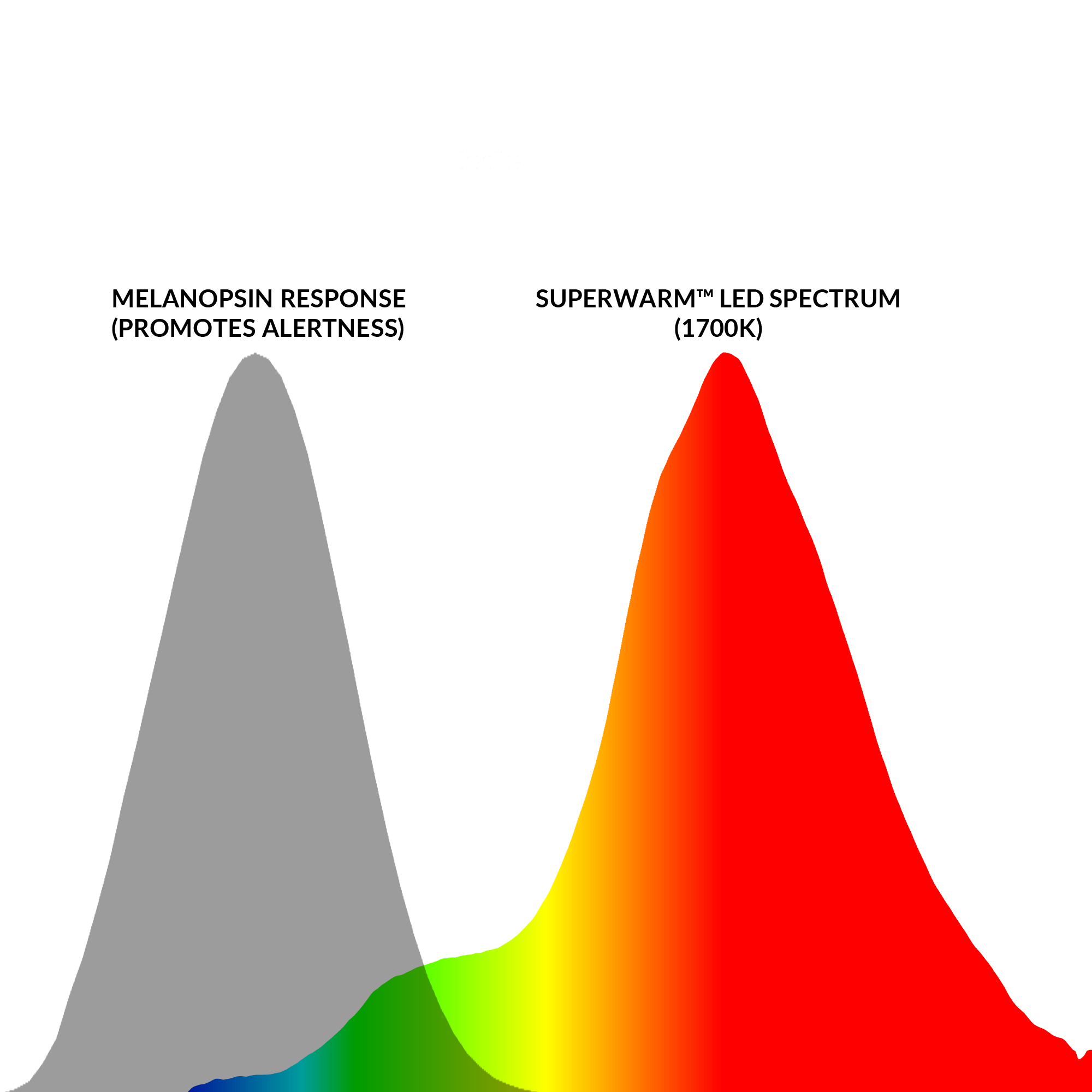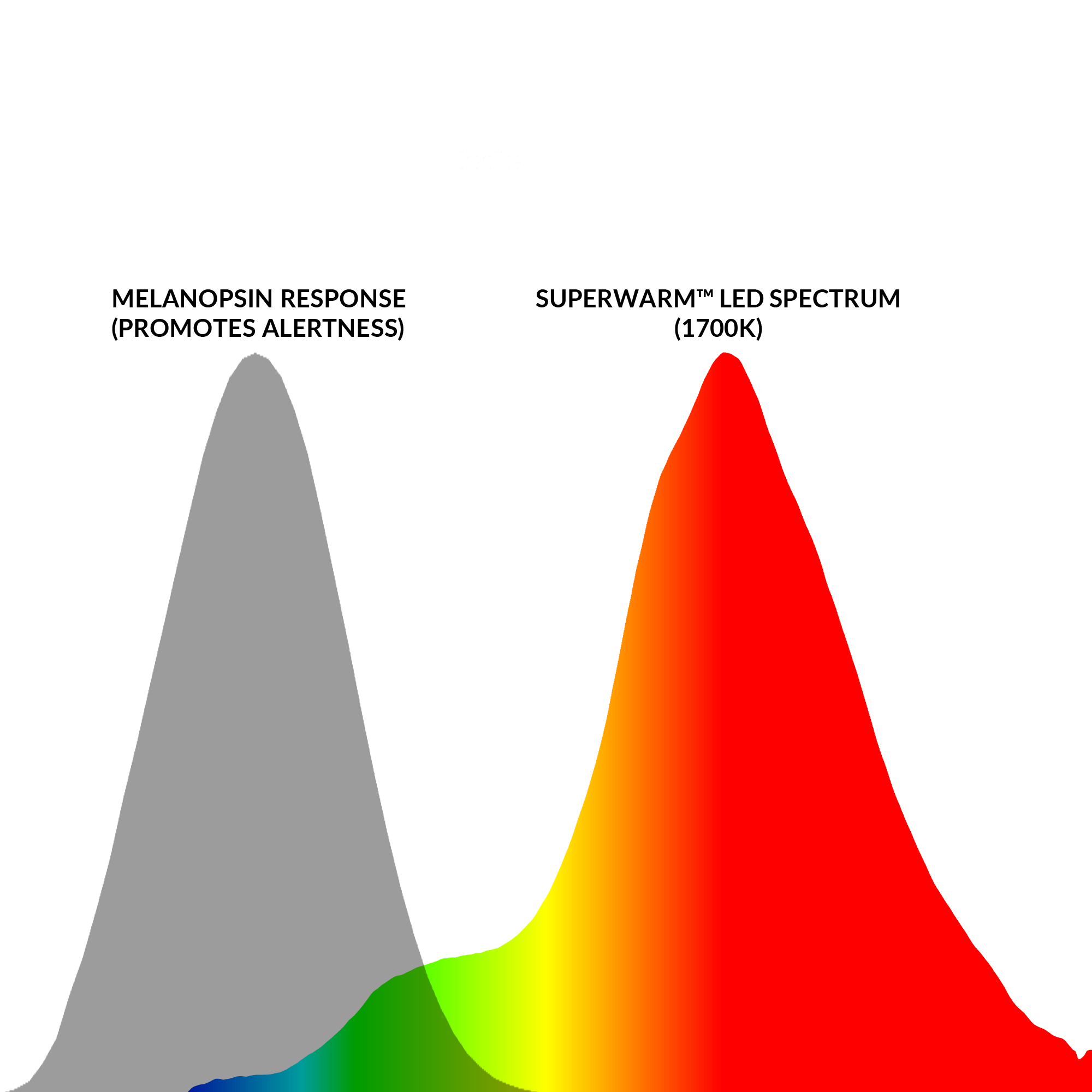 Ultra-Low Circadian Impact

Our SUPERWARM™ LED bulbs feature a very low color temperature of 1700K. With an M/P ratio of 0.274 that is even lower than candlelight, these bulbs are an excellent option for use during evening hours where light exposure is most likely to affect sleep patterns.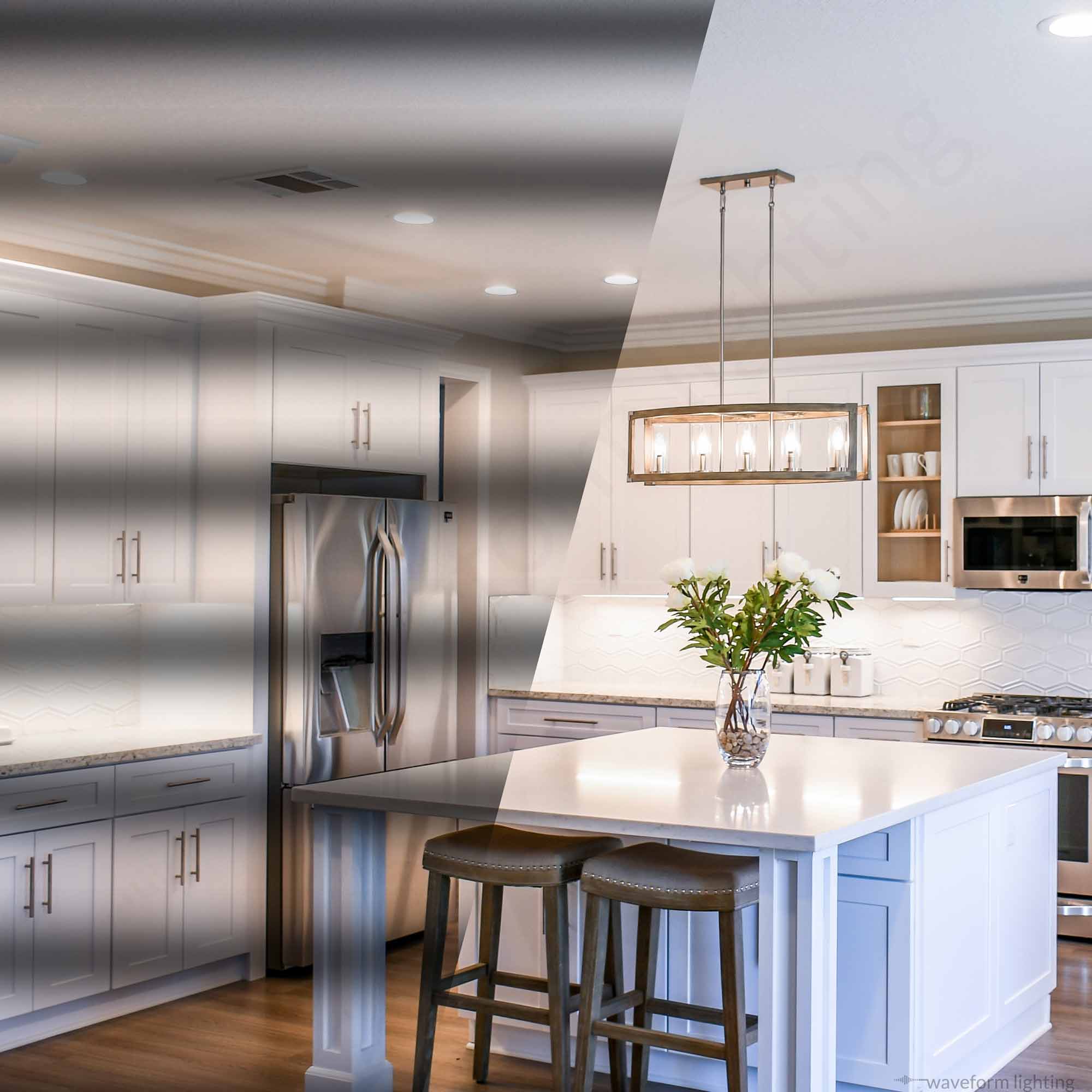 Flicker-Free & Healthy
Some LED lights will produce rapid flicker or pulses that aren't immediately visible to the naked eye, which can cause headaches, nausea and eye strain. Our SUPERWARM™ LED bulbs extend the same flicker-free technology used in our CENTRIC SERIES™ lamps, and include additional electrical circuitry to achieve a truly flicker-free light output that produces a comfortable and stable light level. Learn more about flicker here, or watch our video demonstration below.

Frequently Asked Questions

What is 1700K like?

The 1700K color temperature is a unique color point which exhibits a fiery, red glow. The color is similar to the red glow of a match flame, or an incandescent bulb dimmed down to 5%.

A typical incandescent bulb at full brightness has a color temperature of 2700K, while a candle flame has a color temperature of 1900K. As its name suggests, SUPERWARM™ LED lamps have an extremely warm color temperature!

By lowering the color temperature to such a low level, we are able to reduce the blue light content at a spectral level.

Not sure if you'll like it? Take advantage of our 30 day free-returns policy to try out the different colors. If you don't like it, simply let us know and we'll send over a return label.

How is this different from an amber or red LED bulb?

Bulbs marketed as "amber" and "red" will almost always use a monochromatic LED, which emits light in a very narrow bandwidth that only contains amber or red wavelengths. As a result, all objects will appear amber or red, with no ability to distinguish objects' colors. In fact, most monochromatic LED sources have a CRI rating near 0.

Our SUPERWARM™ bulbs, on the other hand, utilize a multi-phosphor broad spectrum approach. Although the color may appear to be a deep orange or reddish color, the spectrum still contains a wide range of wavelengths, including yellows, greens and even a tiny amount of cyan and blue wavelengths. As a result, these lamps are able to emit a low-blue light spectrum, without compromising on color accuracy as evidenced by the 83 CRI rating.

How much blue light does this bulb emit?

Our objective in developing the SUPERWARM™ LED spectrum was to limit blue light output as much as possible, while balancing the need for color accuracy. We chose to include a very small amount of blue wavelength energy in order to provide the necessary spectral breadth for color acuity.


The amount of blue light that this bulb contains is miniscule - far less than traditional "circadian safe" light sources such as incandescent bulbs and even candles. The M/P ratio for this bulb is 0.274, compared to 0.5 and 0.3 for incandescent bulbs and candlelight, respectively.

For a truly blue-free light source, we would recommend a monochromatic amber or red LED solution (as mentioned above). The downside, of course, is that you will end up losing the ability to distinguish colors, as all objects will take on a pure amber or red shade.

How many bulbs should I install in my space?

For such a low color temperature bulb, an illuminance level of 0.5 footcandle (5 lux) is generally sufficient. As such, one bulb will cover approximately 130 square feet of space. Simply divide the square footage of your space by 130 to get the number of bulbs needed. For example, a 260 square foot area would be calculated as 260 divided by 130, which equals 2 bulbs.

Are these bulbs dimmable?

Unfortunately, these bulbs are not dimmable. This means that they cannot be used on any electrical circuit which has a dimmer installed, even if you keep the dimmer at the maximum setting at all times.

Do these bulbs emit any UV radiation?

These bulbs do not emit any ultraviolet radiation. The light output covers the entire visible spectrum between 420 nanometers and 800 nanometers, but does not go below (UV-A) or above (infrared).

What kind of lamp fixture can this product be used in?

These A19 bulbs have a standard screw-in base (E26 / E27), which is the same type that has been used for more than a century.

As long as the lamp fixture is designated for an A type or A19 type, these bulbs will be compatible.

Although these lamps have the brightness of 50 watt incandescent lamps, these lamps have an actual power draw of only 10 watts. Therefore, they can safely be used in fixtures that have a max rating of less than 50 watts.

 

What is the voltage range of these lamps? Can they be used overseas?

 

The voltage range of this product is AC 90-240V and 50-60 Hz, which covers all global voltages. As such, they can safely be used internationally without any issues. The internal circuitry adjusts for the input voltage automatically, and does not affect the light output or performance of the lamp.
Warm & Relaxing
I purchased this bulb for my 4 yr old sons room the whole family loves it. It creates such a relaxing mood before bed I'm going to buy a few more for the other bedrooms. It's also nice to turn it on and let the warm glow fill the hallway and loft. These bulbs are a must for any relaxing environment! Just buy it you won't be disappointed.
My go to favorite for late night use (w/ one caveat)
These bulbs truly are great for late night use. Well at first they seem entirely too warm it's all a matter of perspective. When you wake up at 2AM to use the restroom these don't slam your eyes like even 2700k will.
Even late at night before bed these super warm bulbs feel so cozy and once you adjust to them even 2700k looks like daylight.
Excellent at night
These lights are excellent for winding down. I turn these on prior to my nightly shower, turning all other lights off. The lack of blue light does its job perfectly.
i enjoy these lights
being sick of flickering lights and lights that dont last, i took a leap of faith w these. they are really good lights, a very amber color that doesnt trigger headaches for me in the mornings. im going to be buying more from waveform. i hope they last.
works well as a night light
works well as a night light. and if you don't mind your setup being janky, draping some sort of light-colored cloth over the bulb does a good enough job of diffusing the light
To yellow
I love these lights but these I played with the spectrum, my daughter loves them but they are to yellow/orange for me. I went back to my bluer spectrum light and my daughter is happy with these. Helps calm her daughter to get sleepy.
Wonderful nighttime reading light
I bought this light to use as a bedtime reading light since my prior bulb was too bright and blue. The 1700k color temperature is so relaxing and peaceful. I have noticed I am now falling asleep much quicker. I highly recommend!
Great light, already bought 3
After buying the first bulb, I bought 2 more. Why? It really helps you fall asleep, I have this light on an automatic timer (no bluetooth 'smart lights', thank you). The best time to have it turned on is about 2 hours before your actual bedroom and use night lights in the hallways/bathroom so you don't have any blue light hit your eyes. The amber light is really dark orange and it's gentle on the eyes. Highly recommend this it's a must purchase for those serious about their sleep health and melatonin levels
Amazing SUPERWARM 1700K Flicker Free Bulbs
To say these light bulbs have changed my life for the better is an understatement. I have been trying to find a way to eliminate blue light in the evenings for a long time and after trying other bulbs and wearing light blocking glasses, there is no question that these bulbs are the answer. I have put these bulbs in lamps in every room that I find myself in in the evening and just turn them on after sunset. The bulbs are extremely bright and the color is perfect for reading or really doing anything that isn't super color critical. Since I started using these bulbs my sleep quality has improved drastically and I wake up refreshed every day, it's just been an unbelievable change. Highly recommended for evening lights!