Regular price
$149.00 USD
Regular price
Sale price
$149.00 USD
Unit price
per
Sale
Sold out
T8 LED tube light that fits into existing 4-ft fluorescent fixtures
Use with existing fluorescent fixtures or our

 

LED-ready fixtures
Features

 

TriplePlay™ technology

 

- works with both ballast and ballast-bypass fixtures
Available in 4000K, 5000K or 6500K
Completely flicker-free light output (Learn More)
Full spectrum, 95 CRI light quality (Learn More)
18 watt power consumption to replace 32 watt fluorescent lamps
50,000 hour lifetime, backed with a 5-year warranty, ETL listed for safety
Not dimmable
User Manual
Specification Sheet
4000K Photometric Report
5000K Photometric Report
6500K Photometric Report
IES Report
Product Description

Waveform Lighting's CENTRIC DAYLIGHT™ line of T8 LED lamps are an excellent option for improving light quality in indoor spaces. With a 95 CRI rating, these lamps offer full spectrum light quality in daylight calibrated color temperatures that match morning sunshine (4000K), noon sunlight (5000K) or noon daylight (6500K).

These lamps are completely flicker-free, which means the light is clean and smooth. If you are looking for more natural daylight but are limited by geography, season or window placement, these lamps will give you light that is both healthy and energizing.

CENTRIC DAYLIGHT™ T8 LED tube lights conveniently work in virtually all 4-ft fluorescent lamp fixtures, making installation quick and easy. The lamps' built-in TriplePlay™ technology automatically detects and adjusts to the fixture's wiring configuration, so you don't have to worry about electrical compatibility.
Product Specifications

Color Temperature Options:

CRI (Ra): 95+
CRI R9: 80+
Brightness: 1800 lumens
Voltage: 120-240V AC, 50-60 Hz
Power: 18.0 watts
Length: 4-ft (120 cm)
Installation: G13 Medium Bi-Pin
Fixture Compatibility

The CENTRIC DAYLIGHT™ T8 LED tube is designed to directly replace 4-ft T8 fluorescent lamps (F32T8), and can be directly installed into an existing 4-ft fluorescent fixture regardless of its configuration. ReadyWire™ technology ensures that the LED lamp will work with your fixture, with or without the fluorescent ballast, and whether or not it is single or double-ended.

The best way to determine if these lamps will fit and operate in your current fixture is to confirm the specifications of the fluorescent lamp that is currently installed in your fixture.

First, determine the length of the fluorescent lamp that is currently installed. If it is 4-ft (48") in length and has a 1 inch diameter, you have a T8 4-ft fluorescent lamp, which means that our lamp is compatible. You can also look for a model number or designator on the fluorescent tube: if the code F32T8 is printed on the lamp, this is most likely a compatible fluorescent tube specification.

For most customers, we recommend simply swapping out the fluorescent lamp with our T8 LED tube, as this approach provides the easiest method. For further information and instructions on rewiring for ballast bypass, please refer to ourinstall guide / user manual.


Note on Ballast Compatibility: Our T8 lamps are designed to work with almost all T8 fluorescent ballasts. Please see here for a list of ballasts with which we have tested and confirmed compatibility. The T8 LED lamps can also be used without a ballast.

We recommend removing or bypassing T12 fluorescent ballasts for compatibility reasons.

Still unsure what type of fixture to use these lamps in? Check out our LED-ready T-8 LED fixtures here.
Pricing & Ordering Information

This product is available in packs of 4 lamps or 24 lamps.Please see below for part numbers and corresponding specifications.

PN 4024.40.4P: 4000K, 4-pack
PN 4024.50.4P: 5000K, 4-pack
PN 4024.65.4P: 6500K, 4-pack
PN 4024.40.24P: 4000K, 24-pack
PN 4024.50.24P: 5000K, 24-pack
PN 4024.65.24P: 6500K, 24-pack

Unfortunately, we are unable to accommodate requests for single or partial quantities (e.g. 2 lamps) due to pre-designed packaging for the product required to protect the lamps during shipping.
Shipping & Returns

This item is in stock and typically ships within 1-3 business days.Shipping is free within the USA for orders over $50.

If you're not 100% satisfied with the performance, color or quality of your product, we'll work with you to make it right.

Simply contact us within 30 calendar days after delivery and we'll pay for return shipping (USA only) and offer you a full refund.

See our delivery policy,returns & refunds policy and warranty policy.
Share
View full details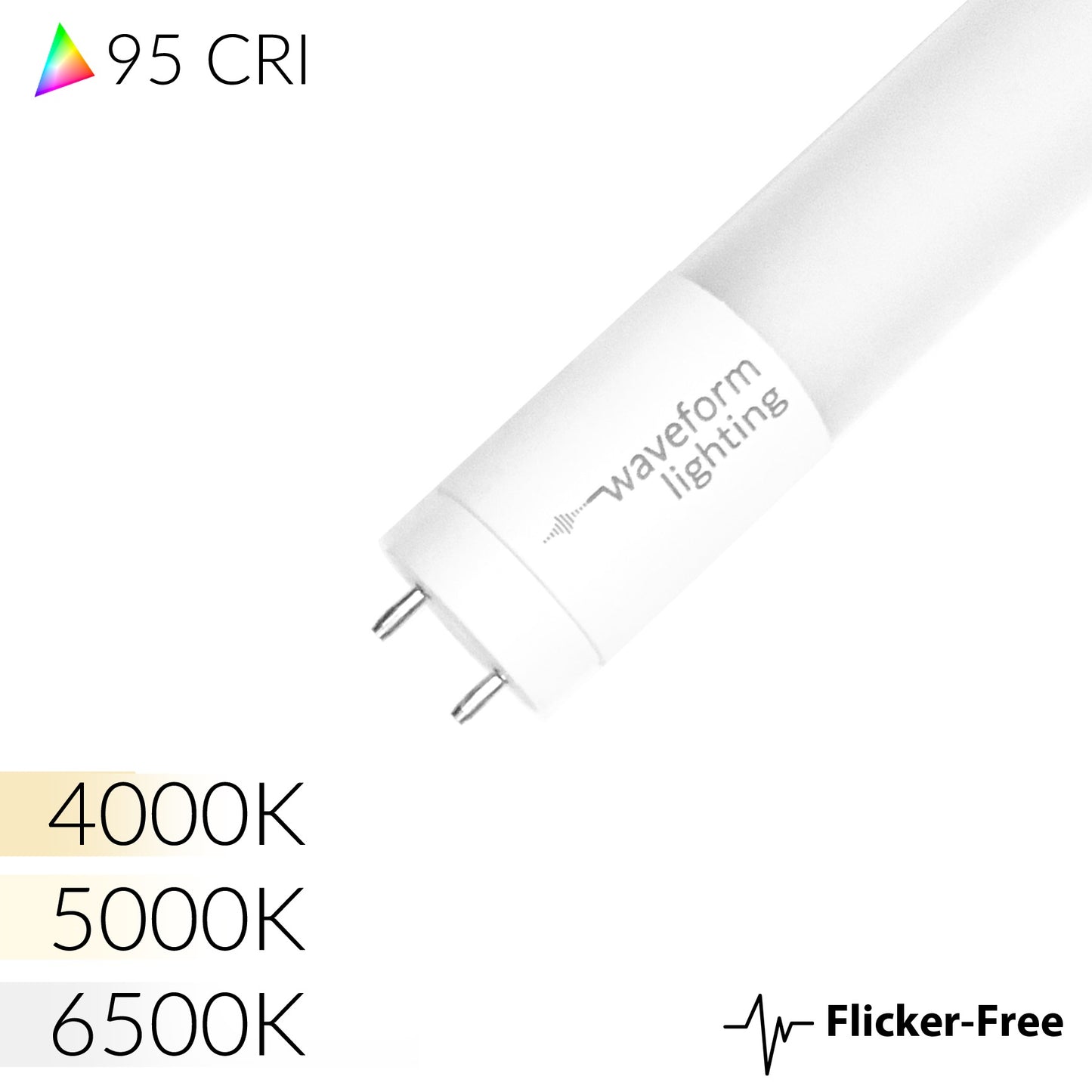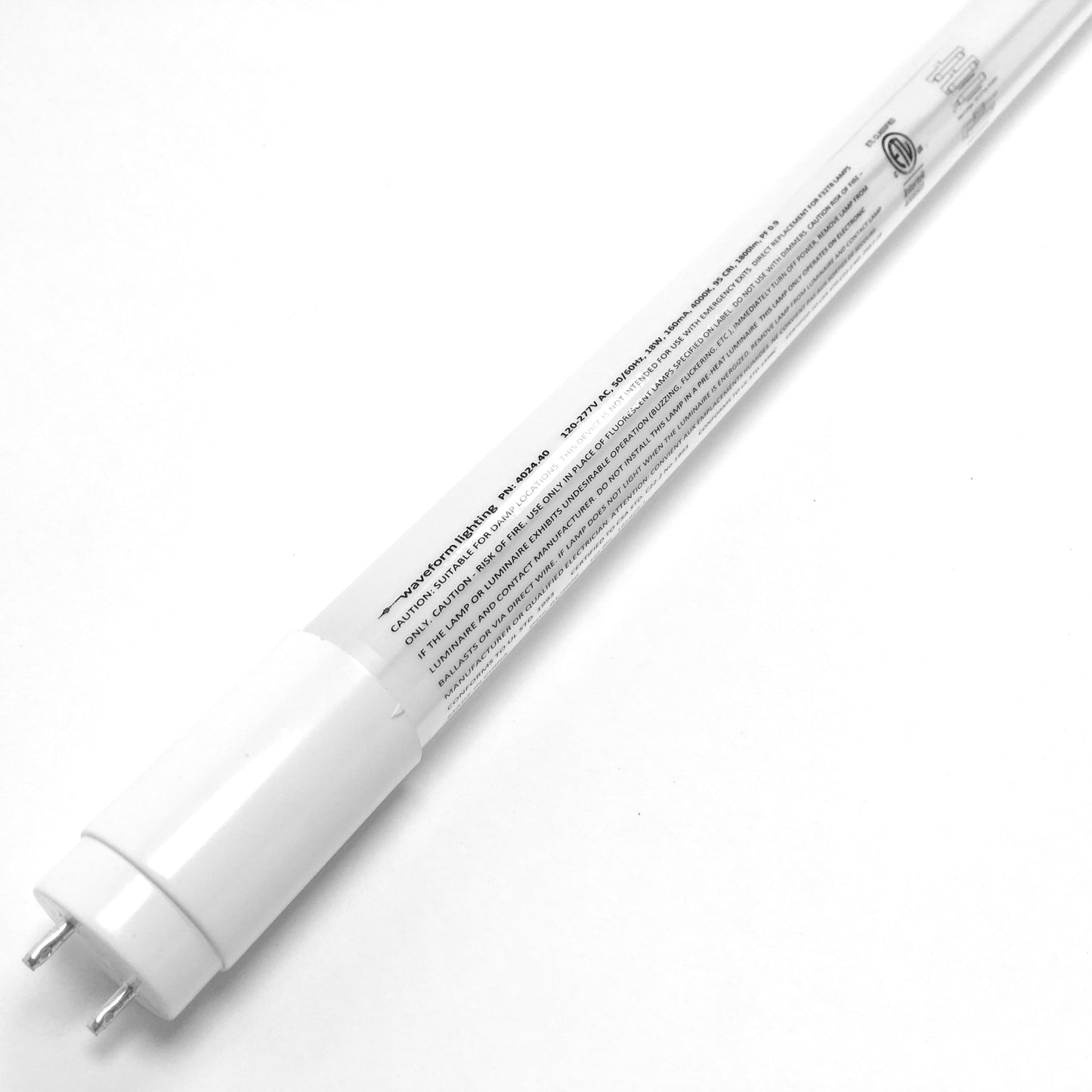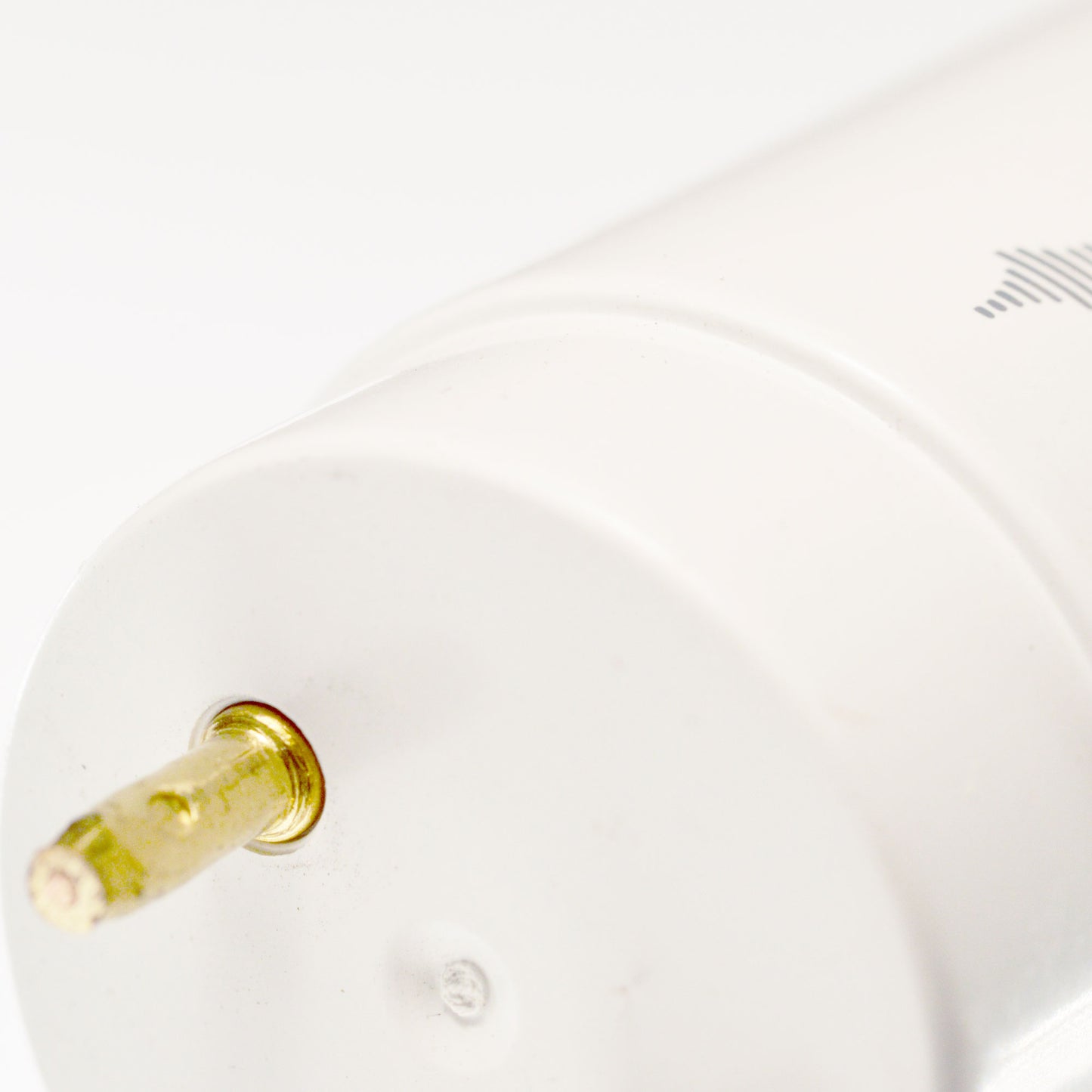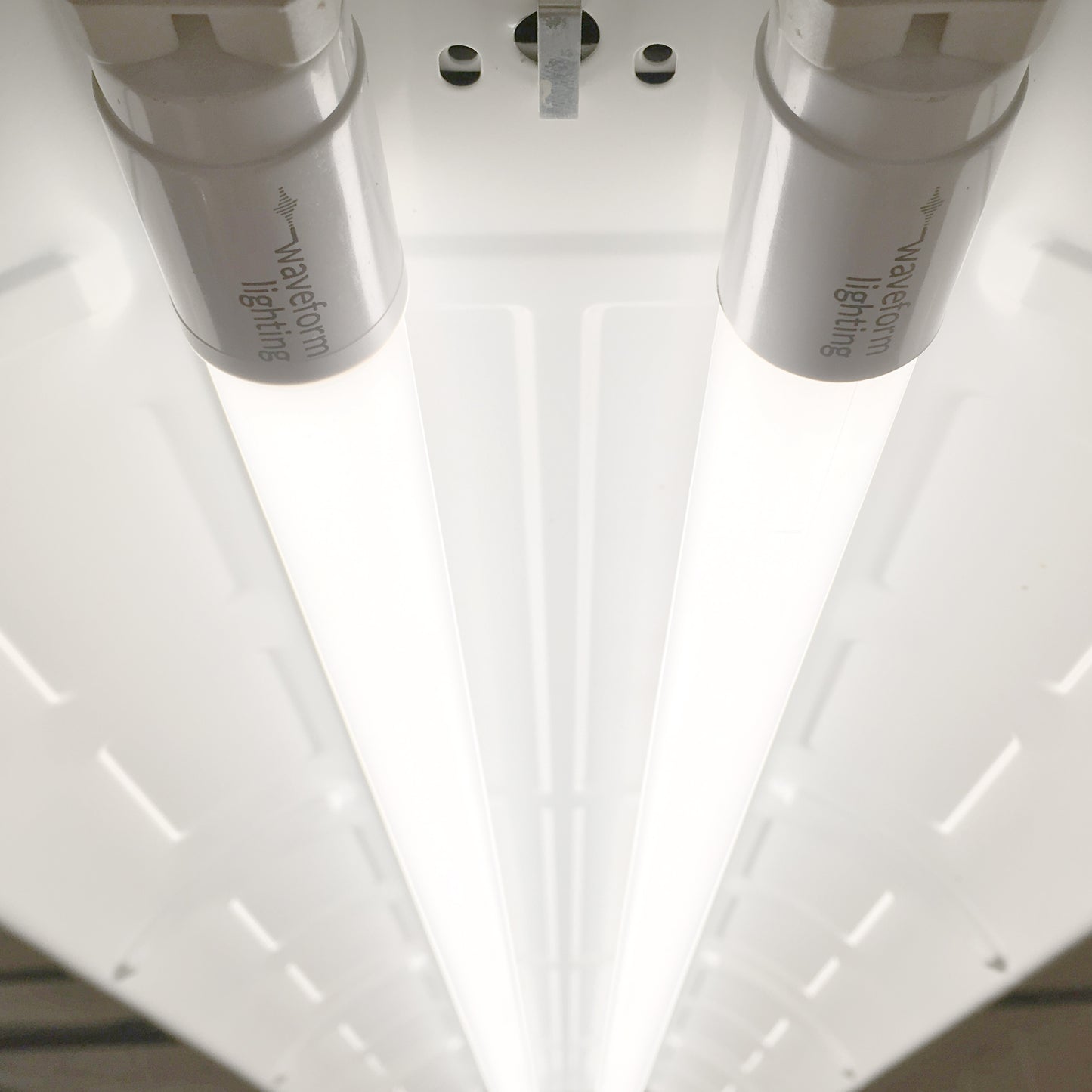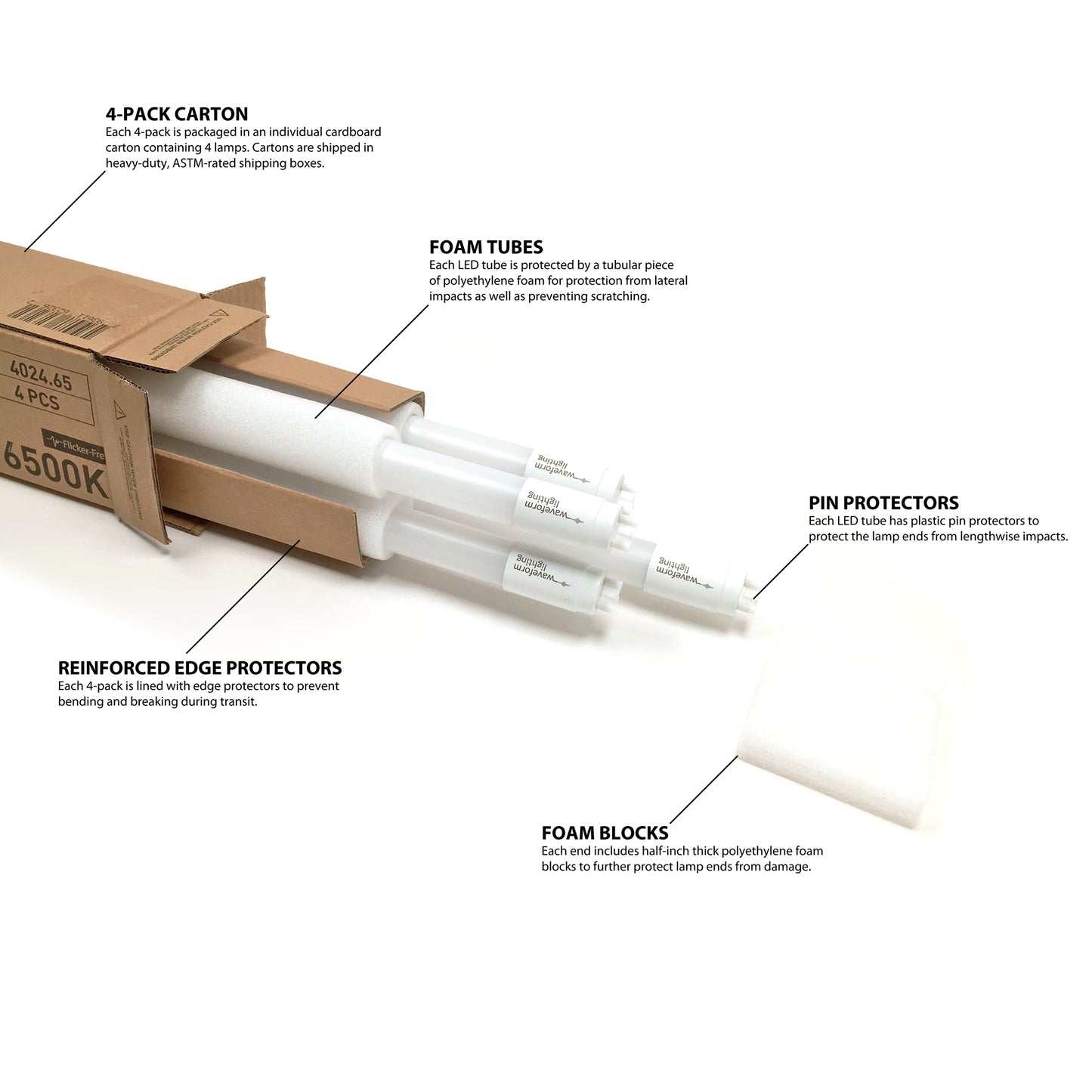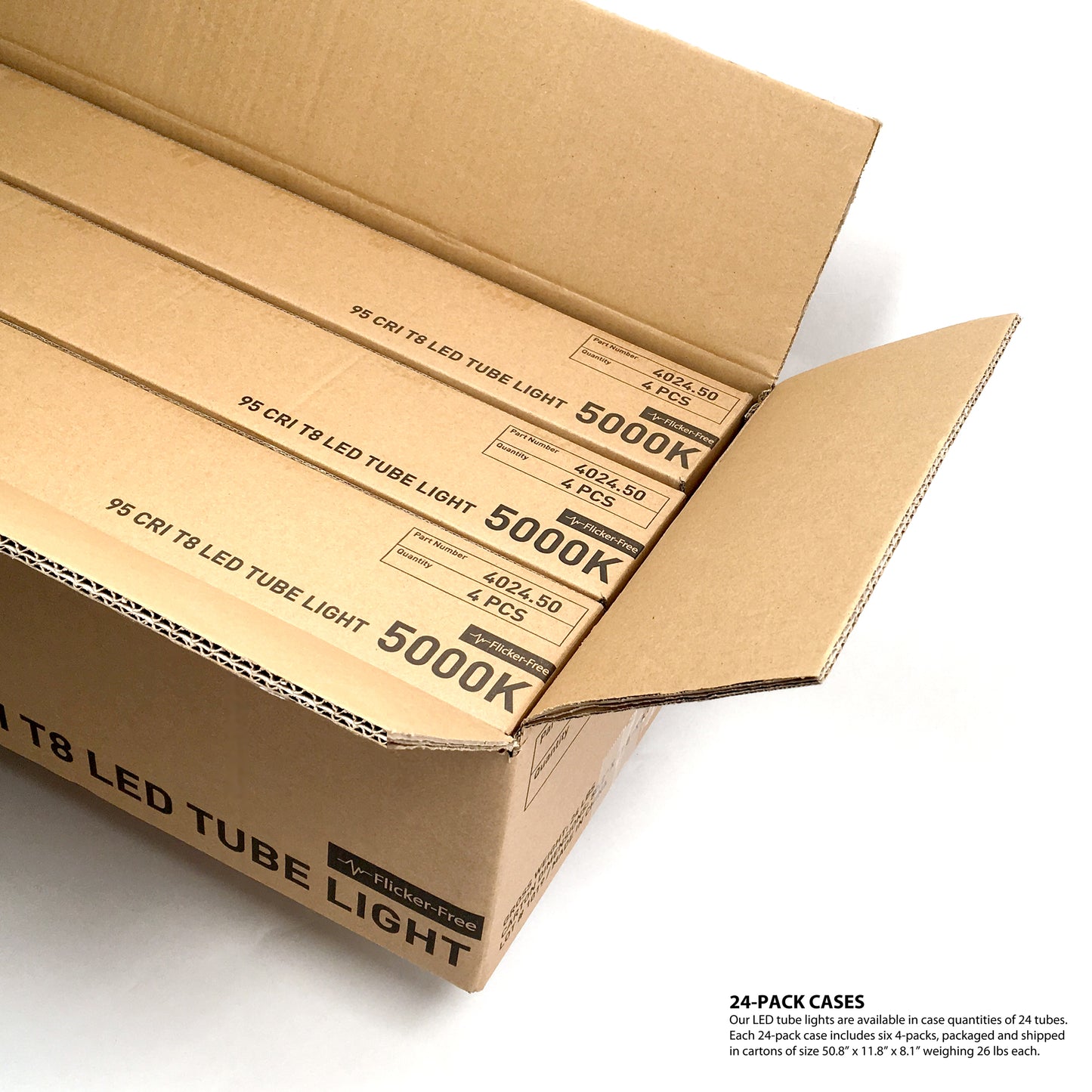 EASY & VERSATILE INSTALLATION
Our T8 LED tube lights feature ReadyWire™ technology. The lamp automatically detects the fixture's electrical connectivity, regardless of ballast and tombstone configuration.
Learn More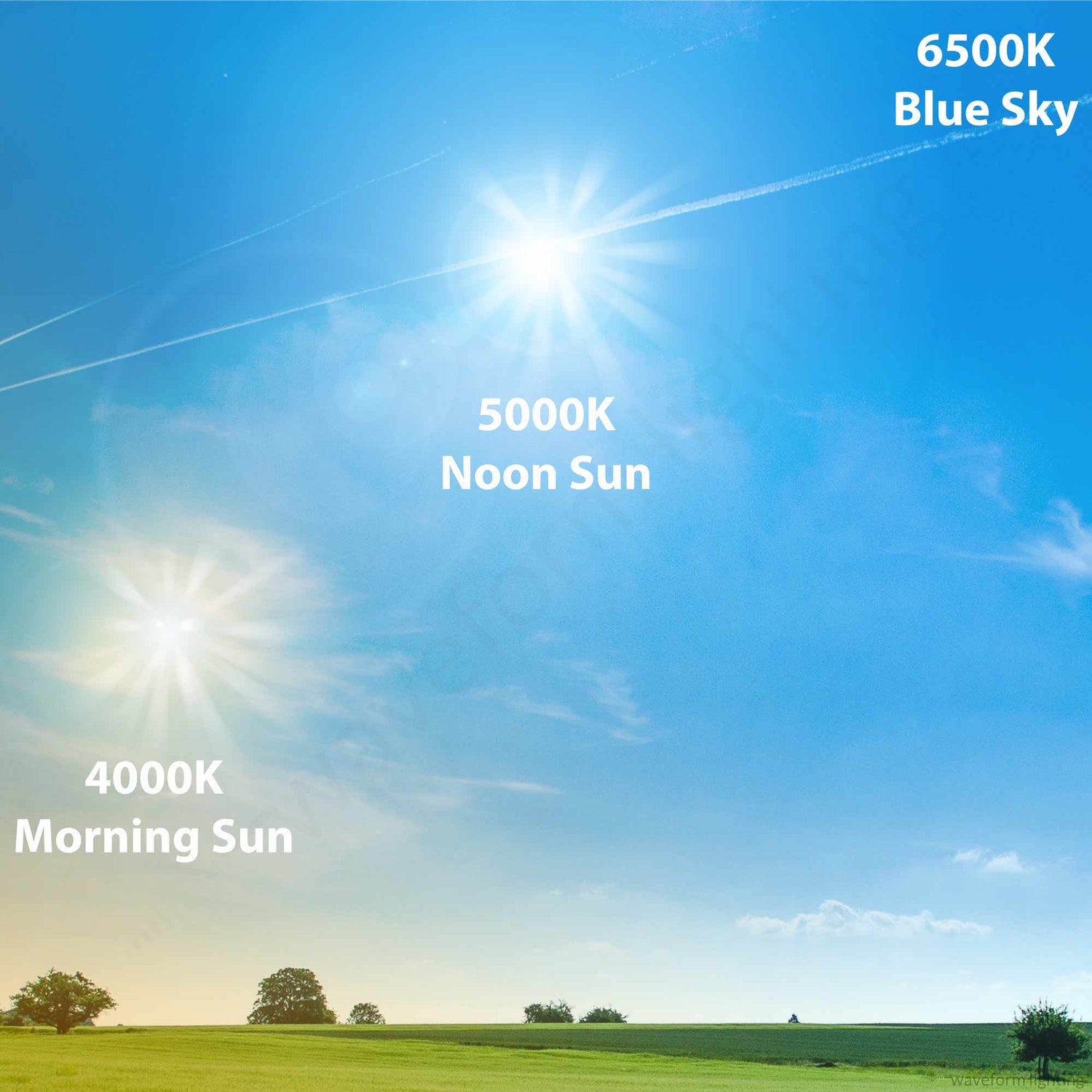 CHOOSE YOUR DAYLIGHT
Our CENTRIC DAYLIGHT™ bulbs are offered in a range of color temperatures. 4000K provides a warmer, softer white that matches the shade of morning sunshine. 5000K has a more balanced, noon sunlight color, while 6500K provides a crisp, high-energy light similar to what you would see from a north-facing window.
All color options provide 95 CRI, full spectrum light that very closely matches natural light.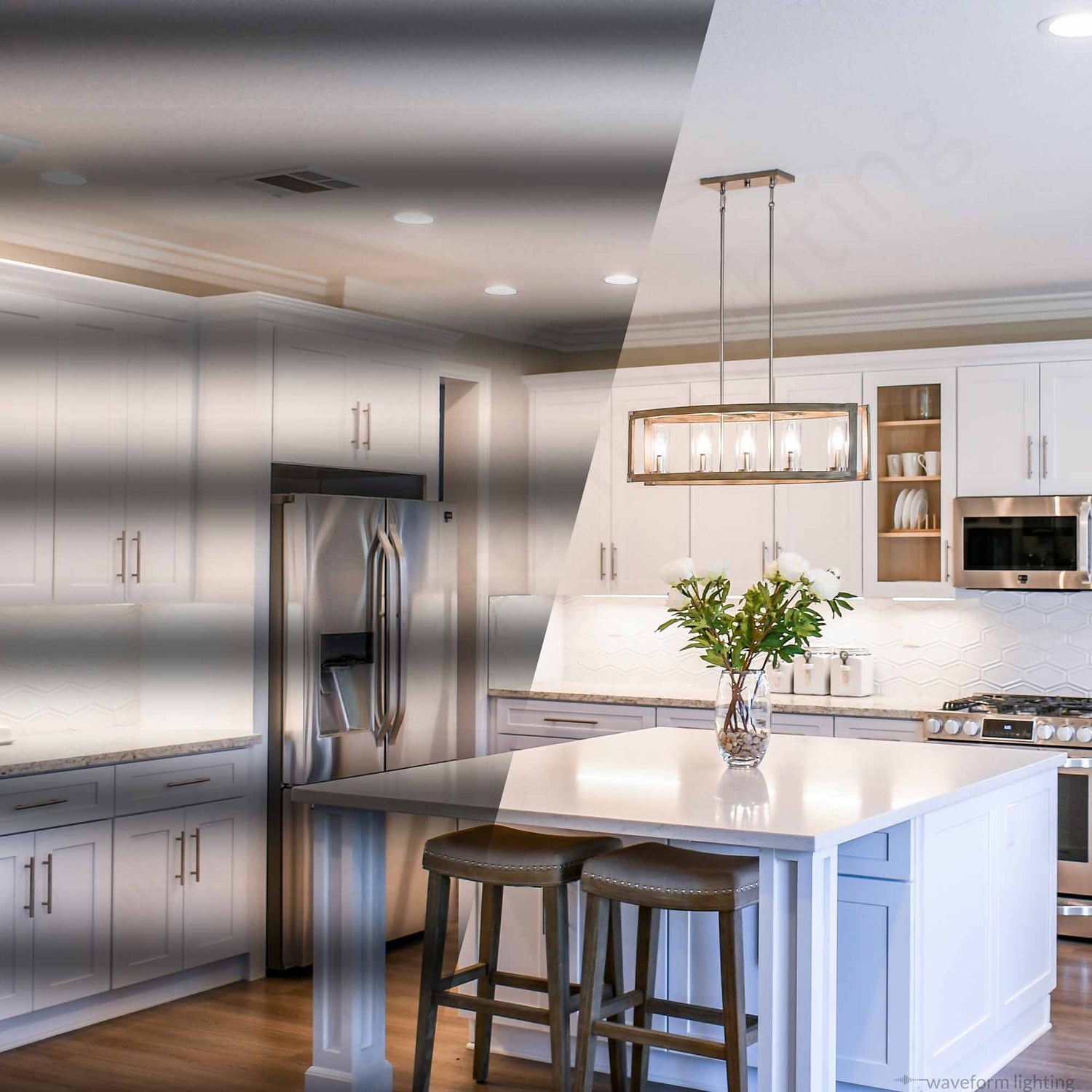 FLICKER-FREE & HEALTHY
Some LED lights will produce rapid flicker or pulses that aren't immediately visible to the naked eye, which can cause headaches, nausea and eye strain. Our CENTRIC SERIES™ products include additional electrical circuitry to achieve a truly flicker-free light output that produces a comfortable and stable light level. Learn more about flicker here, or watch our video demonstration below.
Learn More
Flicker-Free Demonstration Video
Compatible Fixtures
Regular price

$159.00 USD

Regular price

Sale price

$159.00 USD

Unit price

per

Regular price

$129.00 USD

Regular price

Sale price

$129.00 USD

Unit price

per
FAQ
What is the difference between 4000K, 5000K and 6500K?

These color temperature options correspond to the various shades of natural light. 4000K is similar to the warmer and softer shade of morning sunshine. 5000K approximates the bright sun during mid-day, while 6500K is most similar to the crisp, blue color of the sky.

The choice between these colors is completely up to you! There is no correct answer, and this is a question of preference.

Regardless of your choice, all color options feature 95 CRI and flicker-free light output, which will provide you with all of the benefits of full-spectrum light.

Below are some articles that go into further detail:

Difference Between 5000K and 6500K

4 Things to Consider Before Buying 6500K Bulbs

Still not sure? Take advantage of our 30 day free-returns policy to try out the different colors. If you don't like it, simply let us know and we'll send over a return label.
Should I get warm white (2700K or 3000K) bulbs instead?

The most popular color temperature option for home and residential use is either 2700K or 3000K, commonly labeled warm white. These are the color temperatures that match the warm and inviting glow of traditional incandescent bulbs. 

Keep in mind that the CENTRIC DAYLIGHT™ product does not feature warm white color temperatures, but daylight white colors, designed to match natural light, and not incandescent bulb colors. You will find them to be more of a true white color, providing you with light that is crisp and energizing. You may also find that they do not "mesh" well aesthetically with other warm white bulbs in your home.

If you're looking for a bulb that produces a softer, incandescent-like glow, we would recommend our CENTRIC HOME™ product line, which offers the same 95 CRI and flicker-free performance but with warm-white color temperatures.
Are these lights good for visual arts, scientific or industrial applications?

These lights are a great fit for many applications that require a simulation of natural daylight.

For technical or visual arts applications that depend on visual assessment and a closer adherence to international standards such as D50 and D65, we recommend our NorthLux™ Series A19 LED lamps.
Do these lights emit blue light?

Yes, they do!

You may have read or heard about the concerns regarding the blue light hazard. Excessive blue light exposure during evening hours is certainly a concern, but blue light is an essential and important part of our daily lives, as it is extremely abundant in natural daylight (the blue sky!) and an important signal to our bodies and circadian rhythms.


CENTRIC DAYLIGHT™ bulbs are the industry's best approximation of natural daylight (95 CRI), and therefore contain similar relative levels of blue light in the spectrum as natural light.

You can think of these bulbs as mini suns that you can turn on and off at the flip of a switch. If you are concerned about blue light during evening hours and the potential impact on your sleep, we would not recommend using these bulbs at night when the actual sun has already set.

During the daytime, however, these bulbs are an excellent way to supplement or substitute for natural light.
How many lights should I install in my space?

We generally recommend installing 1 ft worth (450 lumens) of these linear lights for every 5 square feet of space. Simply divide the square footage of your space by 5 to get the number of bulbs needed. For example, a 80 square foot area would require 80 divided by 5, or 16 feet of linear lights. A 4-pack of our 4-ft T8 lamps would be a perfect fit for an installation location of this size.

While this may seem like a lot of brightness, do keep in mind that daylight color temperatures generally require a higher level of brightness for comfort due to a phenomenon described by the Kruithof curve.

For more guidance, we recommend checking out our lumen estimation calculator.
Are these lights dimmable?

Unfortunately, these lamps are not dimmable. This means that they cannot be used on any electrical circuit which has a dimmer installed, even if you keep the dimmer at the maximum setting at all times.
Do these lights emit any UV radiation?

These lights do not emit any ultraviolet radiation. The light output covers the entire visible spectrum between 420 nanometers and 800 nanometers, but does not go below (UV-A) or above (infrared).
Do I need a separate light fixture for this product?

Yes, these lamps require a T8 4-ft fixture to operate. The fixture must either contain a ballast that is compatible with our lamps, or have the ballast removed or bypassed.

If you're still unsure about fixture and ballast compatibility, we recommend using our own LED-ready T8 fixtures.
New Home Lighting
I recently built a house and installed Waveform lighting in as many places as I could. I installed the T8 bulbs in the garage for a flicker free design and they work great. Hope they make a flush mount "disc" light soon. Those were the only lights I couldn't get in waveform.
Where is your 2700K and 3000K versions?
Reason #1 I bought these was for No Flicker No Strobe to replace old electronic ballast fluorescents that started to strobe and flicker. Also replaced two older no-name LED lights that strobed badly.
I do not like the "cold" daylight colors offered and would rather have 2700K. However the color is very good vs. some other ghostly LED's that are way off, just ugly, on color. I have to obtain the same color for the garage door opener as it's current 2700K and overhead T8's LED's being 4000K are very noticeable.
The choices on how to direct wire them made for easy installs.
Packaging is well designed to survive shipping.
Good upgrade.
Replaced 5000k LED tubes (on right side in photo) that were left in shop by previous owner. These are very expensive but time spent in the shop "feels" much better for me now. May be placebo effect and would be fun to do a double blind experiment but still no regrets and wish I did it sooner. No issues installing into existing fixtures. Hope they last a long time.
5*
Hi,
Lighting is great. Just what I was looking for.
Thanks
Excellent Bulbs
No issues at all with installation. I have T12 fixtures so I bypassed all the ballasts and the bulbs fired up immediately. No more buzzing or flickering. Color is coherent across the bulbs; far from cheap but happy to pay more for quality.
Other Full Spectrum Lighting Products