Regular price
$149.00 USD
Regular price
Sale price
$149.00 USD
Unit price
per
Sale
Sold out
5W 365 nm UV LED flashlight with BLACKOUT™ filter technology
BLACKOUT™ filter blocks visible light and only allows ultraviolet energy to pass through
Powerful, narrow UV-A beam provides very high UV irradiance and throw
Toggle on/off using clicker switch on tailcap
Utilizes 18650 rechargeable battery (battery & charger available for purchase) - approximately 90 min runtime on standard 2300 mAh battery
5.2 x 1.2 x 1.0 inch dimensions (133 x 30 x 25 mm)
3.2 oz weight without battery (92 g)
New to UV flashlights? Read our overview article here.
Product Overview
Waveform Lighting's realUV™ is now available in a portable flashlight form factor! The integrated 365 nm UV-A wavelength LED is coupled with a BLACKOUT™ filter, which blocks visible light but allows just the 365 nm UV energy to pass through. The result is a strong, clean ultraviolet light beam that is truly invisible but creates strong fluorescence and other UV-A effects.
The realUV™ LED Flashlight is an indispensable tool for professionals in forensics, scientific research, industry and photography who require the highest quality UV light output in a reliable and easy-to-use form factor. The product is also a great fit for consumers looking for a powerful and effective way to detect fluorescence for carpet stains and even scorpions outdoors.
UV Beam Intensity

Intensity values are measured at center of beam pattern at 365 nm. Beam angle is approximately 12 degrees.
Battery Option
The realUV™ LED Flashlight utilizes 1x industry-standard 18650 Lithium-Ion battery, which provides reliable and plentiful energy for each charge cycle. A basic 2300 mAh battery can provide approximately 90 minutes of continuous use on a single charge. The battery is removable and can be accessed by unscrewing the tailcap.
We offer this product in the following configurations:
flashlight only (no battery)
flashlight + battery + charger set 
If you are using your own battery, we recommend using a protected 18650 battery with 2300 mAh or higher at 3.7V - 4.2V. The flashlight electrical input parameters are 3.7V - 4.2V, with a current draw of 1400 mA. A higher mAh rating battery will provide longer runtime per charge.
Rather not deal with the hassle of buying 18650 batteries and accessories? Purchase the flashlight + battery + charger set to receive everything you need. Included in the set are:
1x flashlight
2300 mAh protected cell ("button top") 18650 battery
18650 battery charger via micro-USB (USB cable included)
Product Safety
ULTRAVIOLET WARNING
This product emits UV-A radiation centered at 365 nm, in a very narrow and focused beam. UV-A radiation is not visible to the human eye, but can cause damage to eyes and skin when exposed at high intensity or time duration. Furthermore, the BLACKOUT™ filter on the product makes it difficult to visually detect if UV energy is being emitted.
Ensure that all users of this product are educated and aware of the dangers and risks of this product, and keep away from children and other users who may not be aware of the risks of UV light.
Always use eye protection, and never look directly into the UV emitting side of the flashlight!
BATTERY WARNING
Lithium batteries must be used within their rated electrical, mechanical and thermal parameters, otherwise they may explode, burn or cause a fire. Use caution to prevent misuse or mishandling. Do not leave batteries charging unattended. Buyer is responsible for any damage or injury caused by misuse or mishandling lithium ion batteries and chargers.
Charge only with a smart charger designed for this specific type of lithium ion battery.
Do not short circuit
Do not use batteries that are damaged in any way, including torn or damaged wrappers or insulators
Do not overcharge or over-discharge
Do not modify, disassemble or otherwise alter the battery in any way
Avoid exposure to high temperatures or liquids
Waveform Lighting 100% Quality and Satisfaction Guarantee
If you're not 100% satisfied with the performance, color or quality of your product, we'll work with you to make it right.
Simply contact us within 30 calendar days after delivery and we'll send a replacement at no additional charge, or offer you a full refund.
Share
View full details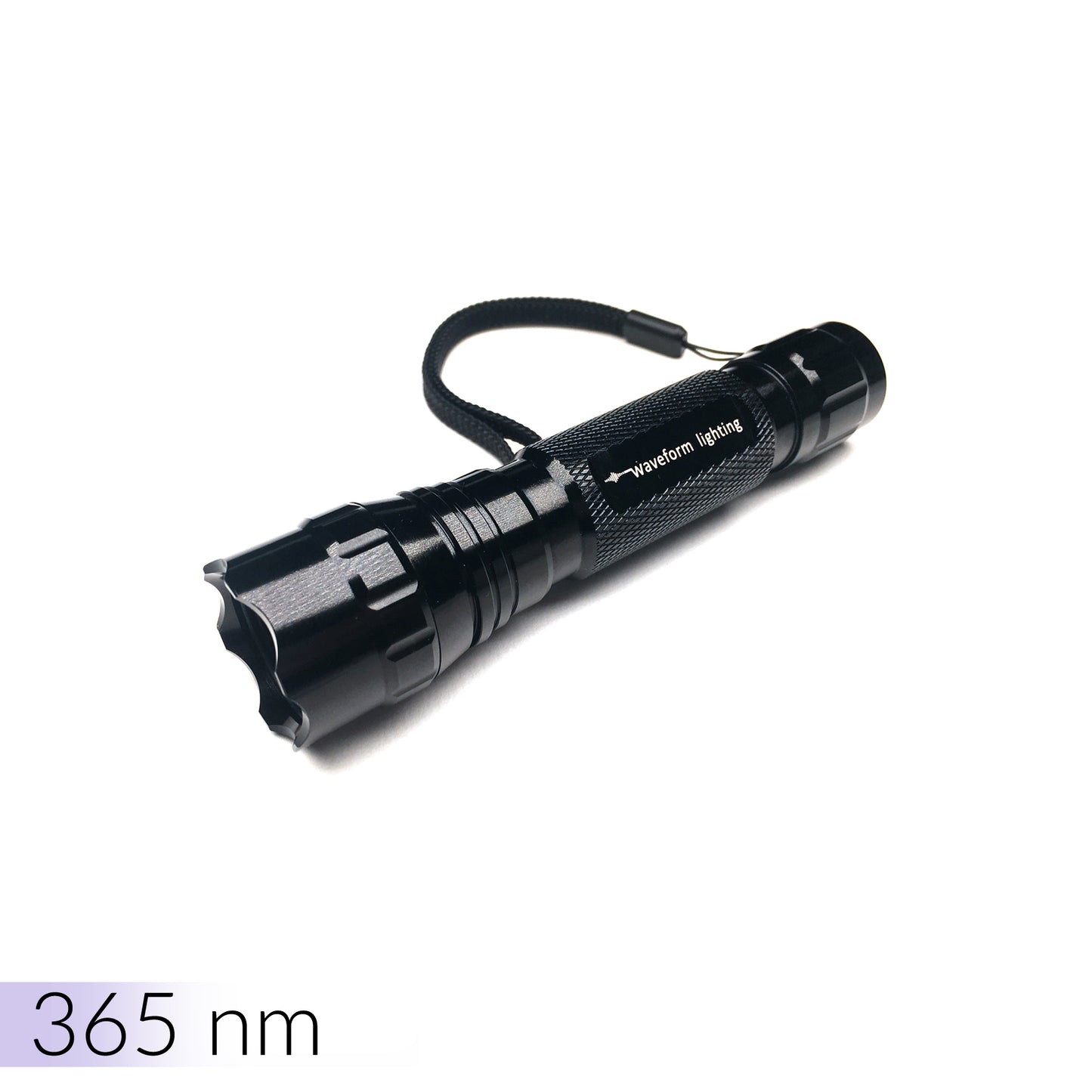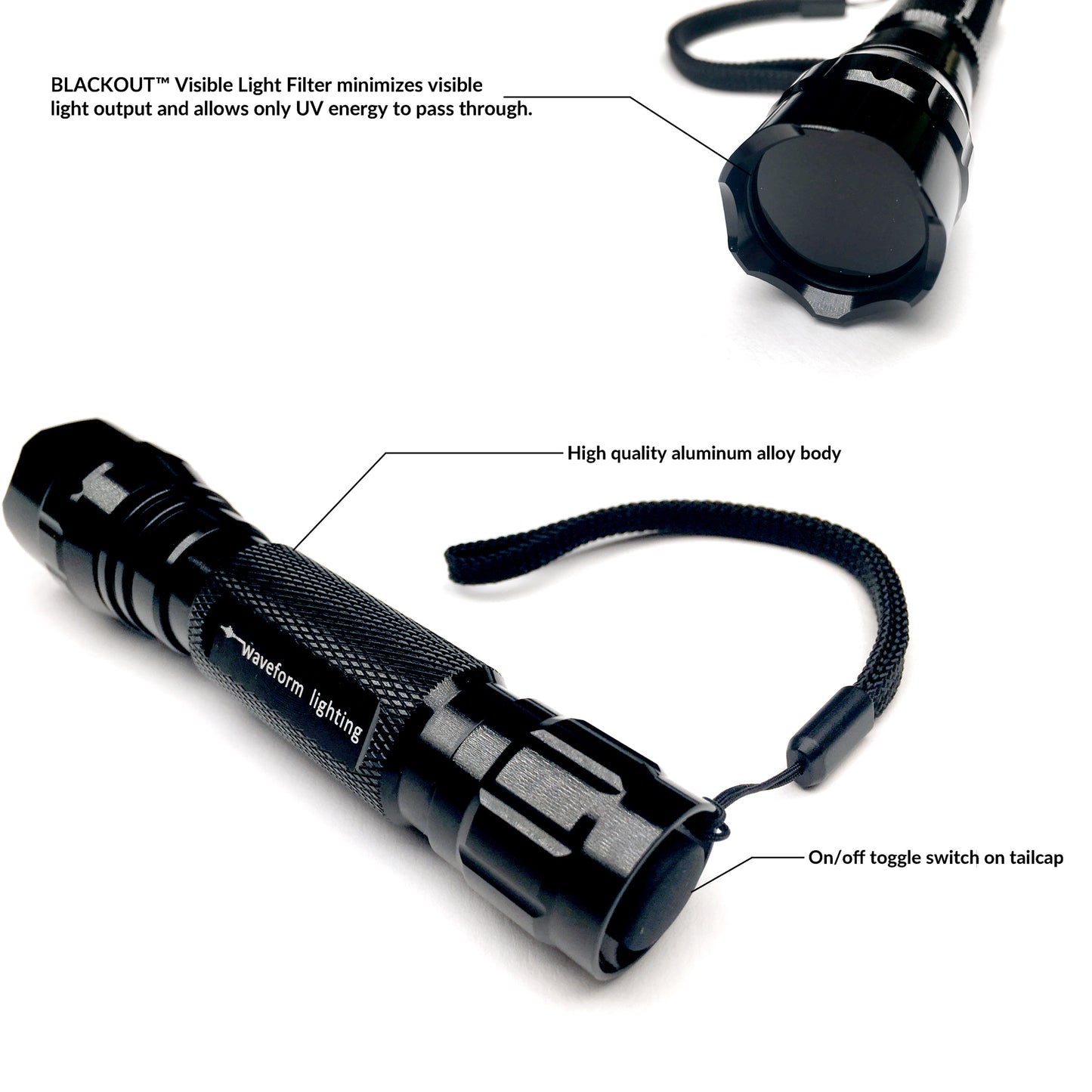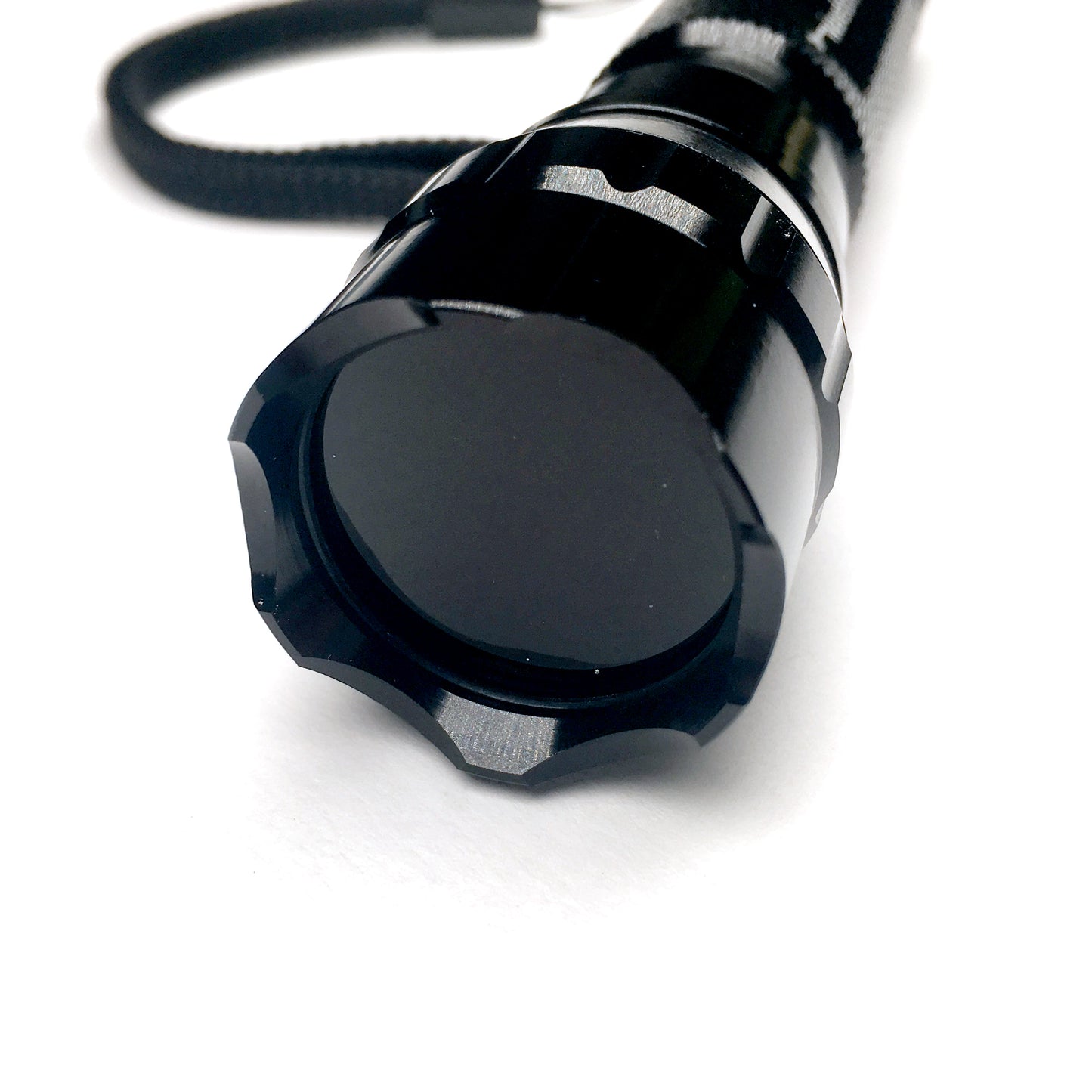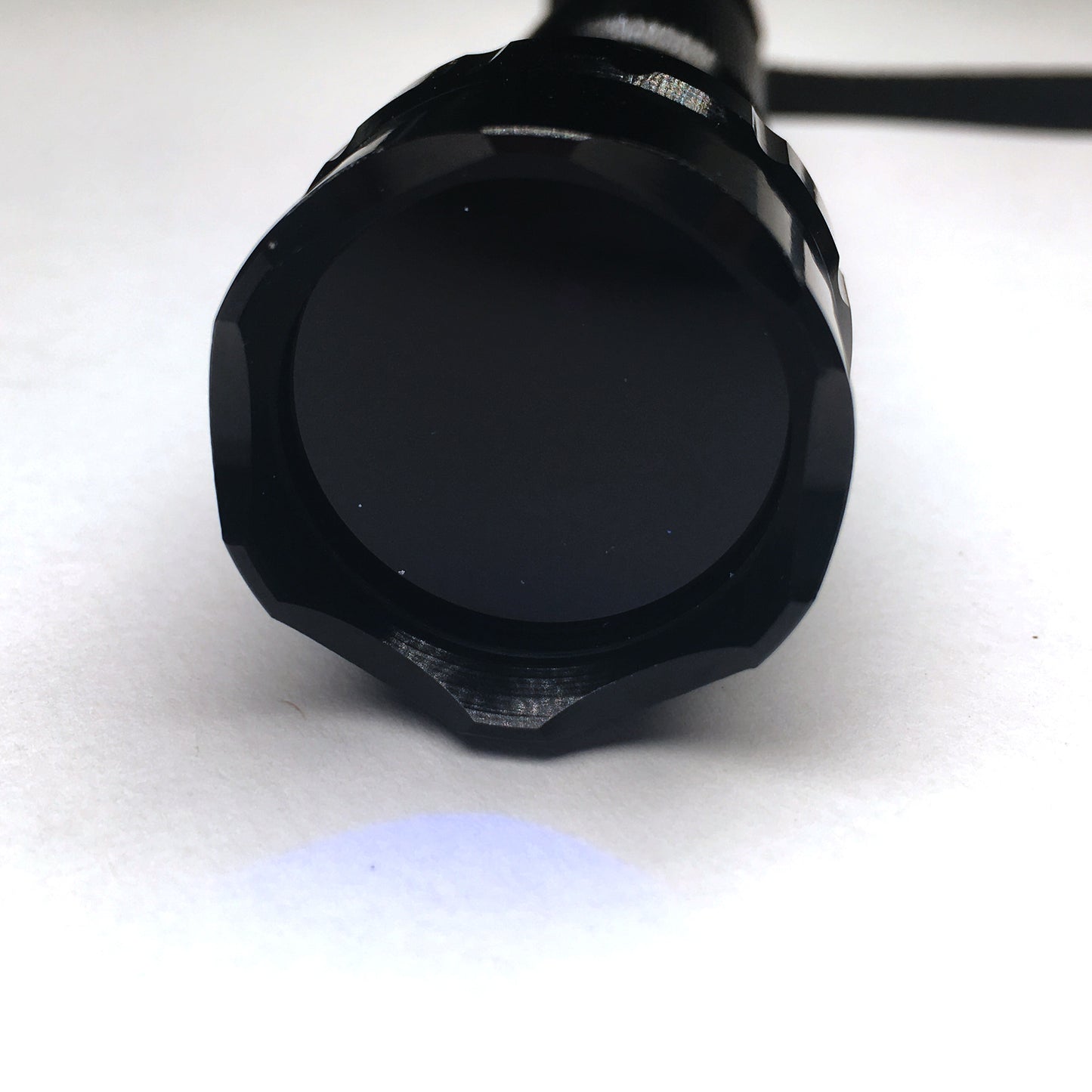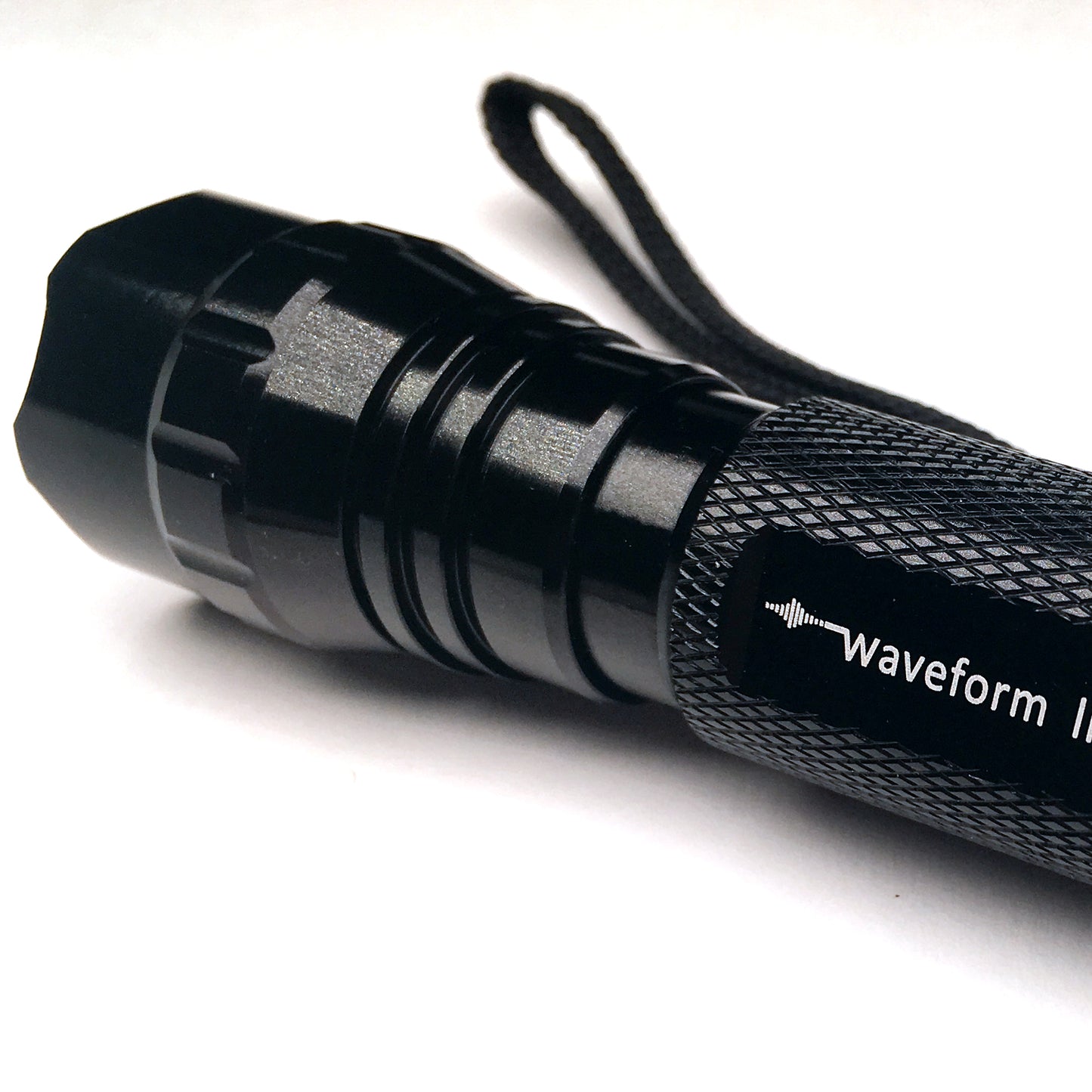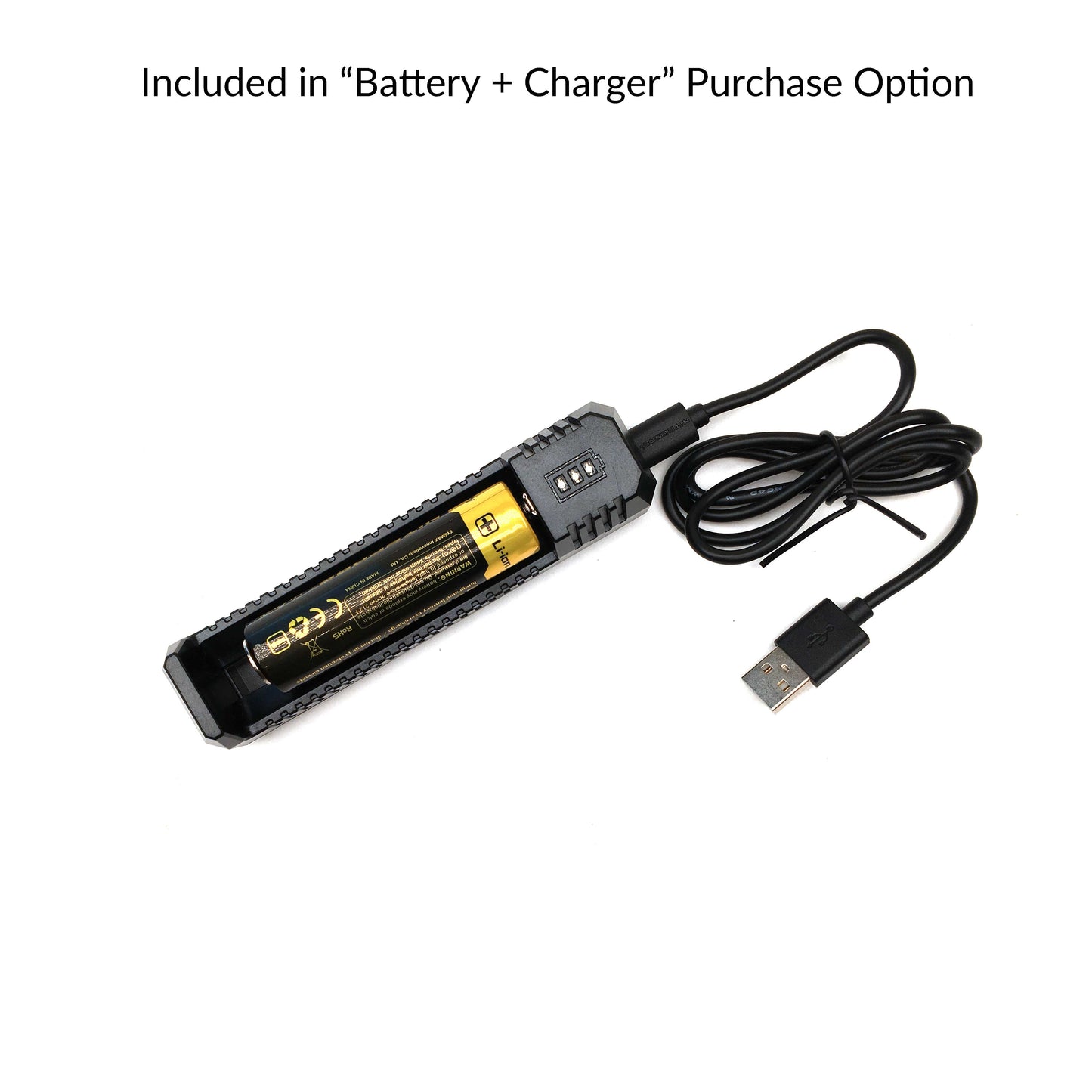 GET IT
The best uv flashlight ever definitely worth the price
Great compact light
Charges fishing lures very quickly
Just what I wanted!
Quality, Size, Convenience of a mobile charger… just what I wanted! Thank you for a Great product! :)
365nm Flashlight
Bought this for the kids and myself to explore molds and fungus that grow in the woods behind our house. In the dark you would not believe the amazing colors and shades of blue and green slime molds and toadstools that grow on old stumps and mulch piles! Was a great purchase! Flowers and garden spiders take on a whole new pattern of color when illuminated with this flashlight. Very good quality...worth the extra money. It also super charges glow in the dark toys in a matter of seconds! Highly recommend however, not something to allow the kids to have unsupervised as it is very powerful and a bit more expensive than your average 10 dollar LED light from a big box store. A+
Good light, but poor quality control
My flashlight arrived with the springboard unattached to the housing and the spring off-center and poorly soldered to the base.
Despite this, the flashlight functions, with the amount of UV-A exceeding any small flashlight I've previously owned. However, when I removed the battery, the spring has a tendency to roll on its side, and I have to open the housing and carefully reposition the spring prior to installing the battery.
This doesn't seem to be an issue other customers are experiencing, and the flashlight's performance is outstanding; therefore, I'll hope for a quick replacement from the company.
*UPDATE
As I suspected, the company quickly took care of the matter by sending a replacement light. Service was immediate and didn't require any begging on my part. A big thanks to Caleb for the quick response and service. Regarding the flashlight: It simply is the best small UVA light I've ever used. It's extremely potent with high-quality glass filtering the majority of visible light, and the inclusion of a battery and charger is a welcome convenience. As others have said, the light is so bright (the UV portion) that--unlike smaller LED UVA lights--any extended use should be done with a pair of protective glasses. Brief illumination of objects that aren't very close should be OK (especially if you wear polycarbonate eyeglasses), but any extended indoor use will result in diffuse and/or reflected UV light causing noticeable eye strain and soreness. I will be looking for some good eye protection so I can use it freely without worry.
updated from 3.0 to 5.0 stars
William - we sincerely apologize for the issue with the flashlight unit you received. According to our records, one of our representatives has already reached out to you to arrange a free replacement shipment. Please feel free to let us know if we can assist with anything else!
-J.B. 6/29/2021