Choose Your Daylight
Our CENTRIC DAYLIGHT™ bulbs are offered in a range of color temperatures. 4000K provides a warmer, softer white that matches the shade of morning sunshine. 5000K has a more balanced, noon sunlight color, while 6500K provides a crisp, high-energy light similar to what you would see from a north-facing window.
All color options provide 95 CRI, full spectrum light that very closely matches natural light.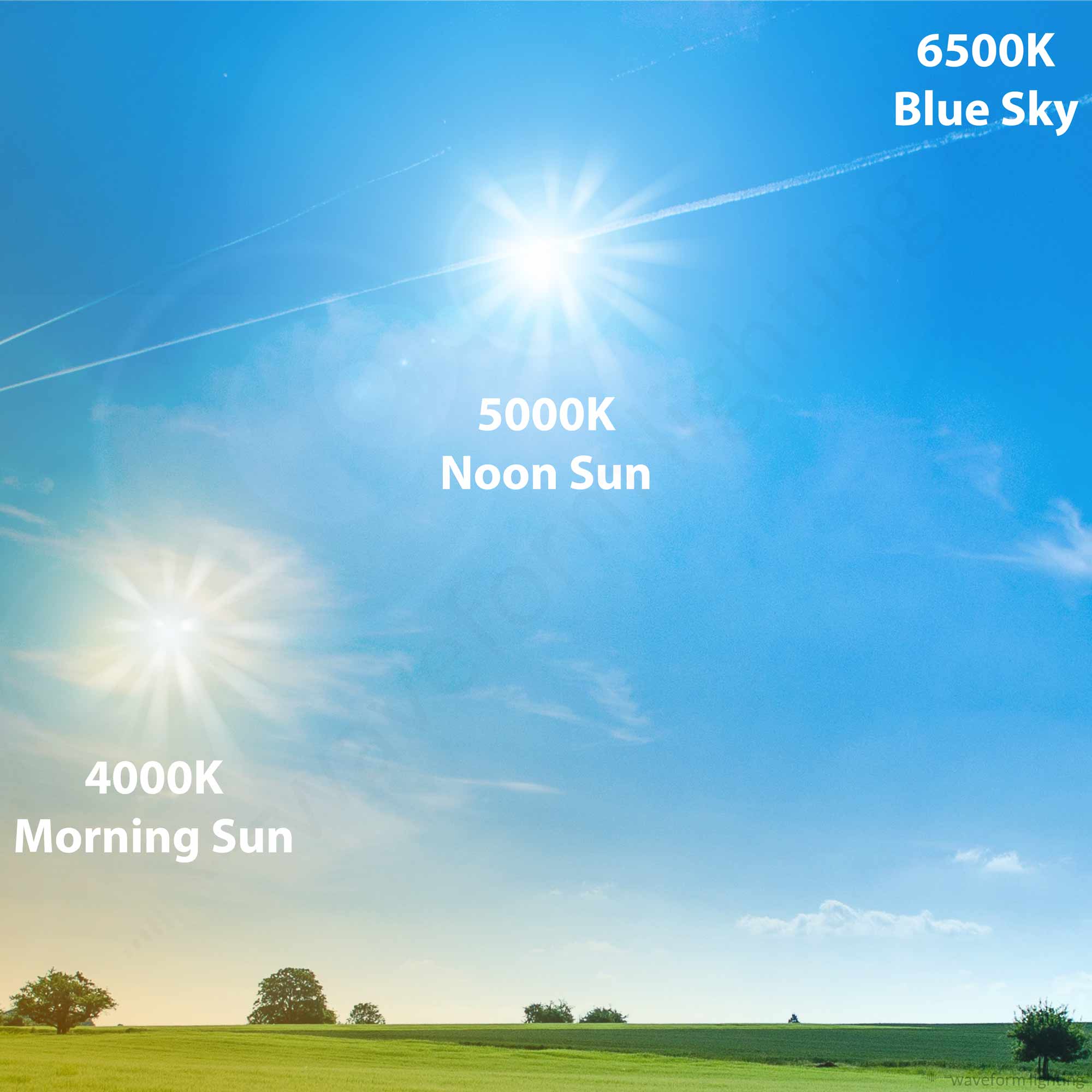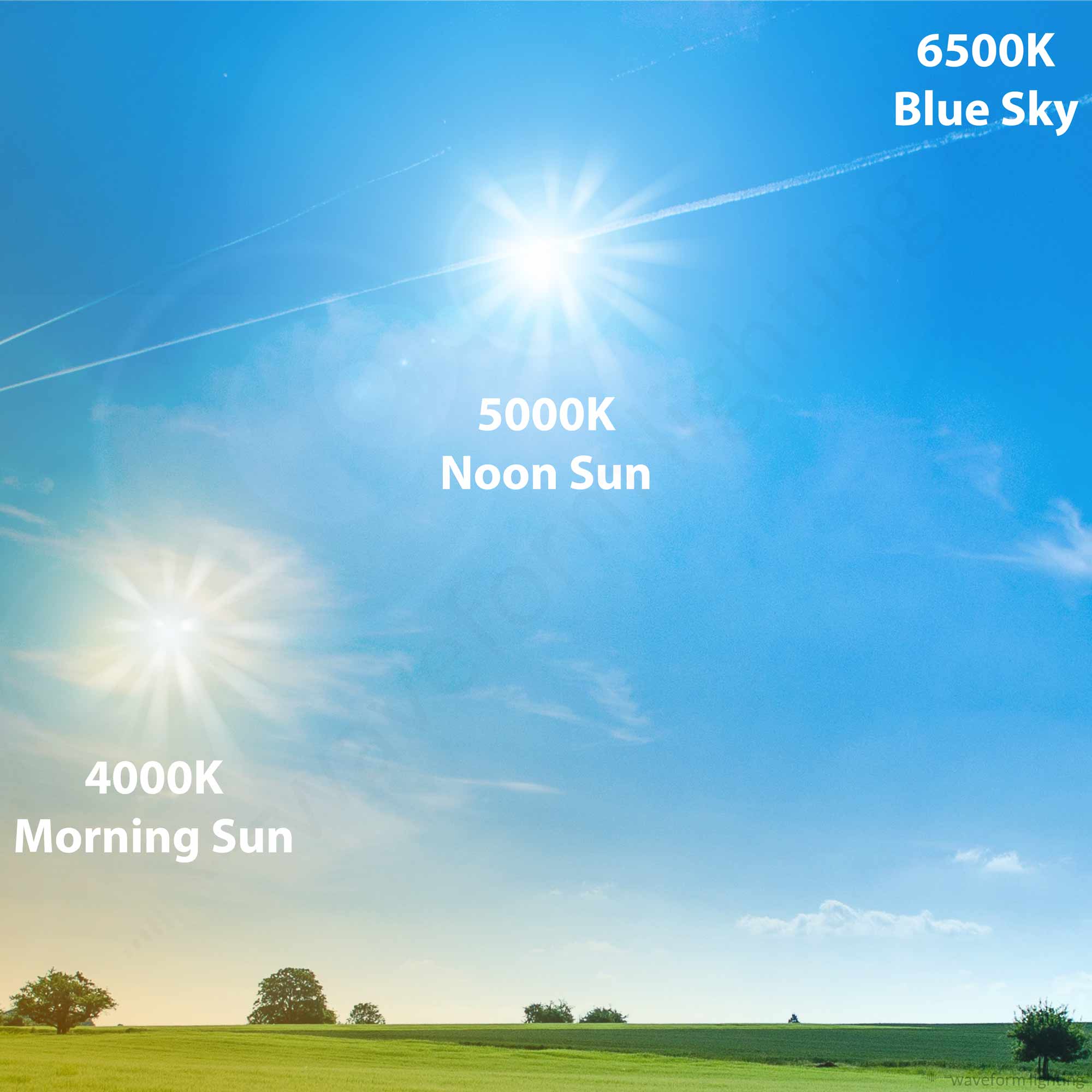 Choose Your Daylight
Our CENTRIC DAYLIGHT™ bulbs are offered in a range of color temperatures. 4000K provides a warmer, softer white that matches the shade of morning sunshine. 5000K has a more balanced, noon sunlight color, while 6500K provides a crisp, high-energy light similar to what you would see from a north-facing window.
All color options provide 95 CRI, full spectrum light that very closely matches natural light.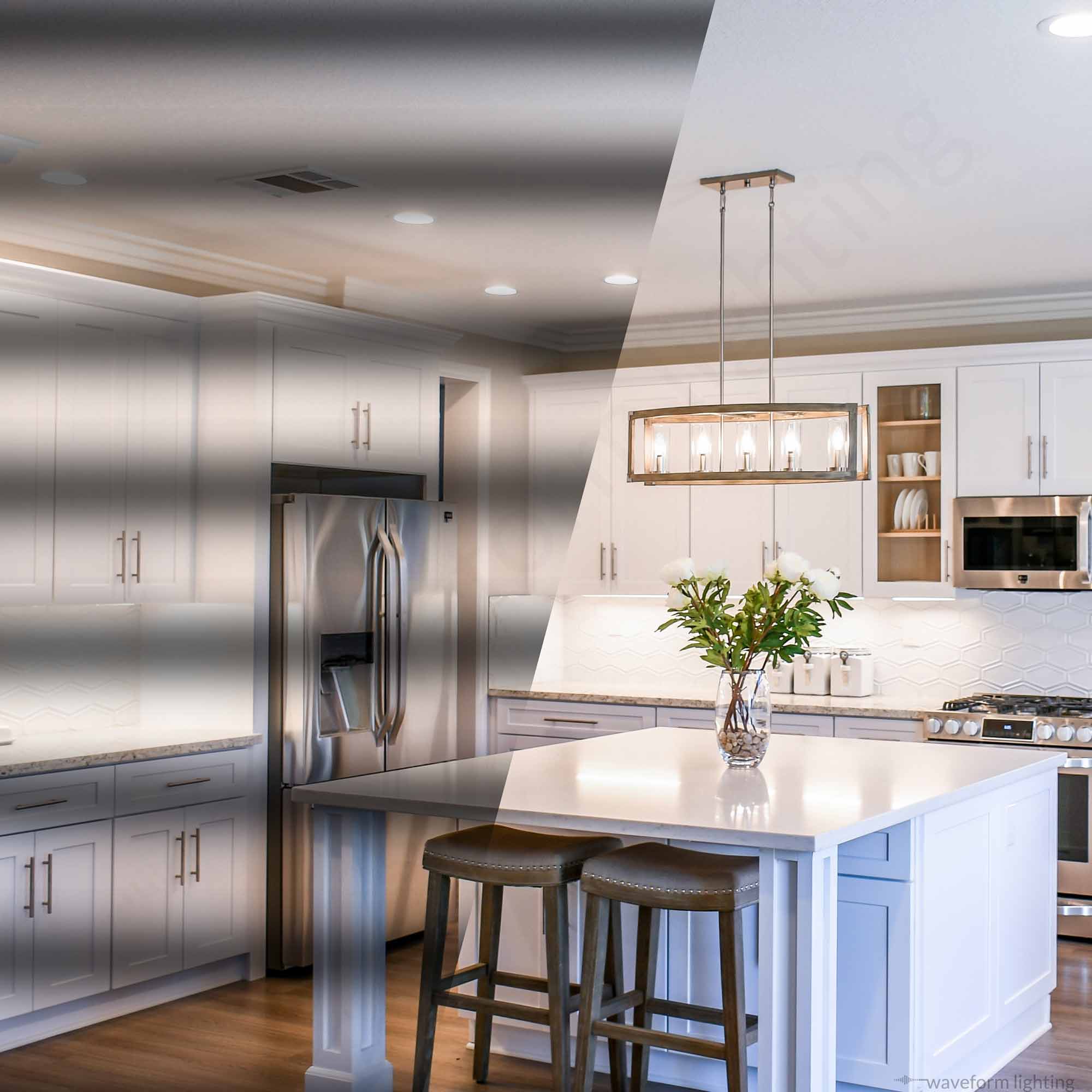 Flicker-Free & Healthy
Some LED lights will produce rapid flicker or pulses that aren't immediately visible to the naked eye, which can cause headaches, nausea and eye strain. Our CENTRIC SERIES™ products include additional electrical circuitry to achieve a truly flicker-free light output that produces a comfortable and stable light level. Learn more about flicker here, or watch our video demonstration below.

Full Spectrum & 95 CRI
CENTRIC DAYLIGHT products offer true full spectrum light, as measured by the Color Rendering Index (CRI) and CRI R9 metrics. With a 95 CRI, 80+ R9 rating, our lamps offer the closest reproduction of natural light in the industry.
Frequently Asked Questions

What is the difference between 4000K, 5000K and 6500K?

These color temperature options correspond to the various shades of natural light. 4000K is similar to the warmer and softer shade of morning sunshine. 5000K approximates the bright sun during mid-day, while 6500K is most similar to the crisp, blue color of the sky.

The choice between these colors is completely up to you! There is no correct answer, and this is a question of preference.

Regardless of your choice, all color options feature 95 CRI and flicker-free light output, which will provide you with all of the benefits of full-spectrum light.

Below are some articles that go into further detail:

Difference Between 5000K and 6500K

4 Things to Consider Before Buying 6500K Bulbs

Still not sure? Take advantage of our 30 day free-returns policy to try out the different colors. If you don't like it, simply let us know and we'll send over a return label.

Should I get warm white (2700K or 3000K) bulbs instead?

The most popular color temperature option for home and residential use is either 2700K or 3000K, commonly labeled warm white. These are the color temperatures that match the warm and inviting glow of traditional incandescent bulbs. 

Keep in mind that the CENTRIC DAYLIGHT™ product does not feature warm white color temperatures, but daylight white colors, designed to match natural light, and not incandescent bulb colors. You will find them to be more of a true white color, providing you with light that is crisp and energizing. You may also find that they do not "mesh" well aesthetically with other warm white bulbs in your home.

If you're looking for a bulb that produces a softer, incandescent-like glow, we would recommend our CENTRIC HOME™ product line, which offers the same 95 CRI and flicker-free performance but with warm-white color temperatures.

Do these bulbs emit blue light?

Yes, they do!

You may have read or heard about the concerns regarding the blue light hazard. Excessive blue light exposure during evening hours is certainly a concern, but blue light is an essential and important part of our daily lives, as it is extremely abundant in natural daylight (the blue sky!) and an important signal to our bodies and circadian rhythms.


CENTRIC DAYLIGHT™ bulbs are the industry's best approximation of natural daylight (95 CRI), and therefore contain similar relative levels of blue light in the spectrum as natural light.

You can think of these bulbs as mini suns that you can turn on and off at the flip of a switch. If you are concerned about blue light during evening hours and the potential impact on your sleep, we would not recommend using these bulbs at night when the actual sun has already set.

During the daytime, however, these bulbs are an excellent way to supplement or substitute for natural light.

How many bulbs should I install in my space?

We generally recommend using one bulb for every 40 square feet of space. Simply divide the square footage of your space by 40 to get the number of bulbs needed. For example, a 160 square foot area would require 160 divided by 40, or 4 bulbs.

Keep in mind that daylight color temperatures generally require a higher level of brightness for comfort.

Are these bulbs good for visual arts, scientific or industrial applications?

These bulbs are a great fit for many applications that require a simulation of natural daylight.

For technical or visual arts applications that depend on visual assessment and a closer adherence to international standards such as D50 and D65, we recommend our NorthLux™ Series A19 LED lamps.

Are these bulbs dimmable?

Unfortunately, these bulbs are not dimmable. This means that they cannot be used on any electrical circuit which has a dimmer installed, even if you keep the dimmer at the maximum setting at all times.

Do these bulbs emit any UV radiation?

These bulbs do not emit any ultraviolet radiation. The light output covers the entire visible spectrum between 420 nanometers and 800 nanometers, but does not go below (UV-A) or above (infrared).

What kind of lamp fixture can this product be used in?

These A19 bulbs have a standard screw-in base (E26 / E27), which is the same type that has been used for more than a century.

As long as the lamp fixture is designated for an A type or A19 type, these bulbs will be compatible.

Although these lamps have the brightness of 60 watt incandescent lamps, these lamps have an actual power draw of only 10 watts. Therefore, they can safely be used in fixtures that have a max rating of less than 60 watts.

 

What is the voltage range of these lamps? Can they be used overseas?

 

The voltage range of this product is AC 90-240V and 50-60 Hz, which covers all global voltages. As such, they can safely be used internationally without any issues. The internal circuitry adjusts for the input voltage automatically, and does not affect the light output or performance of the lamp.
Beautiful Flicker Free
A friend recommended these bulbs to me. I was startled how different and more comfortable they are to use. Beautiful natural light, bright enough and without any flicker for an older person is really helpful. I got two different colors and I like both.
4000k
I think the 4000k bulbs I received are lower than 4000k because it is more yellow side compare to my true 4000k bulbs. CRI is good.
4000K Kitchen
The 4000K color balance is perfect, not too blue and sterile as is the fad for kitchens, but not at all yellow either. Also, these don't have the sickly green color that so many LED bulbs tend to emit when they are cooler than 3000K.
Best light bulbs ever!
I never understood how important CR rating was until we purchased a home that lacks a lot of natural lighting. After receiving a recommendation for Waveform Lighting, we purchased the 3000 A19 and flood lights for our home and absolutely LOVE them. The brightness and clarity of the light is extraordinary and I would recommend them for any area of your home. It's made all the difference in ours.
Great for gloomy winter days
I bought these bulbs after a month of nonstop rain in the middle of winter to replace the mix of box-store "soft white" and "daylight" LED bulbs in my home office. What a difference! They made it easier to read and work, and even made me feel a little less depressed about the gloomy weather. The 4000K color temperature is perfect, like a sunny mid-morning.
Low Flicker
Love the lower flicker which helps for migraines. It's hard to find a great quality light and these are definitely great quality.
Phenomenal!
These bulbs give pleasant, accurate color. Very happy with this purchase. Doesn't flicker at all, even on slow-mo video.
Whole family in better mood.
We have replaced the lighting in most of the rooms in our house. So much easier on the eyes and brain. The whole family seems to be in better moods this winter. Not so many complaints of headaches. Can work and read longer. Seem to be sleeping better at night as well. Going to swap out all the indoor lights eventually.
Incredibly Bright
These bulbs are extremely bright, the high color temperatures are jarringly blue, I don't recommend them unless you're sure you need cool color temperatures.
Great bulbs for office use
Got a few of these when we started to work from home to swap out at our existing desk lamps. They've been great over the past year or so and have definitely helped reducing eye strain. I'd recommend getting them for this use.