Choose Your Daylight
Our CENTRIC DAYLIGHT™ bulbs are offered in a range of color temperatures. 4000K provides a warmer, softer white that matches the shade of morning sunshine. 5000K has a more balanced, noon sunlight color, while 6500K provides a crisp, high-energy light similar to what you would see from a north-facing window.
All color options provide 95 CRI, full spectrum light that very closely matches natural light.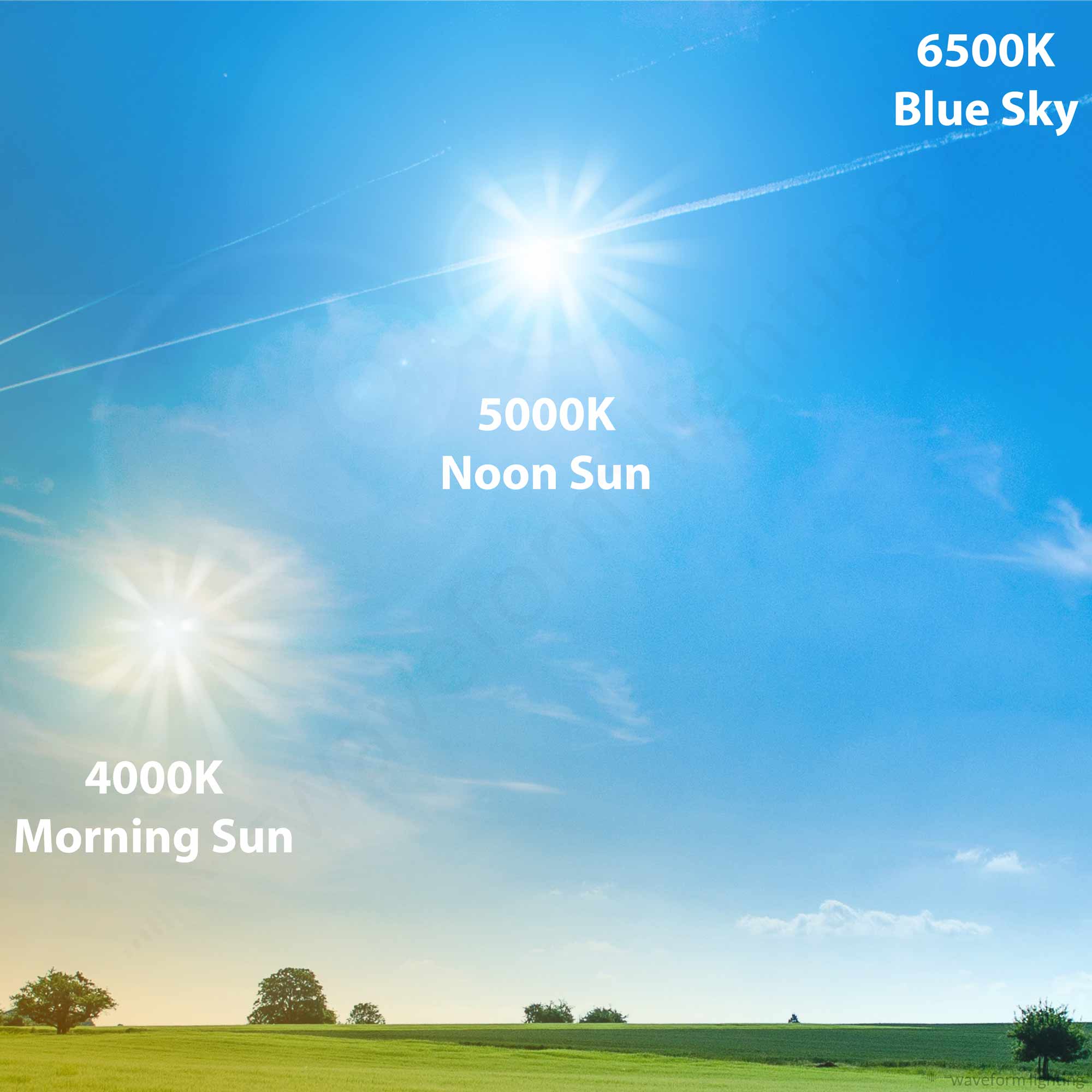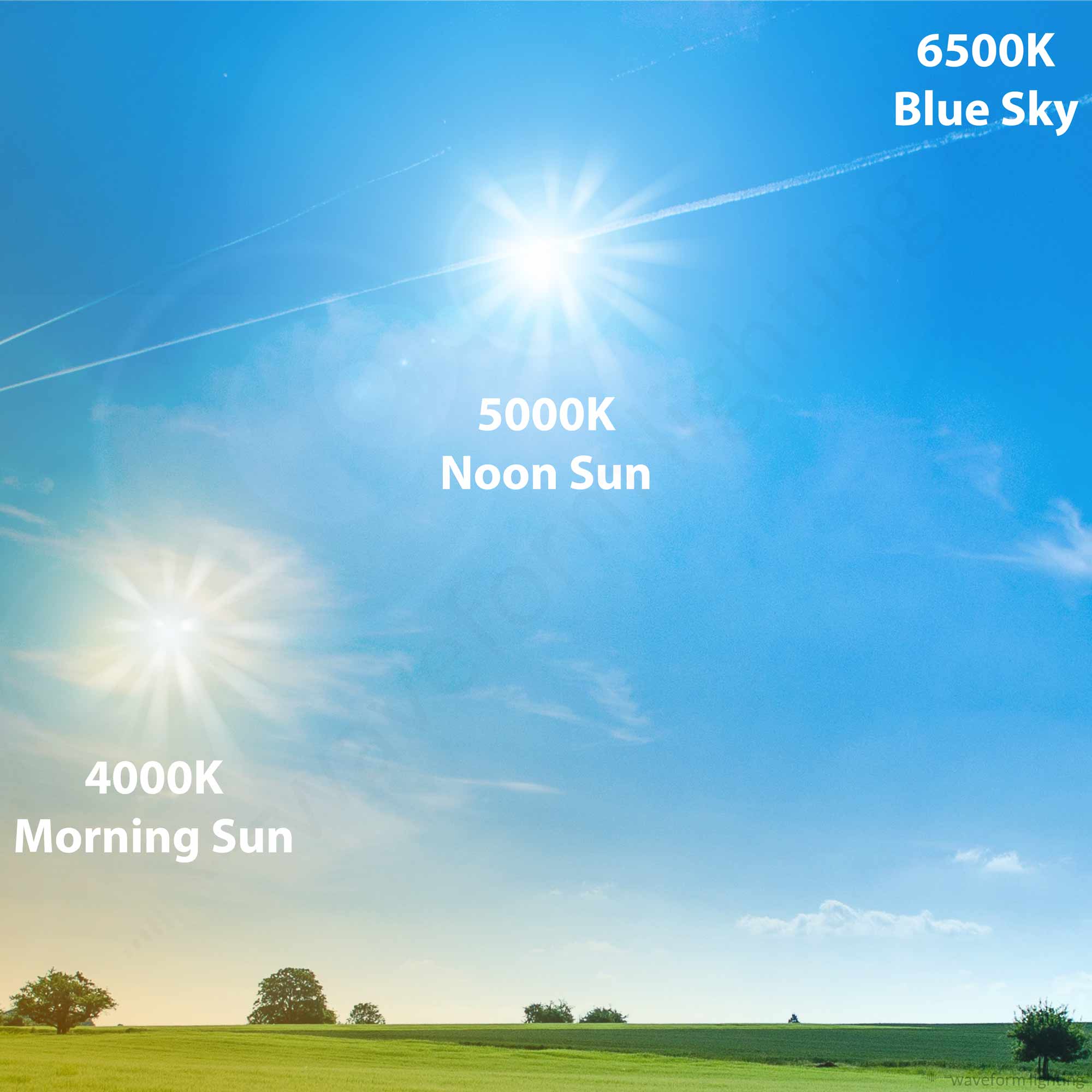 Choose Your Daylight
Our CENTRIC DAYLIGHT™ bulbs are offered in a range of color temperatures. 4000K provides a warmer, softer white that matches the shade of morning sunshine. 5000K has a more balanced, noon sunlight color, while 6500K provides a crisp, high-energy light similar to what you would see from a north-facing window.
All color options provide 95 CRI, full spectrum light that very closely matches natural light.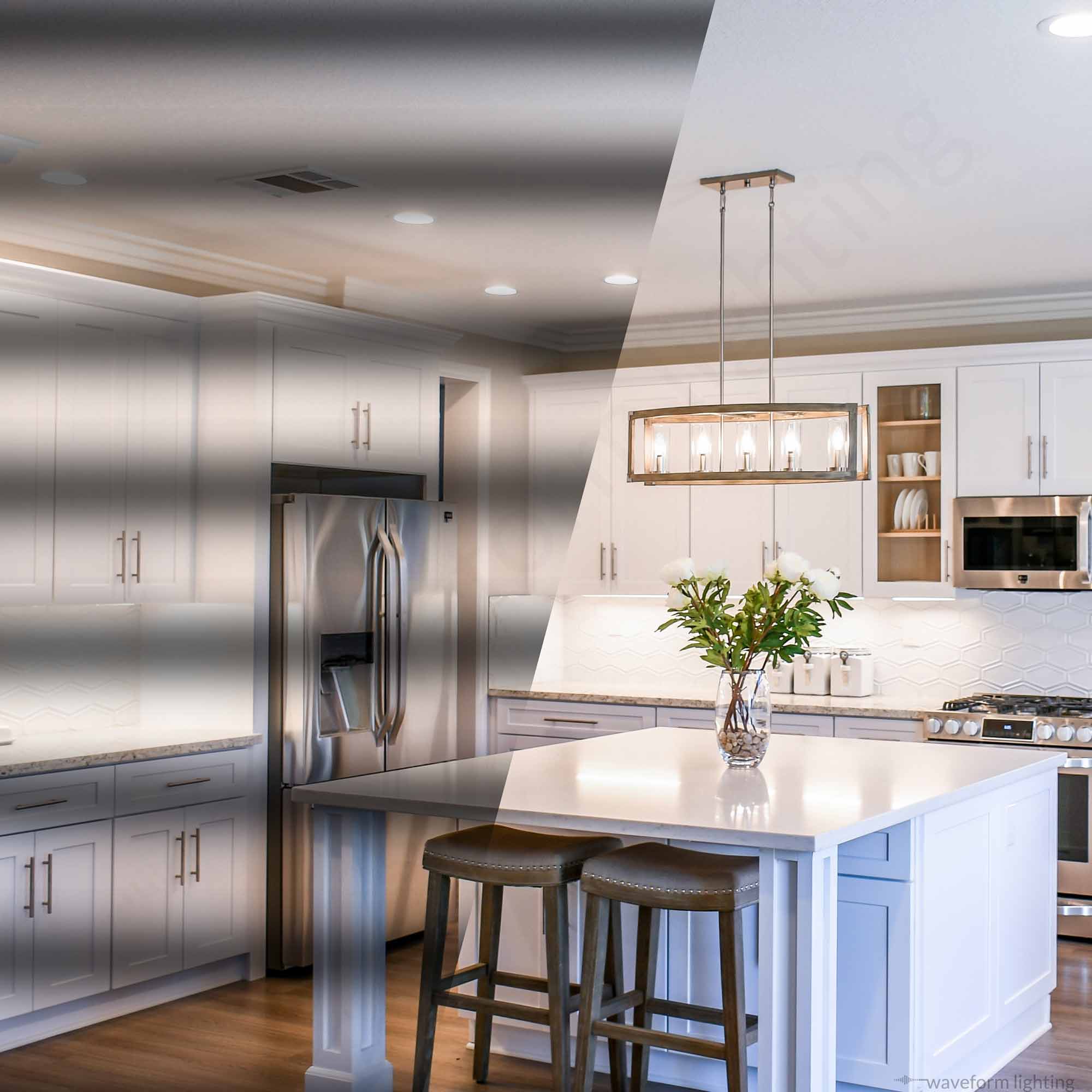 Flicker-Free & Healthy
Some LED lights will produce rapid flicker or pulses that aren't immediately visible to the naked eye, which can cause headaches, nausea and eye strain. Our CENTRIC SERIES™ products include additional electrical circuitry to achieve a truly flicker-free light output that produces a comfortable and stable light level. Learn more about flicker here, or watch our video demonstration below.

Full Spectrum & 95 CRI
CENTRIC DAYLIGHT products offer true full spectrum light, as measured by the Color Rendering Index (CRI) and CRI R9 metrics. With a 95 CRI, 80+ R9 rating, our lamps offer the closest reproduction of natural light in the industry.
Frequently Asked Questions

What is the difference between 4000K, 5000K and 6500K?

These color temperature options correspond to the various shades of natural light. 4000K is similar to the warmer and softer shade of morning sunshine. 5000K approximates the bright sun during mid-day, while 6500K is most similar to the crisp, blue color of the sky.

The choice between these colors is completely up to you! There is no correct answer, and this is a question of preference.

Regardless of your choice, all color options feature 95 CRI and flicker-free light output, which will provide you with all of the benefits of full-spectrum light.

Below are some articles that go into further detail:

Difference Between 5000K and 6500K

4 Things to Consider Before Buying 6500K Bulbs

Still not sure? Take advantage of our 30 day free-returns policy to try out the different colors. If you don't like it, simply let us know and we'll send over a return label.

Should I get warm white (2700K or 3000K) bulbs instead?

The most popular color temperature option for home and residential use is either 2700K or 3000K, commonly labeled warm white. These are the color temperatures that match the warm and inviting glow of traditional incandescent bulbs. 

Keep in mind that the CENTRIC DAYLIGHT™ product does not feature warm white color temperatures, but daylight white colors, designed to match natural light, and not incandescent bulb colors. You will find them to be more of a true white color, providing you with light that is crisp and energizing. You may also find that they do not "mesh" well aesthetically with other warm white bulbs in your home.

If you're looking for a bulb that produces a softer, incandescent-like glow, we would recommend our CENTRIC HOME™ product line, which offers the same 95 CRI and flicker-free performance but with warm-white color temperatures.

Do these bulbs emit blue light?

Yes, they do!

You may have read or heard about the concerns regarding the blue light hazard. Excessive blue light exposure during evening hours is certainly a concern, but blue light is an essential and important part of our daily lives, as it is extremely abundant in natural daylight (the blue sky!) and an important signal to our bodies and circadian rhythms.


CENTRIC DAYLIGHT™ bulbs are the industry's best approximation of natural daylight (95 CRI), and therefore contain similar relative levels of blue light in the spectrum as natural light.

You can think of these bulbs as mini suns that you can turn on and off at the flip of a switch. If you are concerned about blue light during evening hours and the potential impact on your sleep, we would not recommend using these bulbs at night when the actual sun has already set.

During the daytime, however, these bulbs are an excellent way to supplement or substitute for natural light.

How many bulbs should I install in my space?

We generally recommend using one bulb for every 40 square feet of space. Simply divide the square footage of your space by 40 to get the number of bulbs needed. For example, a 160 square foot area would require 160 divided by 40, or 4 bulbs.

Keep in mind that daylight color temperatures generally require a higher level of brightness for comfort.

Are these bulbs good for visual arts, scientific or industrial applications?

These bulbs are a great fit for many applications that require a simulation of natural daylight.

For technical or visual arts applications that depend on visual assessment and a closer adherence to international standards such as D50 and D65, we recommend our NorthLux™ Series A19 LED lamps.

Are these bulbs dimmable?

Unfortunately, these bulbs are not dimmable. This means that they cannot be used on any electrical circuit which has a dimmer installed, even if you keep the dimmer at the maximum setting at all times.

Do these bulbs emit any UV radiation?

These bulbs do not emit any ultraviolet radiation. The light output covers the entire visible spectrum between 420 nanometers and 800 nanometers, but does not go below (UV-A) or above (infrared).

What kind of lamp fixture can this product be used in?

These A19 bulbs have a standard screw-in base (E26 / E27), which is the same type that has been used for more than a century.

As long as the lamp fixture is designated for an A type or A19 type, these bulbs will be compatible.

Although these lamps have the brightness of 60 watt incandescent lamps, these lamps have an actual power draw of only 10 watts. Therefore, they can safely be used in fixtures that have a max rating of less than 60 watts.

 

What is the voltage range of these lamps? Can they be used overseas?

 

The voltage range of this product is AC 90-240V and 50-60 Hz, which covers all global voltages. As such, they can safely be used internationally without any issues. The internal circuitry adjusts for the input voltage automatically, and does not affect the light output or performance of the lamp.
I am building an off grid solar powered home in the mountains and needed energy efficient lights, but I also wanted something that would be healthier for my body since I am into alternative health. My solar batteries drain down a lot less with these energy efficient lights from Wave Lighting. As soon as I get my off grid home finished in the next month or two a woman will be staying with me who is very sensitive to electric and lighting. She also read your website and was very happy I am installing them into my home. I bought a variety of the lights at first to see which one's I would like the best. For me I like the 5000K lights the best. Since I know what I want now, I will be ordering the rest of the lights for the house from Wave Form Lighting. Their quality is so much better than you can find in the big brand lumber - hardware stores. So here is to your better health and electric savings provided by Wave Form Lighting. Bill B.
Great lights
When I installed the bulbs I noticed a big deference!
Everyone needs better lighting
As an engineer and technical producer in the broadcast and film world, I have learned to really appreciate great lighting. I can't tell you how happy I am to have found a source for my home environment that gives me a full spectrum response. And yes, I did take my light meter out and measure the color gamma curve. Trust me, make little changes in your environment for better health and happiness and you'll find it's worth the increased cost. You get what you pay for.
Flicker-Free: Good for shooting home movies...
I bought these because we often shoot slow motion movies of our cats doing tricks at home. Using a conventional LED bulb you get an annoying flash due to a synch between the frame rate of the camera and the pulse width modulation of the LED bulb driver (flashing effect). These have solved our problems and I look forward to buying more in the warmer color temperature. Color rendition (CRI) rating is getting to be more and more appreciated by the general consumer so thanks for offering these!
As promised -- Nice Quality Light
Purchased CENTRIC DAYLIGHT™ Full Spectrum Flicker-Free A19 10W LED Bulb. Pleased. When I'm on video calls, the lighting is now more true-to-life. I don't perceive any flicker -- nice steady light.
Waveform, kindly, sent this part of my order sooner since the other lights I requested were on back-order. I appreciated the engineer who answered my questions by email, in advance. His comments helped me figure out what lights are likely to fit my need.
Works very well
While it is difficult for an end customer to verify how effective the lights are, from my research it does appear to be probably the best lights to buy for mood therapy. I got the 5000K ones and they are whiter than I expected. I'd recommend 4000K if you want warmer lights. Many household bulbs are actually 2700K which is very yellow
Great light bulbs
They worked exactly like I wanted them to. Highly recommended.
The search is over.
By far, the best 4000k light bulb I've found. I chose 4000k, because I wanted something that wasn't too warm or too cool. Before getting these, I got many different 4000k lights from many manufacturers (all claiming either 90+ or 95+ CRI) and I've always found them to be too cool with a greenish tint. Not these. THESE were the ones I was looking for--accurate color temperature with no tint! Glad I've discovered Waveform; I'll be buying my lights from them from now on. If there was one thing I wish they had, it would be to have more dimmable options for their products. If this light was dimmable, it would the perfect light bulb. Nevertheless, I still stand by my statement: these are the best 4000k light bulbs in the market.
No more seizures.
My daughter started having seizures at 9 months of age 2 months after I switched our house to GE refresh LED HD bulbs, daylight 5000k . I didn't immediately realize that the bulbs were causing the seizures. The seizures went on once or twice a month for about 6 months. We had her checked by several doctors and they didn't find anything wrong or pinpoint the cause. I would sometimes notice that when I move a frying pan across the kitchen, the shiny rim of the pan would leave a dotted trail in my eyes indicating that the bulbs were flickering or strobing. The flicker wasn't as bad as some LED's but definetley more than the incandescent bulbs I had before. So then one day, shortly after another seizure, it finally got to me that the LED flicker might be causing my daughters seizures. I also started remembering articles that I stumbled on years prior that talk about how it is well documented in medicine that early flickering fluorescent bulbs caused seizures in some people, especially children. It was my flickering LED's. Upon realizing this I immediately switched back to incandescent bulbs and sure enough her seizures stopped. However we didn't like the yellow low color temperatures light of the incandescent bulbs. The daylight bulbs really made us feel more energetic so I realized I need to find some good quality flicker free LED bulbs. I found Waveform lighting via a Google search and ordered their centric daylight 5000k flicker free LED bulbs. Its been 6 months since I installed them and we didn't have any more seizures, thank you waveform lighting. The bulbs really do have zero flicker and you feel much better in their light. Also aside from being flicker free, these bulbs are also a very hi CRI or really good spectral quality. I Compared these bulbs to various LED's including the latest Cree bulbs and when compared side by side, the Waveform bulb clearly shows colors better and especially skin tones. I think these are the best LED bulbs in existence.
This helps with eye fatigue.
I while back I learned my 43" LG monitor used PWM to dim. I was wondering my I felt like tearing my eyes out after staring at the screen for a couple hours. I never experienced that with my iMac. After switching my monitor to something flicker free the symptoms got better, but I still felt eye fatigue from working in my office. I used my phone to capture slow mo video of my overhead LED tube lighting and discovered they flickered as well. So anywhere I spend hours, I've switched to flicker free lighting and my eyes have thanked me for it. I wish waveform had overhead tube lights that are flicker free as well!