Regular price
$189.00 USD
Regular price
Sale price
$189.00 USD
Unit price
per
Sale
Sold out
100 - 277 V AC input, compatible with phase-cut wall dimmers, including TRIAC (incandescent / forward phase), electronic low voltage (ELV / reverse phase), and magnetic low voltage dimmers
12V or 24V DC constant voltage output, with reduced brightness level corresponding to input dimming signal from wall-dimmer
Up to 120 W power output (120W/10A for 12V, and 96W/4A for 24V to meet Class 2 rating)
UL Listed (E508692)
Input: Live (Black), Neutral (White), Ground (Green), 18 AWG wires
Output: V+ (Red), V- (Black), 16 AWG wires
Dimmable to 0% for most dimmer models (see below for complete list)
Specification Sheet (12 volt)
Specification Sheet (24 volt)
Compatible Dimmer List
Product Description

The CENTRIC SERIES™ dimmable LED power supply units allow LED strip lights to be operated and dimmed from a traditional wall-dimmer with smooth and flicker-free light output. With compatibility across a wide range of legacy and modern phase-dimming products such as those made by Lutron and Leviton, these power supplies are an excellent choice for powering and controlling LED strip lights in residential and commercial lighting projects.

These power supply units perform a dual function of converting AC line voltage (120 volts) to low voltage DC (24 volts), as well as interpreting the wall-dimmer signal and adjusting the power provided to the LED strip to the corresponding brightness level. Our innovative gamma-curve formulation and ultra-high 20 kHz PWM dimming frequency ensures the light output remains smooth and flicker-free across the dimming curve.

Standard LED power supplies and transformers only convert AC line voltage to low voltage DC and are not compatible with wall-dimmers. Pairing these standard LED power supplies with inline PWM dimmers and other accessories typically result in a sub-optimal installation, with performance issues such as noticeable flicker, awkwardly placed dimmer controls or unreliable remote control units, as well as potential electrical code compliance issues.
Product Specifications

Input Voltage: 100-277V AC, 47-63 Hz
Output Power: 120.0 watts (12V) or 96.0 watts (24V / Class 2)
Connection: Hard-wired
Compatible dimmer types:

Forward phase (TRIAC / incandescent)
Reverse phase (ELV)
Magnetic low voltage (MLV)
Mechanical Dimensions
Pricing & Ordering Information

This product is available in 12 volt and 24 volt versions, as well as with or without a junction box.

PN 3093.120: 12 volts, without junction box
PN 3093J: 12 volts, with junction box
PN 3094.096: 24 volts, without junction box
PN 3094J: 24 volts, with junction box
Shipping & Returns

This item is in stock and typically ships within 1-3 business days.Shipping is free within the USA for orders over $50.

If you're not 100% satisfied with the performance, color or quality of your product, we'll work with you to make it right.

Simply contact us within 30 calendar days after delivery and we'll pay for return shipping (USA only) and offer you a full refund.

See our delivery policy,returns & refunds policy and warranty policy.
Share
View full details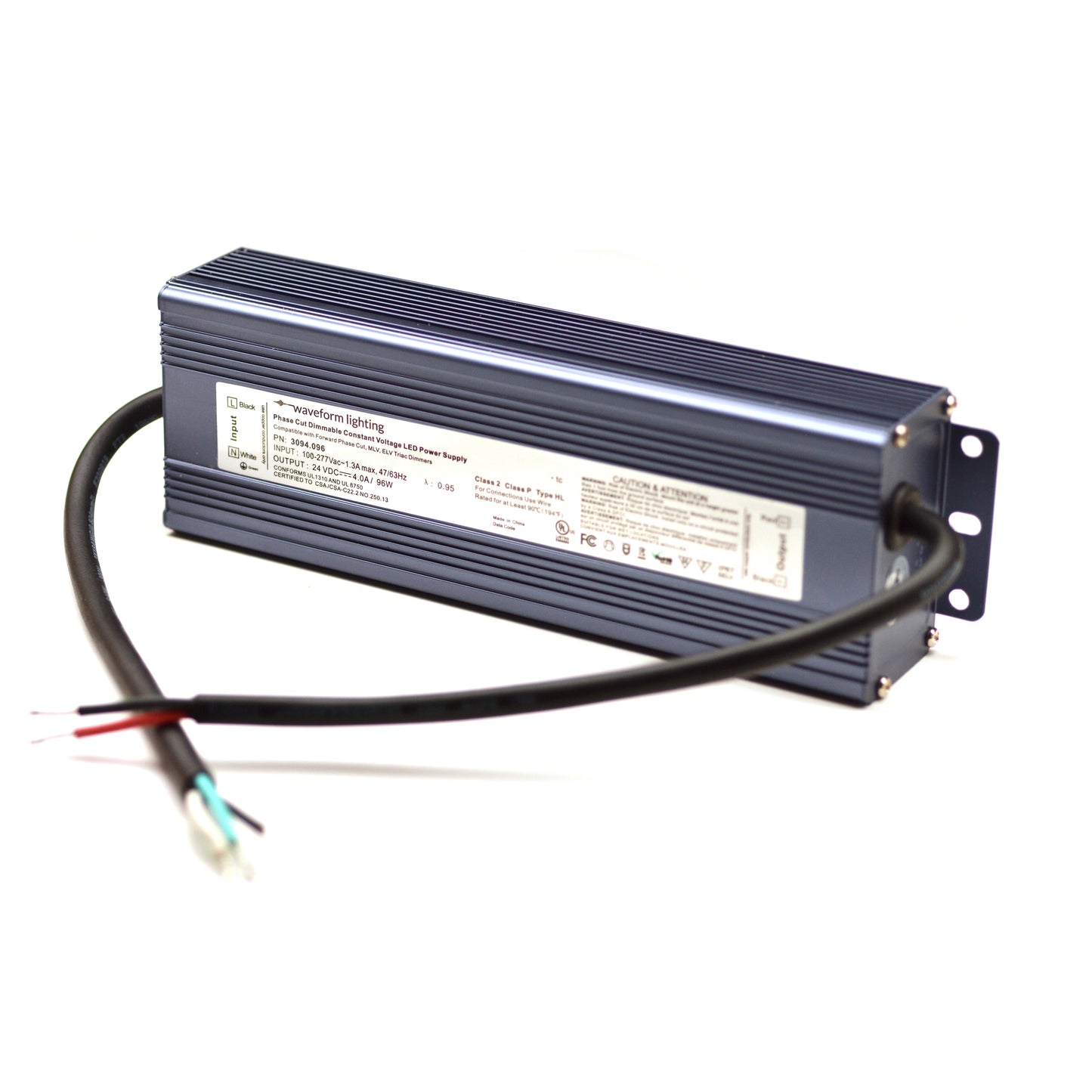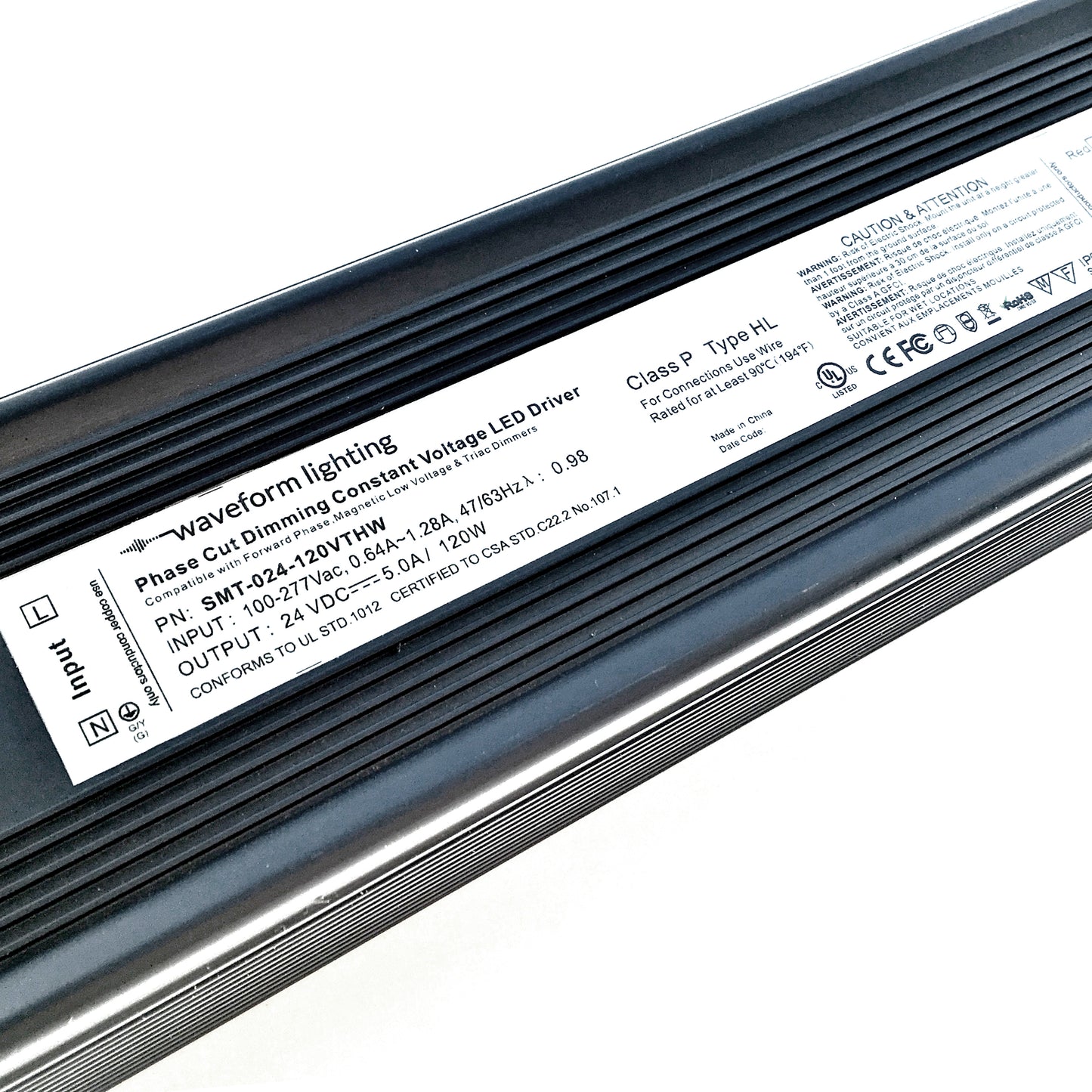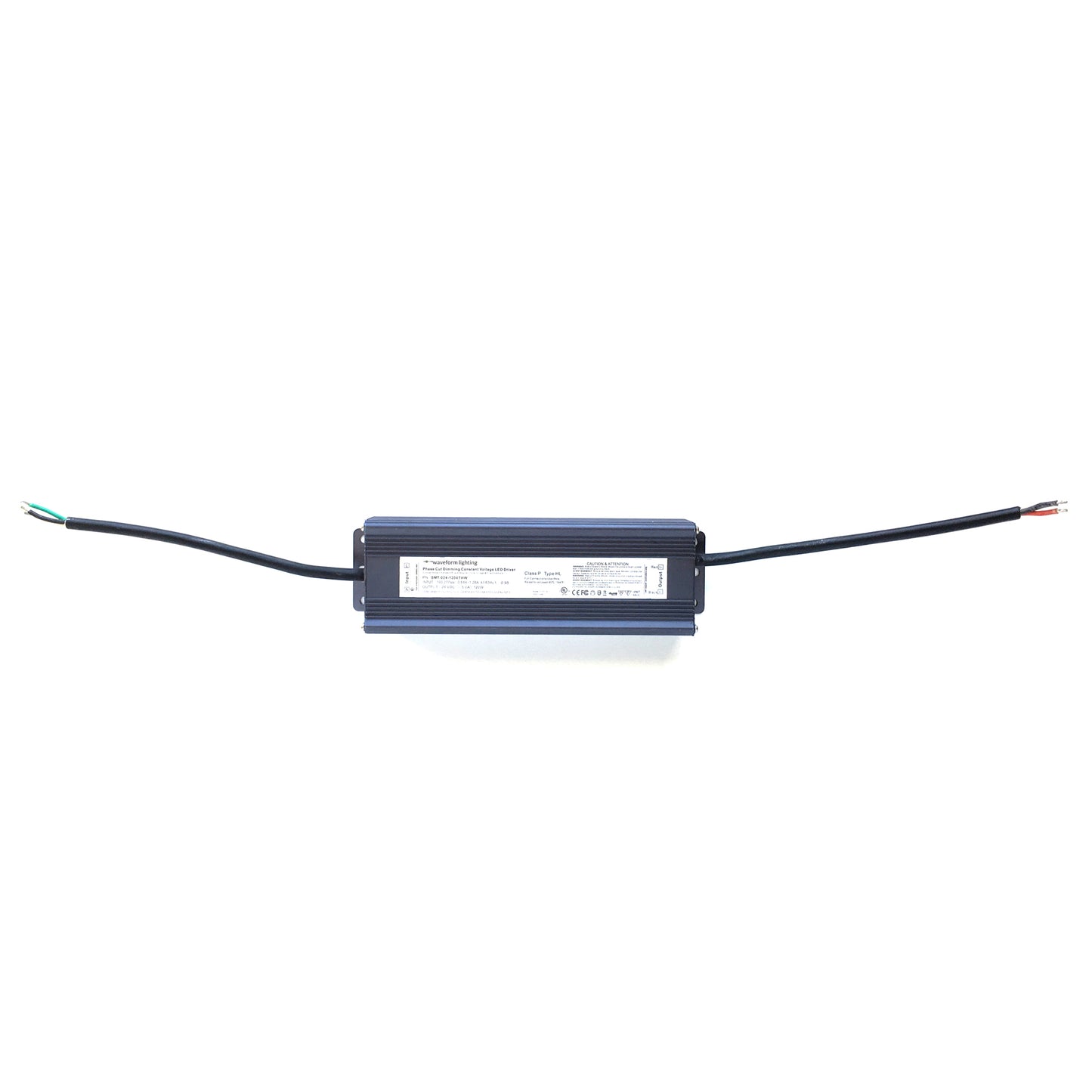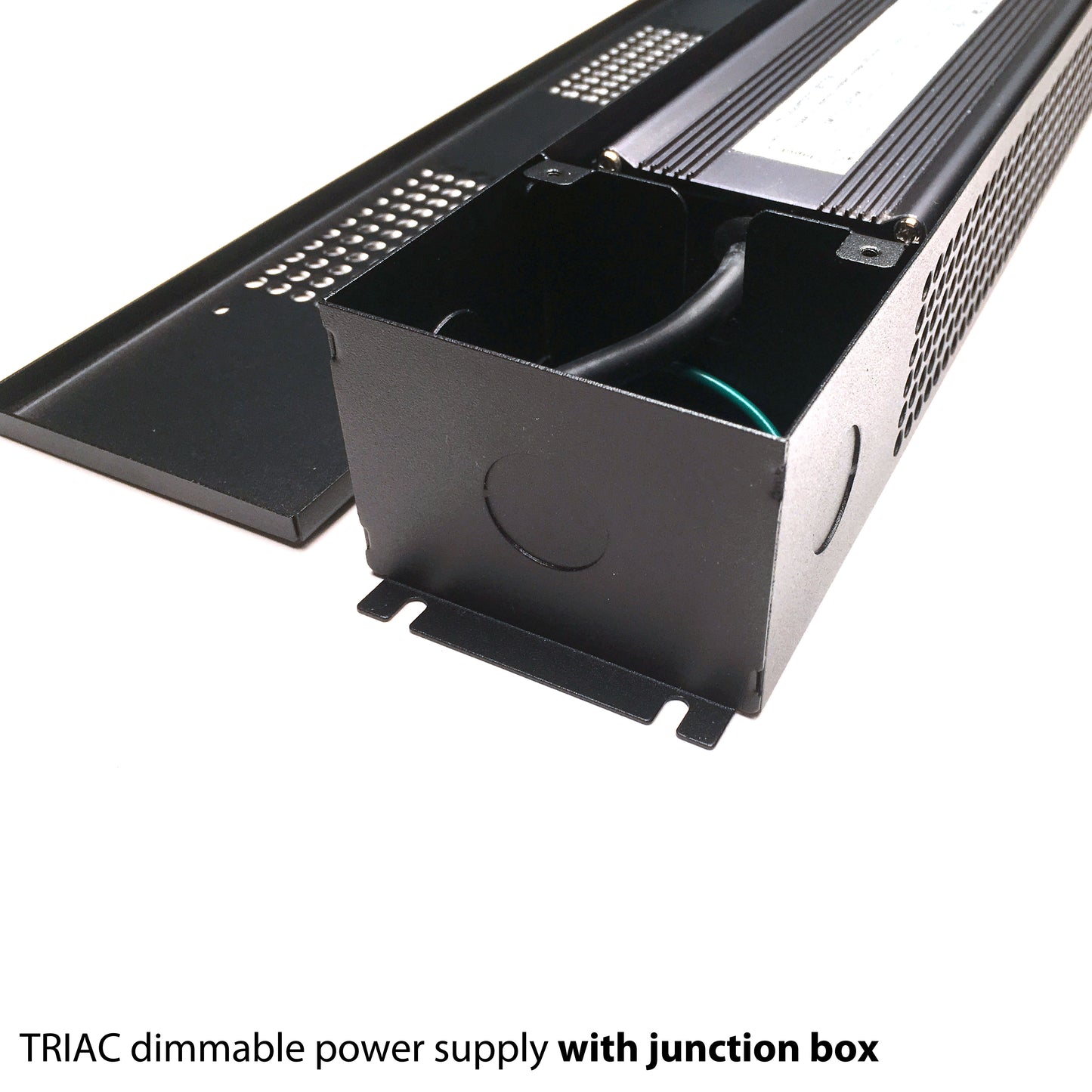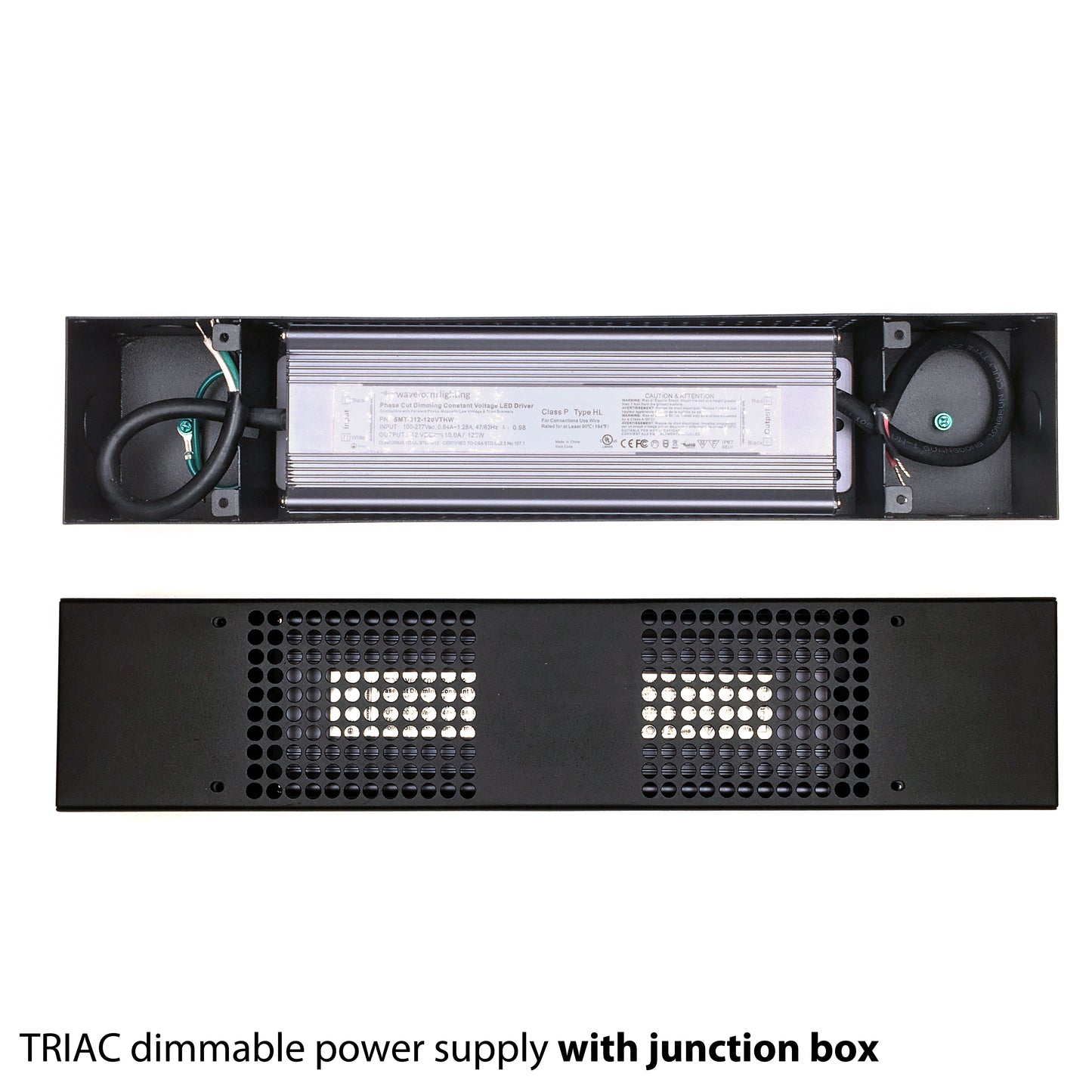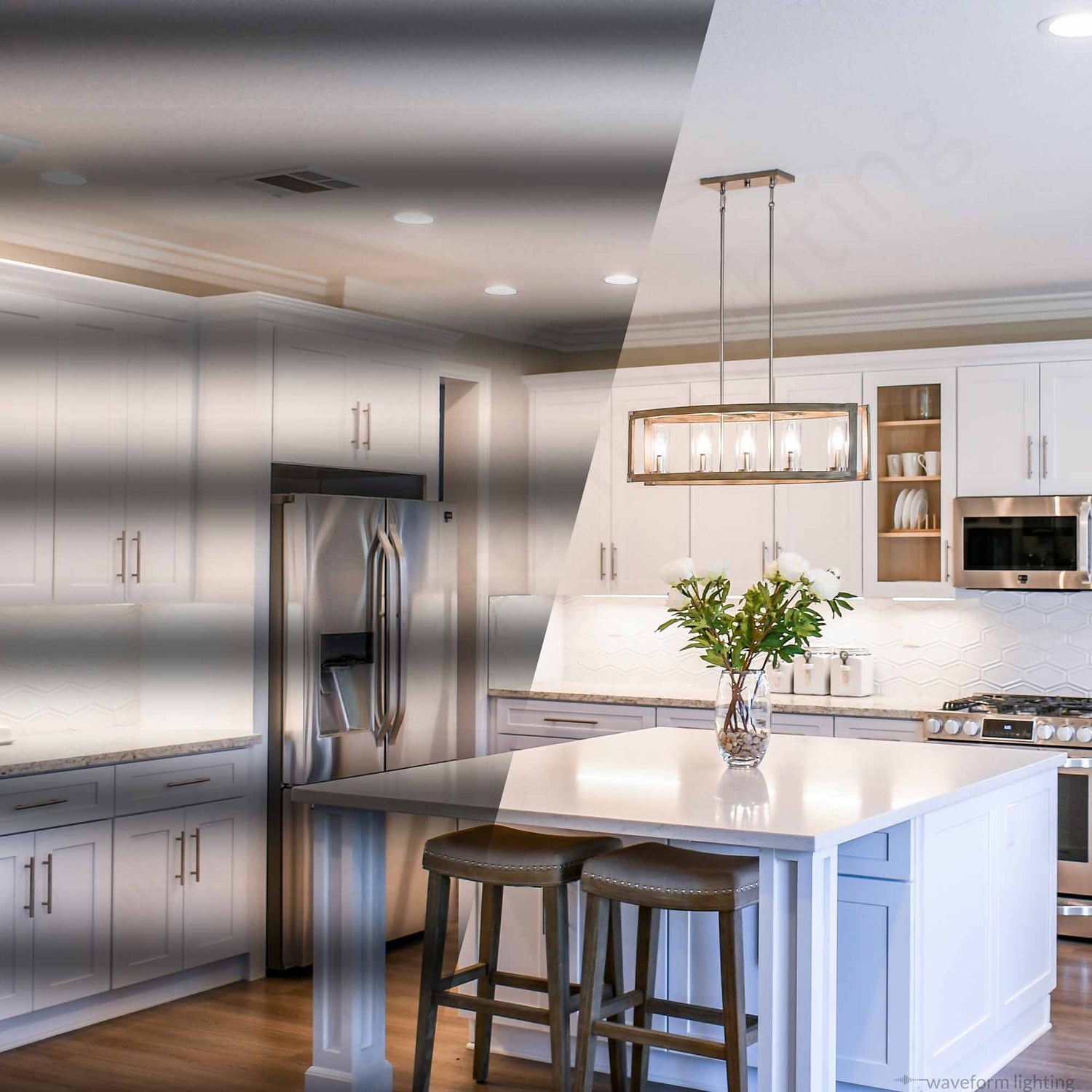 FLICKER-FREE & HEALTHY
Some LED lights will produce rapid flicker or pulses that aren't immediately visible to the naked eye, which can cause headaches, nausea and eye strain. Our CENTRIC SERIES™ products include additional electrical circuitry to achieve a truly flicker-free light output that produces a comfortable and stable light level. Learn more about flicker here, or watch our video demonstration below.
Learn More
Flicker-Free Demonstration Video
Example Layouts
Our LayoutMaps™ showcase our LED strip lights in various installation formats and wiring configurations.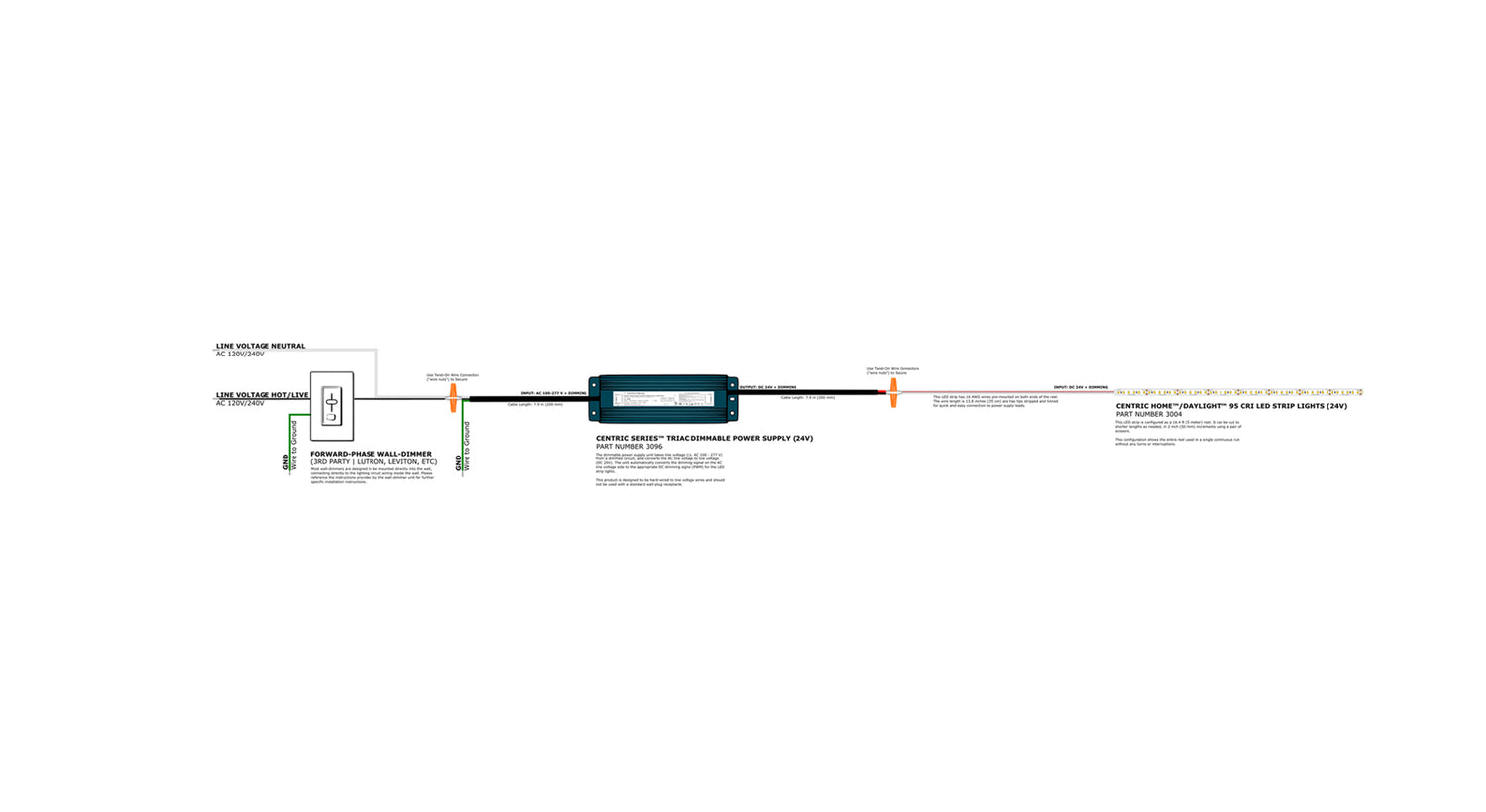 Full Reel on Wall-Dimmer
This layout utilizes a dimmable power supply that allows a full reel of the LED strip light to be dimmed using a traditional wall-dimmer.
View Layout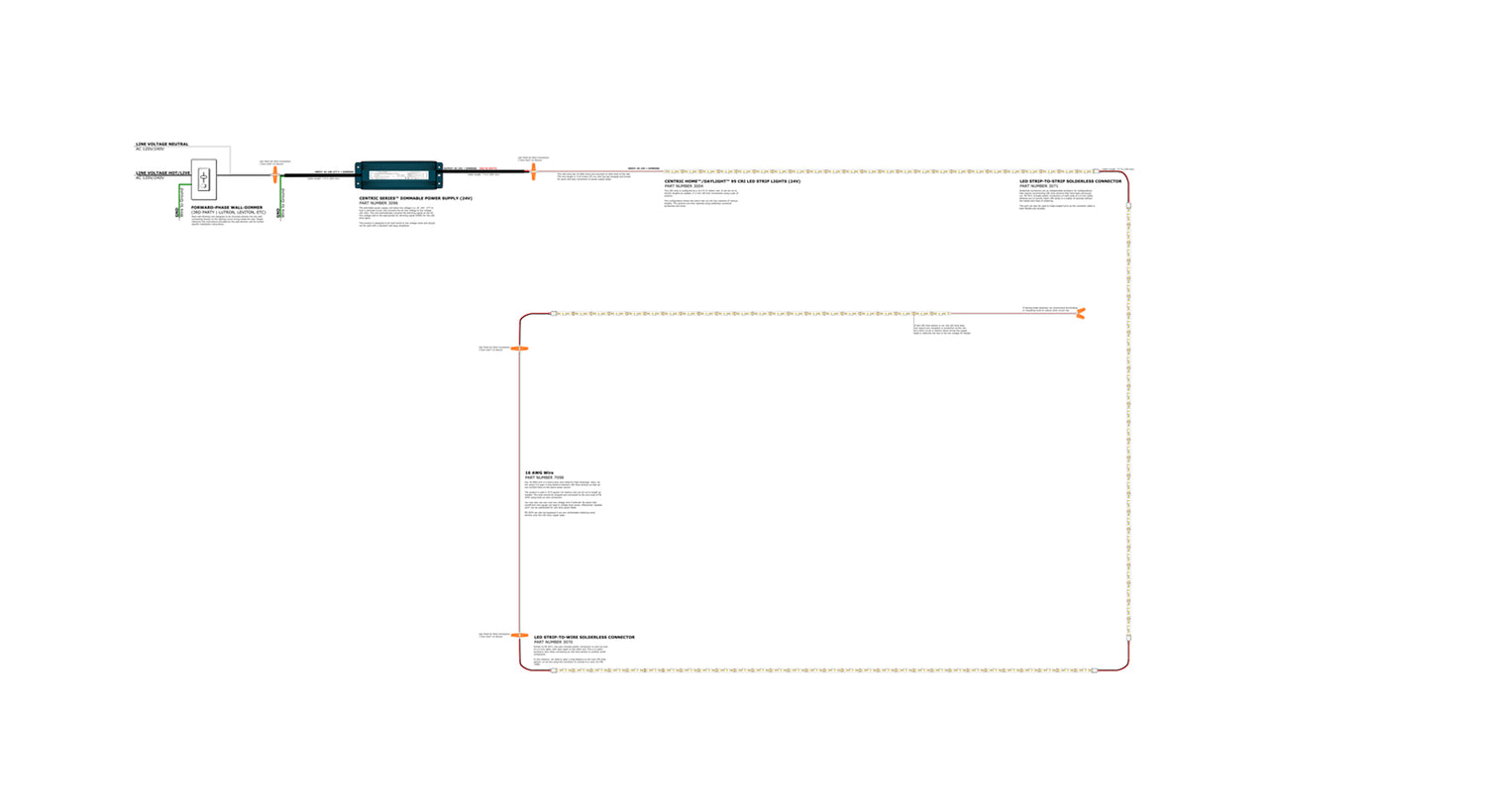 Separate Segments on Wall-Dimmer
This layout utilizes a dimmable power supply that allows a separate sections of the LED strip light to be dimmed using a traditional wall-dimmer.
View Layout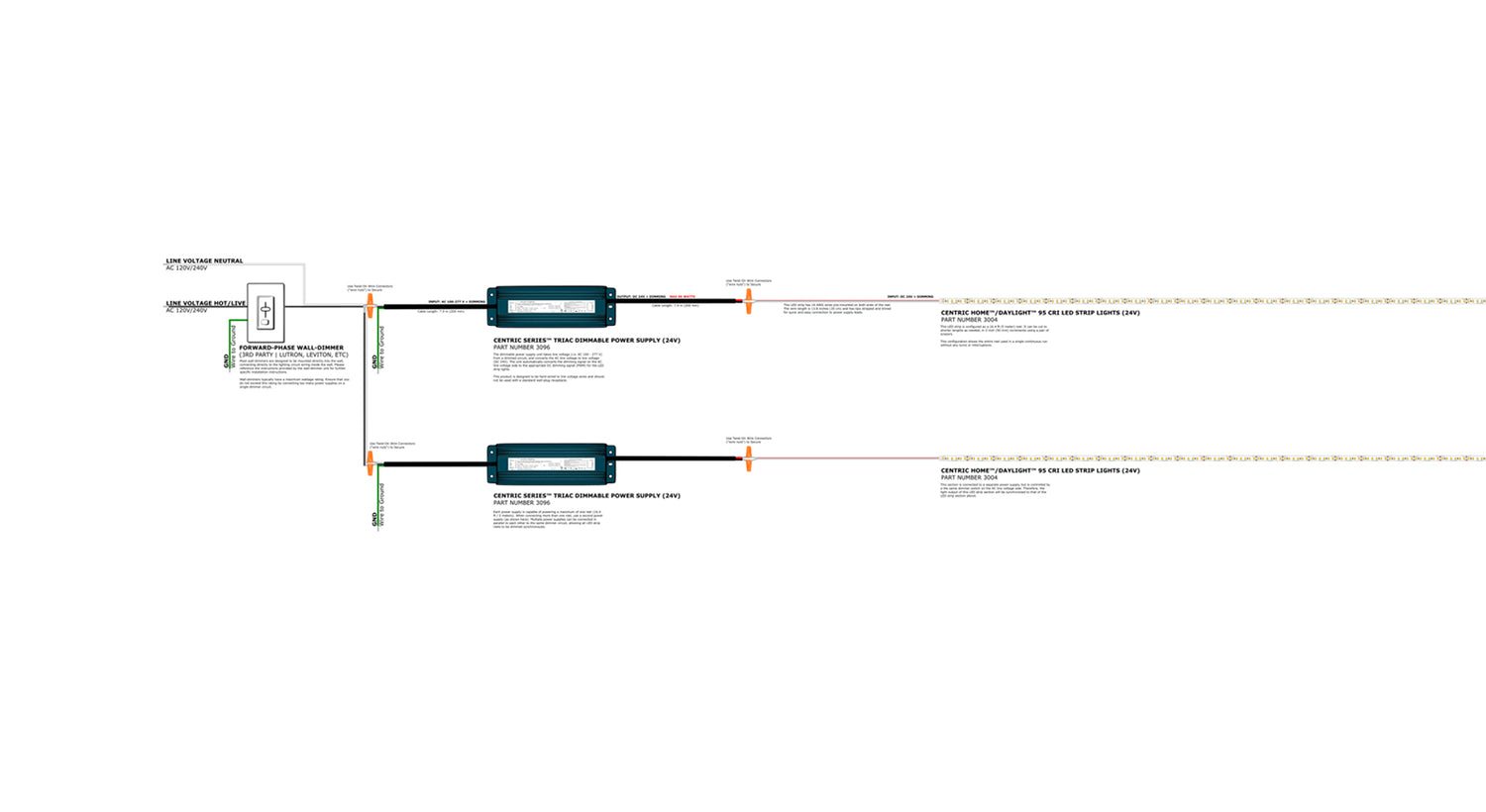 Multiple Reels on Wall-Dimmer
This layout utilizes multiple dimmable power supply units simultaneously control multiple LED strip light reels using a single traditional wall-dimmer.
View Layout
Great products
I purchased the 12V TRIAC Dimmable Power Supply, Centric Home LED Strips (2700K), solderless connectors, and strip wire to light the interior of a dining room china cabinet with glass doors to accommodate my wife's request to dim with a wall mounted Luton LED+ Lumea dimmer switch. The install was quite simple with the assistance of my electrician buddy who ran the input lead to the transformer. Everything is working beautifully. I highly recommend this solution.
Excellent
Looks great in our kitchen. Ordering more for our mudroom and storage room. Highly recommended
Best LED strips and dimmable power supplies I have seen
The TRIAC Dimmable Power Supply and the CENTRIC HOME™ LED Strips (95 CRI) are the best I have seen. They're obviously higher cost than many of the LEDs on Amazon, etc. But there quality does even begin to compare. I just wish we could get the LEDs in a water resistant IP65 version. But overall, very happy with the product so far.
Outstanding
If your an artist, you need this lighting in your studio. It's clear and crisp without any flickering.
If you have any questions, these people will help you get the right product for the right application.
Austin
Other Full Spectrum Lighting Products