True Ultraviolet Fluorescence
realUV™ LED strip lights have strict wavelength specifications of 365 nm and 395 nm, to ensure that the emitted light is a true ultraviolet wavelength.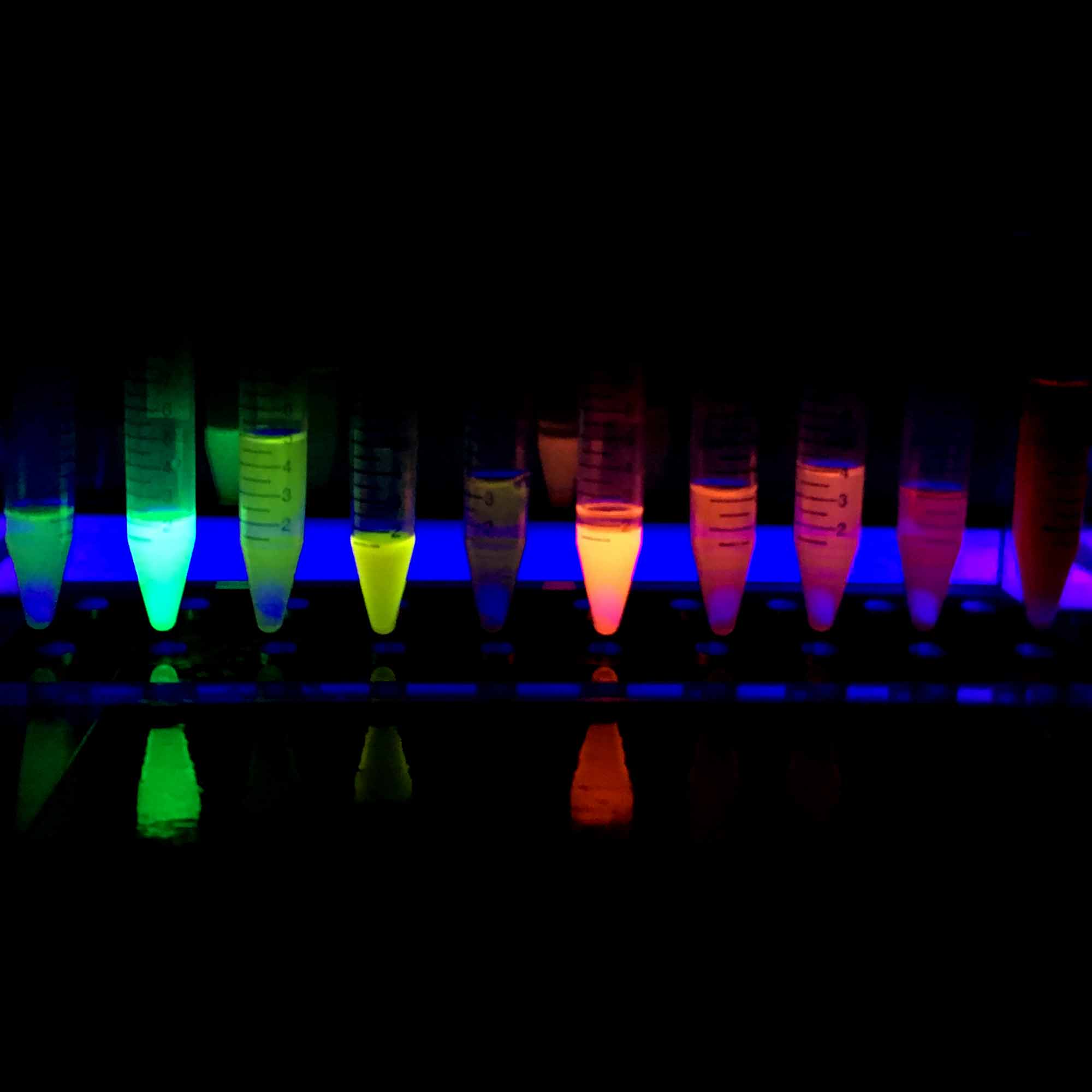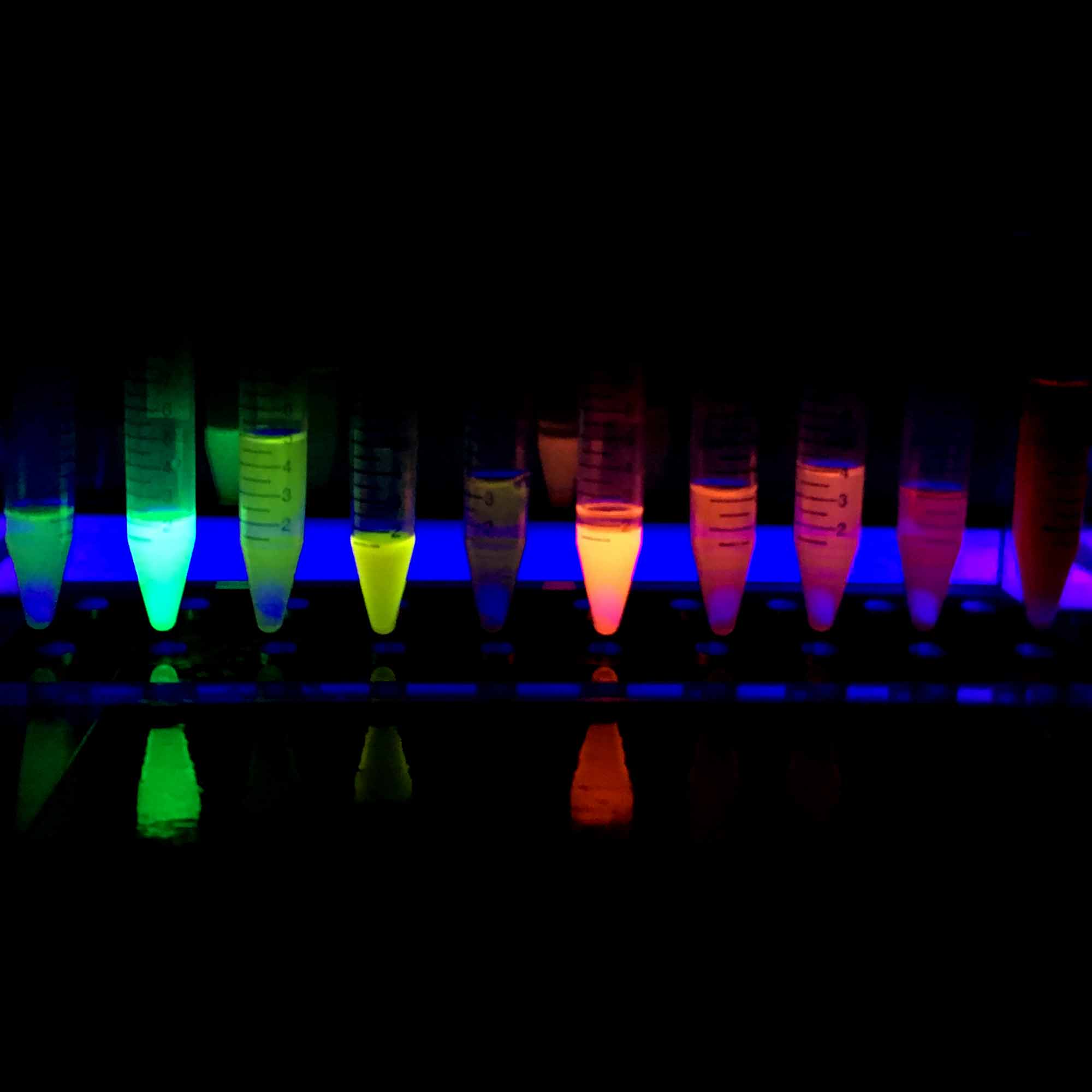 True Ultraviolet Fluorescence
realUV
™ LED strip lights have strict wavelength specifications of 365 nm and 395 nm, to ensure that the emitted light is a true ultraviolet wavelength.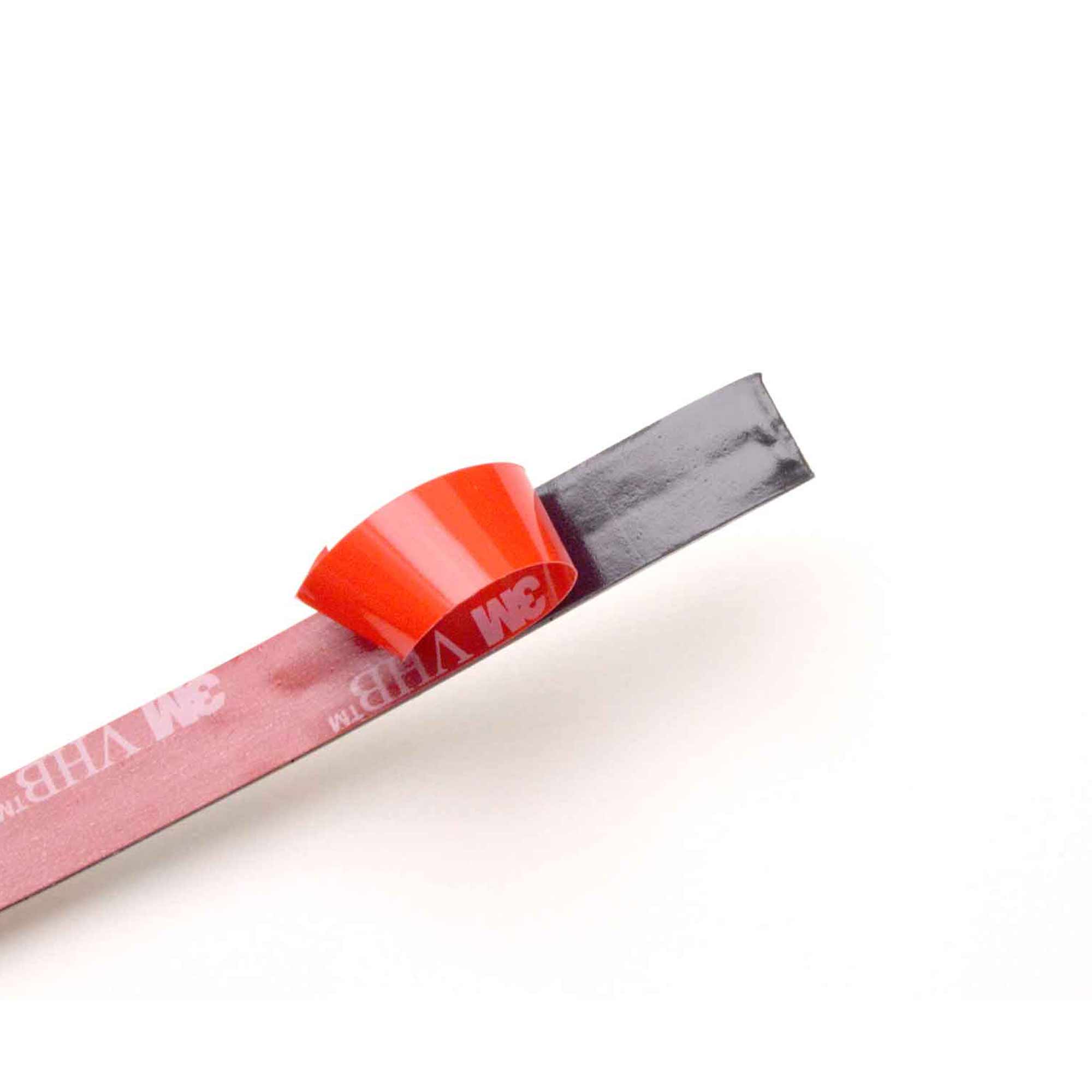 Strong & Secure Adhesion
Pre-applied 3M VHB double-sided tape on the back side allows for simple but reliable installation. Peel back the liner and apply to virtually any surface. Architectural-grade adhesive ensures your LED strips stay in place.
Plug & Play
realUV™ LED strips include DC plugs on both ends. Simply plug in and connect a 12V power supply - no tools, soldering or frustration!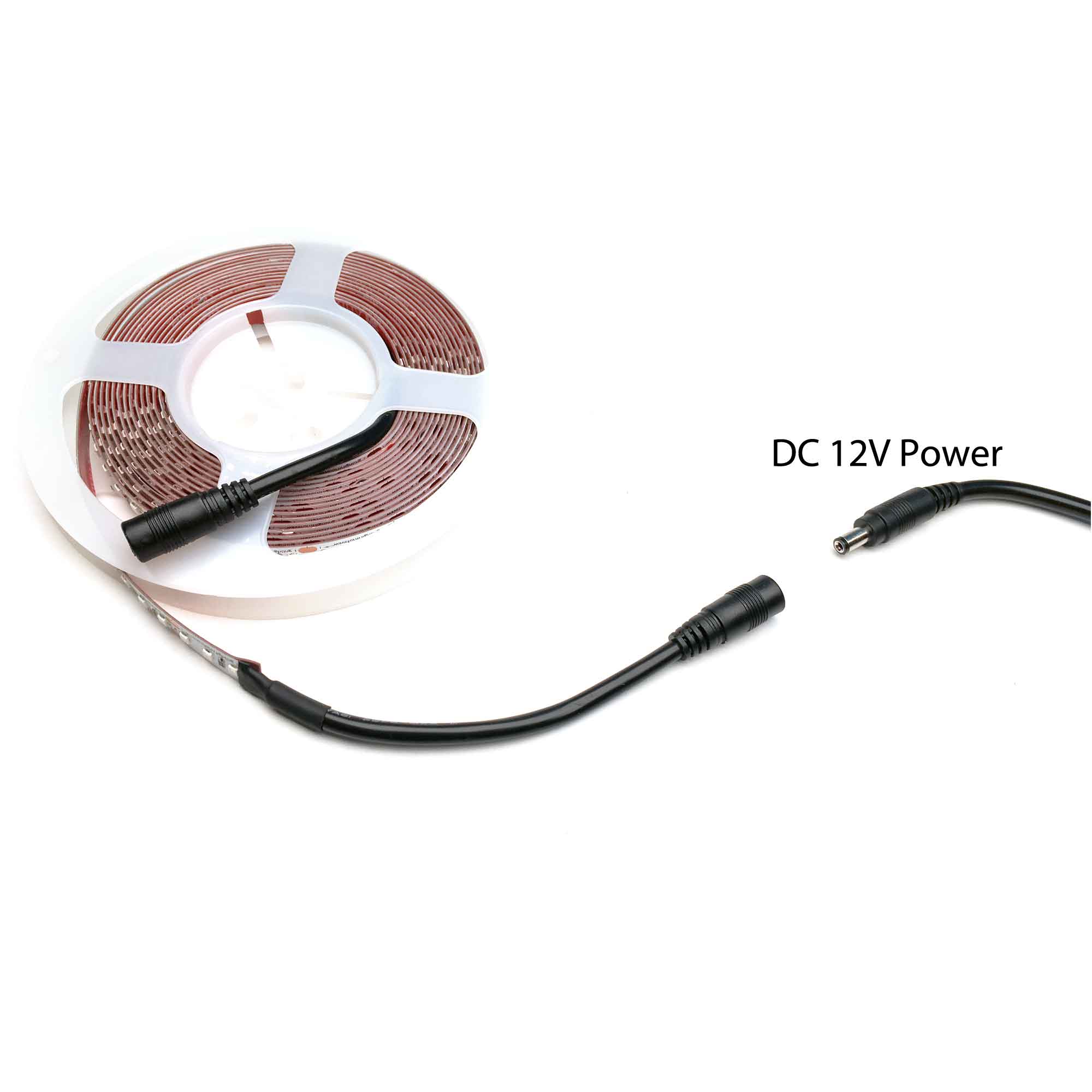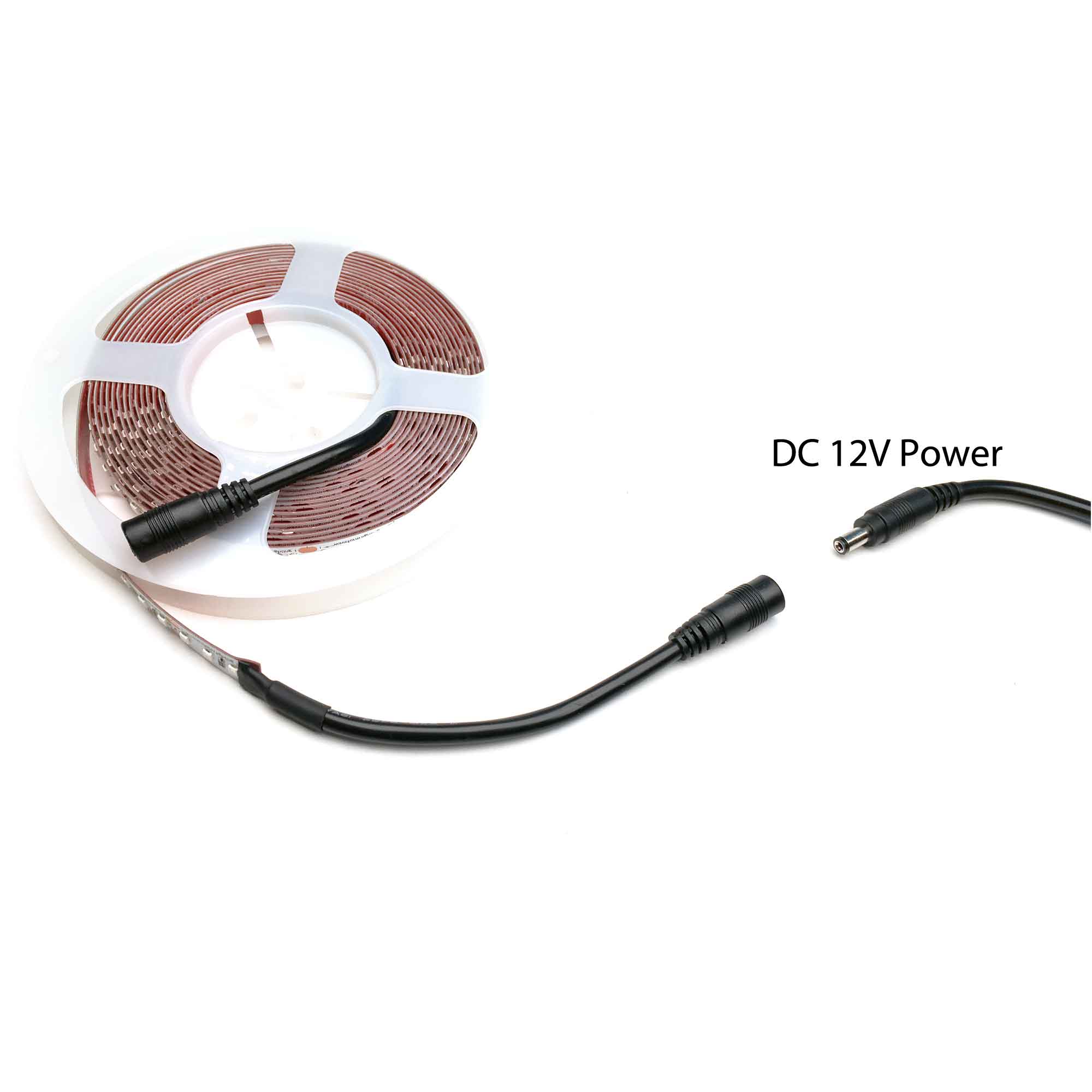 Plug & Play
realUV™ LED strips include DC plugs on both ends. Simply plug in and connect a 12V power supply - no tools, soldering or frustration!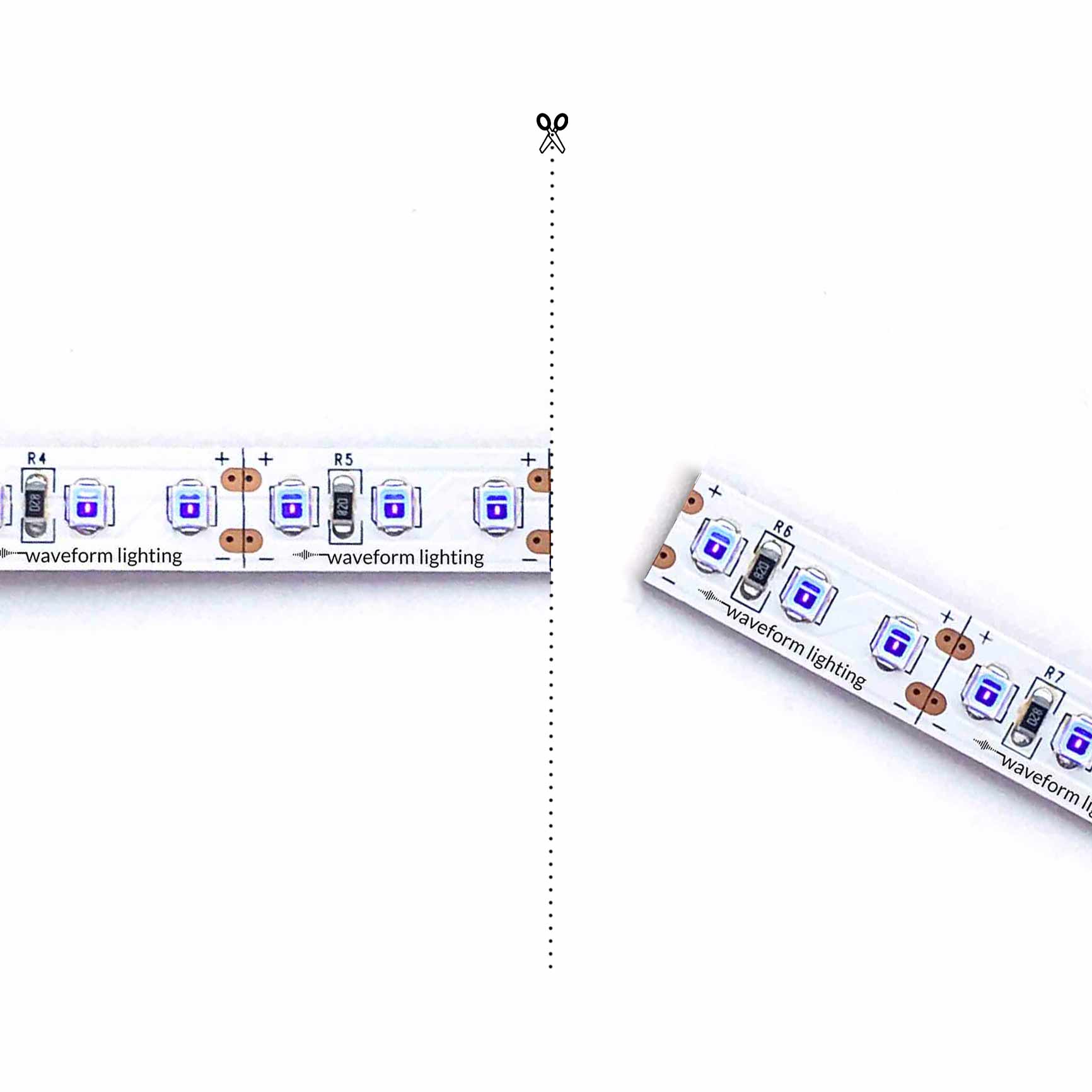 Cut-to-Length
These LED strips can be cut to length in 1 inch intervals using just a pair of scissors.
Now you can install UV lights to fit any application, regardless of its size or shape.
Rejoin LED Segments
Conveniently rejoin cut LED segments using our
PN 3071
solderless connectors. The connector cable is flexible, so you can also turn corners or change the direction of your LED strip run.
Frequently Asked Questions 

How much UV energy do these strips put out?

The total amount of UV energy emitted is 0.9 watts per foot, and 0.7 watts per foot, for the 395 nm and 365 nm versions, respectively.

This amount of UV energy is comparable to 1.5x-2.0x of the UV emitted by a fluorescent blacklight of corresponding length.

 

How much visible light is emitted by this product?

The peak and dominant wavelengths of these products is 365 nm and 395 nm. A vast majority of the energy is emitted within a +/- 5 nm range (FWHM = 10 nm).

The wavelength energy emitted below 400 nm is not visible to the naked eye. However, a very small fraction of the energy is also emitted as visible light, with wavelengths longer than 400 nm. For the 365 nm, the visible light appears as a dull, bluish-white light, and the 395 nm, a dark, violet light.

The amount of visible light is typically less than 2-3 lumens per foot (a 4W incandescent night-light bulb typically emits 15-20 lumens).

Please use caution as nearly all of the energy emitted by this product is not visible to the naked eye. Although it may appear to be dim, lots of UV-A energy is nonetheless being emitted. The light that you are able to see only represents a very small fraction of the total energy emitted.

 

Can these UV LED strips be used for disinfection and sterilization?

The wavelength range of these LED strips is limited to 365 nm or 395 nm (UV-A) only. Most disinfection and sterilization processes require UV-C radiation, which is typically defined as 280 nm and lower. As such, these LED strips are not suited for most disinfection and sterilization applications.

 

What type of power supply do I need?

This LED strip product requires a DC 12V power supply to operate. For most residential and commercial installations, this means that the AC 120V (North America) or AC 240V (Europe) needs to be converted via a power supply unit.

When choosing a power supply unit, you must ensure that the output voltage matches the LED strip voltage (i.e. DC 12V or DC 24V), and that the power supply capacity is sufficient to operate the length of LED strip.

The power supply capacity needed is determined by the total length of LED strip connected. Each 1 foot section consumes 4.5 watts of power - so, for example, a 10 foot section will consume 45 watts of power, and we would therefore recommend a minimum power capacity of 45 watts.

Typically, however, it is a good idea not to run a power supply at its maximum capacity. We recommend providing an extra 5-15% of "headroom" above the actual LED strip power consumption.

Our FilmGrade power supply plugs directly into the LED strip without the need for assembly, and can power up to 16.4 ft of realUV™ LED strip. For a basic plug-and-play installation, all you need to purchase is the power supply unit.

 

How do I connect this product to a power supply?

Each reel of LED strip includes DC female plugs pre-mounted on both ends. Simply plug the power supply in, and the LED strip will immediately illuminate.

If using a power supply with wire leads, use an adapter such as PN 7095 to convert the DC plug to wire receptacles.

 

What is the maximum run length of this product?

The maximum run length is 16.4 ft (one full reel). The maximum run length represents the longest permitted length of LED strip that can be connected as a single consecutive run to a power supply.

If you need to install more than 16.4 ft, you must connect each run separately. You may daisy-chain short reels together (see below).

 

Can I daisy-chain short reels together?

Yes! You can connect up to 5 short reels together to a single power supply (as long as it has sufficient capacity, which our FilmGrade power supply does), and link the short reels together, in an end-to-end configuration.

You will need an adapter (PN 7096) to join the two DC female cables together.

Can I use these LED strips in wet or outdoor environments? What about coating materials or other encapsulants?

The realUV™ LED strip lights are not waterproof and are for indoor use only. If you plan on implementing your own method of moisture and ingress protection, we recommend taking care to understand the optical properties of the materials you are using, as many plastics will absorb, rather than transmit, the UV energy emitted by the LED strip.

You may want to consider our realUV™ LED flood lights as an alternative, which have a waterproof rating and is suitable for outdoor use.

 

Do these LED strips require heatsinking?

Because the premium LEDs on this product are under-driven below their rated capacity, these LED strips can be operated without any heatsinking or additional thermal management.

Temperature rise of the LED strips is typically 50 degrees Fahrenheit (20 degrees Celsius) over ambient.

 
LED Backlighting
The Waveform LED blacklight makes our paintings pop in ways never achieved with the clunky double 4' blbs. And the 365nm wavelength eliminates the blacklight fog entirely. Many thanks! We will definitely be ordering more lighting soon....> ! SWH
True to claims
After searching and searching for true 365 lights I finally found some in this product! I'm using my lights to illuminate depression glass, the strips light the selenium and cadmium amazingly without any purple hue! Very happy with my purchase and plan to grab a couple more sets!!
Worth it
Nice to find a 1 m 365 nm LED strip at reasonable cost. Used it for a display of fluorescent rocks (Yooperlites(tm)). Glad to have a 12V 500mA plug (the 1.3 A plug was too much).
These work very well
They appear to be as efficacious as a fluorescent black light. This makes a moth trap lighter, and in need of a lighter battery.
Survived a flood
I set the strip and power brick on my basement floor and it flooded that very night. Totally under water, I put it all in front of a dehumidifier for 3 days and it all worked just fine! Somehow it was even still sticky enough to put on the wall. I'm buying another strip now.
I'm Also very happy though even though it's very purple it doesn't actually light up the room very much, just makes stuff reflect
Awesome UV Strip Lights!
I use these lights to edge light my carved and airbrush painted glass art. They are much brighter than the cheapy Blacklight strips you can buy online. For my work, these lights penetrate through the glass much further to illuminate the art farther from the edge. Good stuff!! You can see the difference in these two pics. One is the cheap blacklights.
Aluminum Channels > 365nm strip lighting
Appropriate LED spacing produces solid, consistent color across the channel\diffuser, i.e. as advertised, individual LEDs do not show through. Aluminum channel install is easy. Sliding the diffuser cover on or off the channell will not work. It is much easier to pull/peel the cover off the channel. Once the lights are mounted, it snaps back in place. I left the protective plastic on the diffuser cover until after the lights were fully installed.
Good products from good people in the PNW.
Great emission but more white light than the photos suggest.
Pretty good overall. Definitely throw out a lot of UV light. They put out way more visible light than the photos suggest, though. And the photometric reports don't seem to show that. If you're not doing specialized photography like I am, though, you're likely going to be in great shape.
excellent ultraviolet light strip
I got the real UV 367 nm light strip and am very happy with the quality of the light. Very bright and very little purple tint to the light, excellent for illuminating UV pigments. The power supply I got to go with it works fine.