Regular price
$375.00 USD
Regular price
Sale price
$375.00 USD
Unit price
per
Sale
Sold out
99 CRI to truly replicate natural daylight - an industry first
Available in D50 (5000K) and D65 (6500K)
375 lumens per foot (1250 lumens per meter)
Designed around 12V or 24V constant voltage input

D50 color point / chromaticity meets ISO 3664:2009 requirements

Uses PLUG system: female DC barrel jack on both ends for direct connection to FilmGrade power supply, sold separately
4 oz copper circuitry for reduced voltage drop
For indoor use only
Specification Sheet - 12 volt
Specification Sheet - 24 volt
5000K Photometric Report
6500K Photometric Report
5000K TM-30-15 REPORT
6500K TM-30-15 REPORT
Product Description

Waveform Lighting's ABSOLUTE SERIES™ technology is the LED industry's first LED product to achieve 99 CRI at D50 5000K and D65 6500K. The 99 CRI rating indicates that the emitted light is quantitatively near-identical to natural daylight. This is the holy grail of lighting!

Our LED flexible strip provides 375 lumens of full-spectrum 99 CRI light per foot that is virtually indistinguishable from natural daylight.


Product Specifications

Color Temperature Options:

CRI (Ra): 99
CRI R9: 90
Brightness: 375 lumens per foot
Voltage: DC 12V
Power: 4.2 watts per foot
Connection: Female DC Connector (Both Ends)
Installation

This LED strip product requires a DC 12V or 24V power source, depending on which LED strip voltage option you chose, to operate. For most applications, a plug-in power supply is the easiest and quickest way to get powered up. Our FilmGrade™ power supply plugs directly into the LED strip without the need for assembly, and can power up to 16.4 ft of the ABSOLUTE SERIES™ LED strip.

For more complex applications that require dynamic controls, the ABSOLUTE SERIES™ LED strip can be dimmed via a traditional wall-dimmer (e.g. Lutron/Leviton) or an inline dimmer (e.g. PWM FilmGrade dimmer). Use a dimmable power supply (PN3093/3096) when connecting to a traditional wall-dimmer system and a standard power supply (PN3091/3092) when using an inline dimmer.
Pricing & Ordering Information

This product is available in two color options - 5000K (D50) and 6500K (D65), as well as two voltage options - DC 12V and DC 24V.

PN 7101.50: 5000K (D50) / DC 12V
PN 7101.65: 6500K (D65) / DC 12V
PN 7102.50: 5000K (D50) / DC 24V
PN 7102.65: 6500K (D65) / DC 24V

Shipping & Returns

This item is in stock and typically ships within 1-3 business days. Shipping is free within the USA for orders over $50.

If you're not 100% satisfied with the performance, color or quality of your product, we'll work with you to make it right.

Simply contact us within 30 calendar days after delivery and we'll pay for return shipping (USA only) and offer you a full refund.

See our delivery policy, returns & refunds policy and warranty policy.
Share
View full details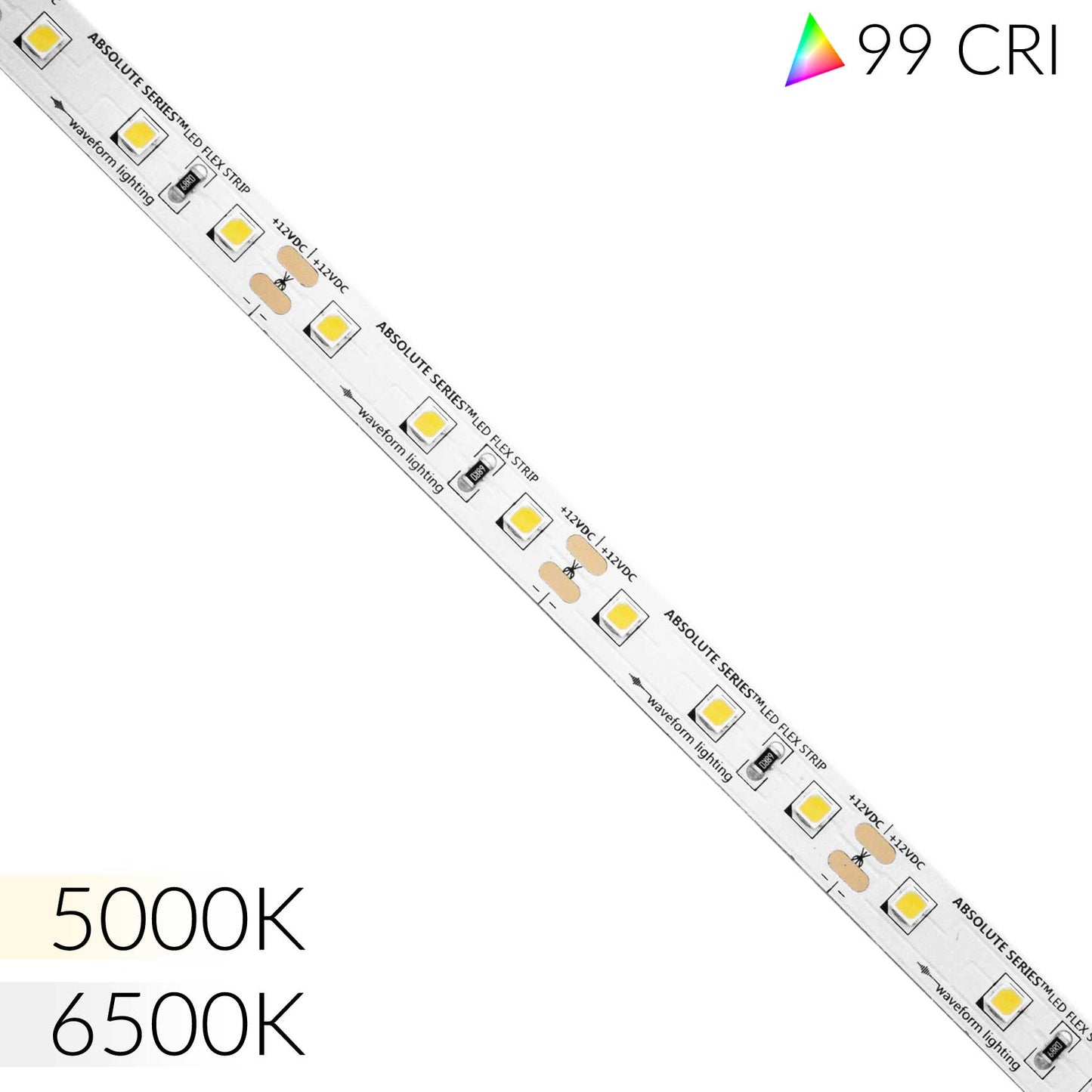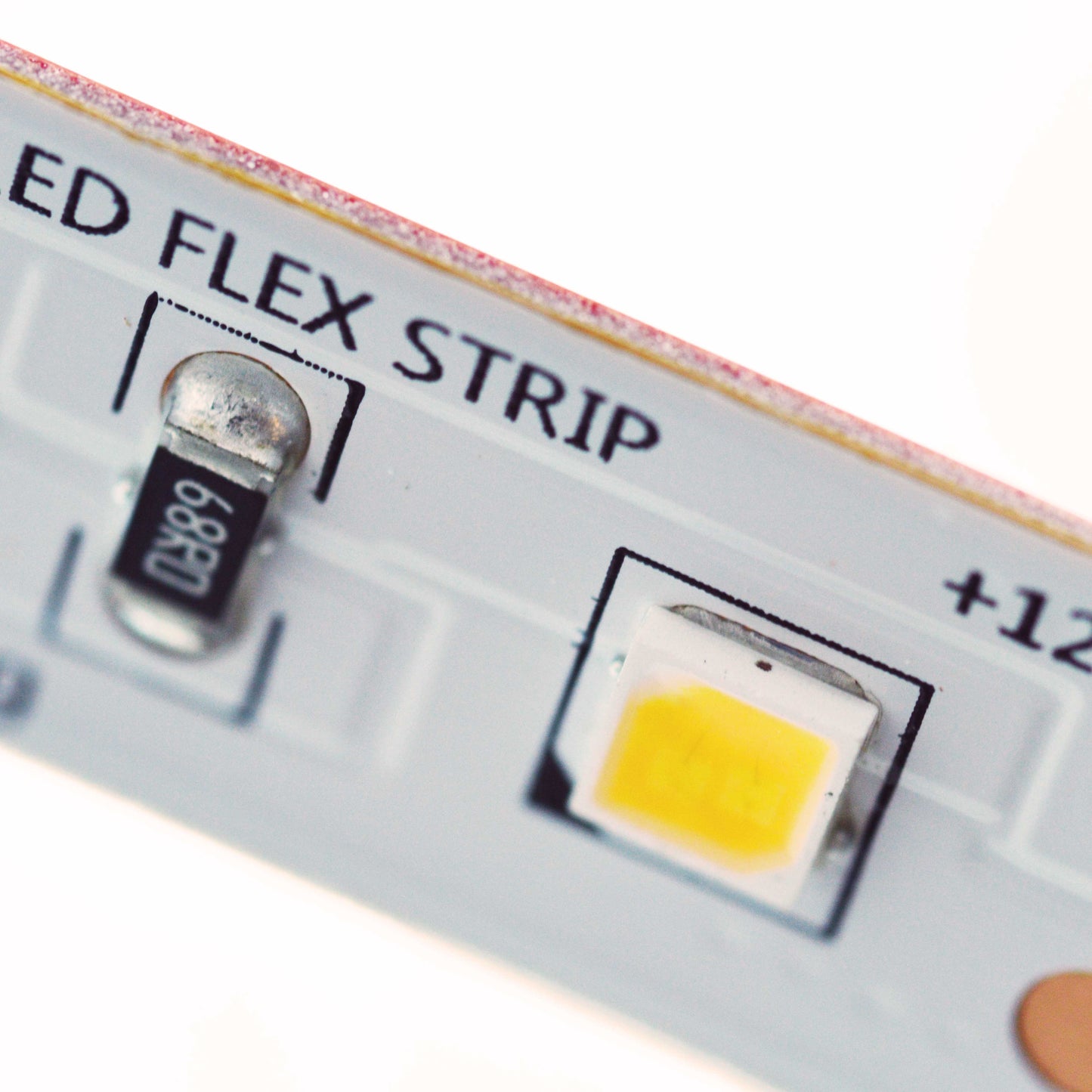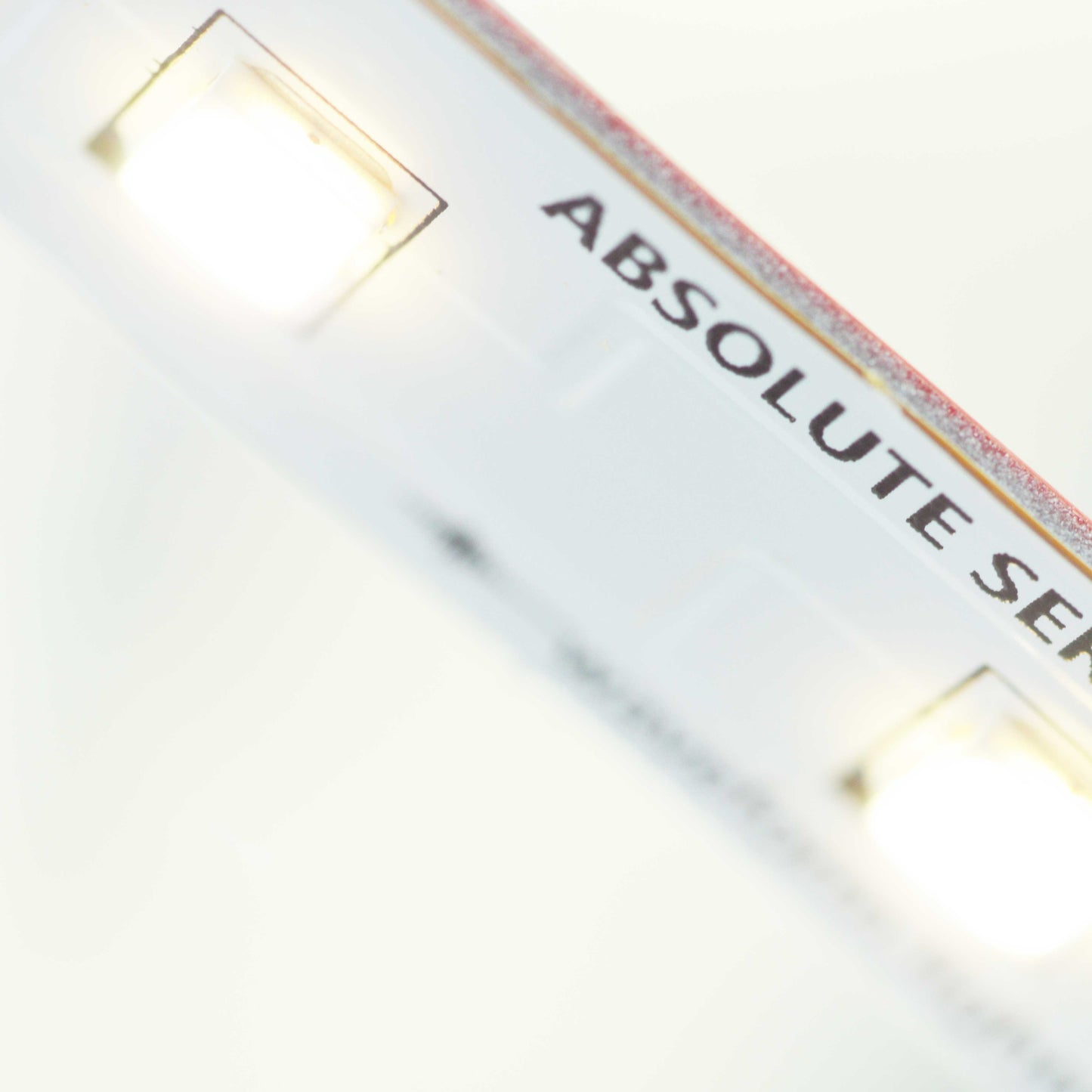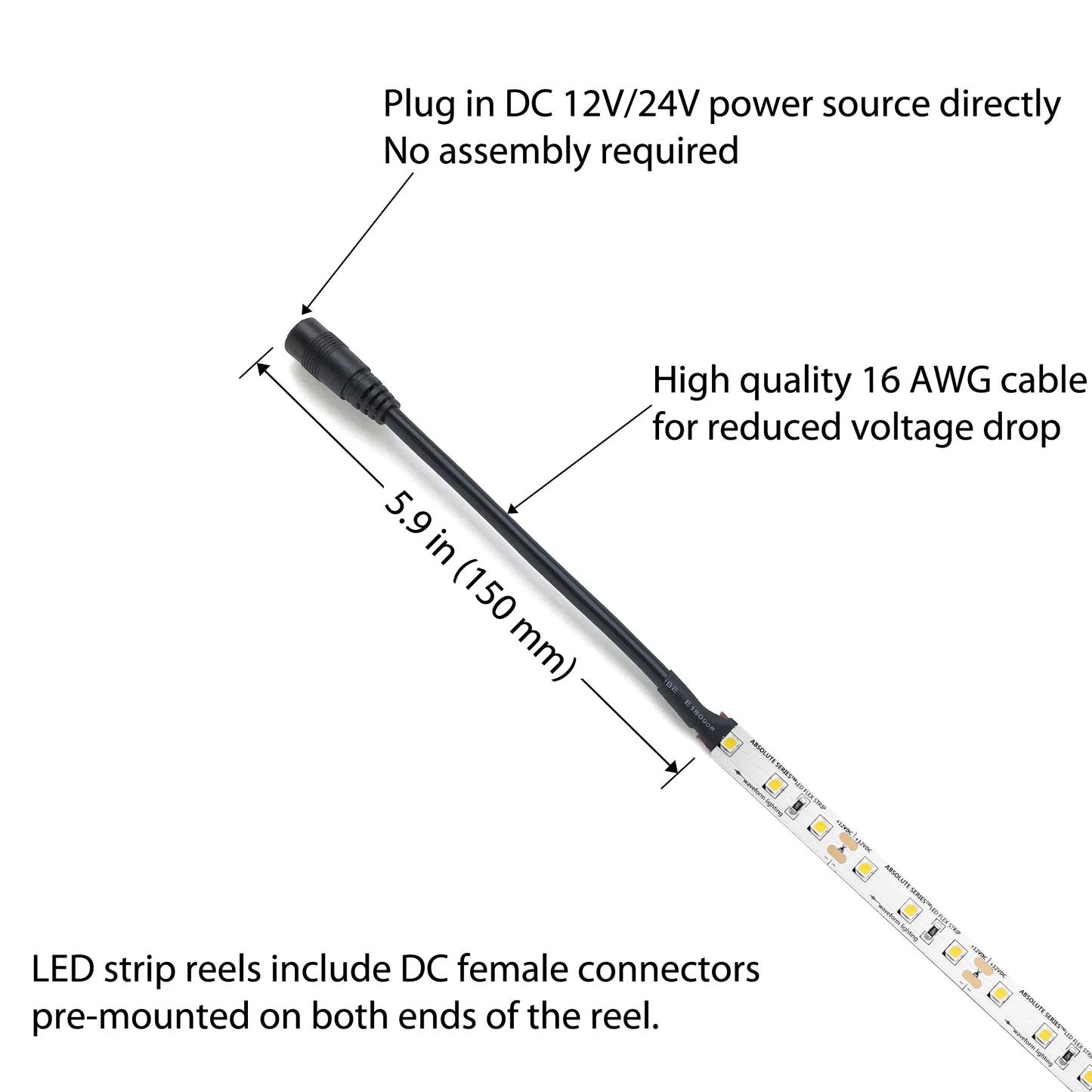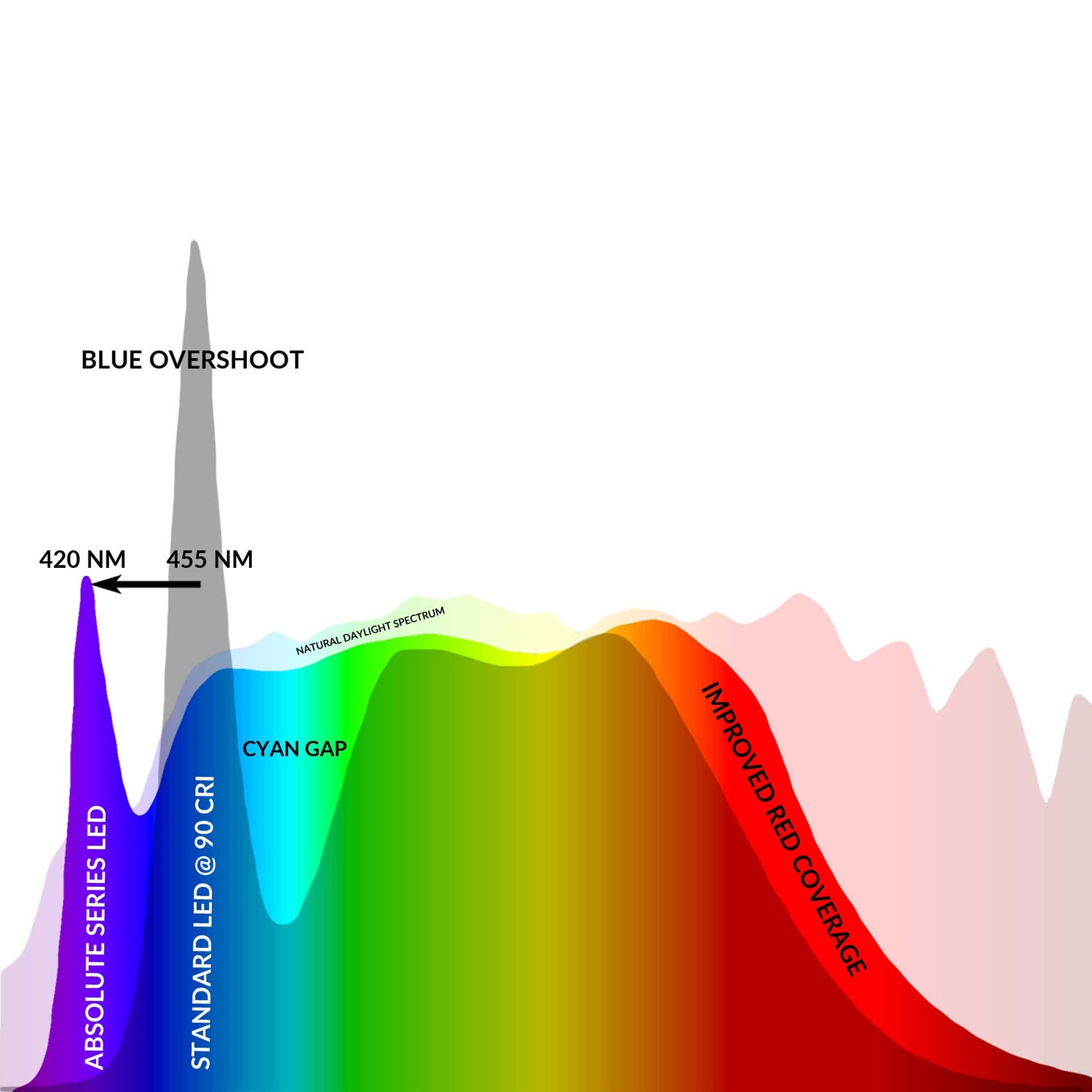 WHITE LIGHT INNOVATION
Traditional white LEDs use 455 nanometer blue die as the underlying light source, and a dual-phosphor mix of green and red phosphors to achieve a semi-full spectrum light output.
This results in what is commonly referred to as the "cyan gap" - where there is a lack of light energy in the region between blue and green wavelengths, and an overshoot of blue wavelength energy. A close look at color rendering scores such as CRI R12 will also reveal that blue colors may appear over or under-saturated.
ABSOLUTE SERIES™ LEDs utilize a different method of producing white light to eliminate the cyan gap and blue overshoot. By shifting the underlying light source wavelength to a violet 420 nm die, a fuller, wider spectrum is made possible. This also provides energy coverage down to the nUV wavelength range.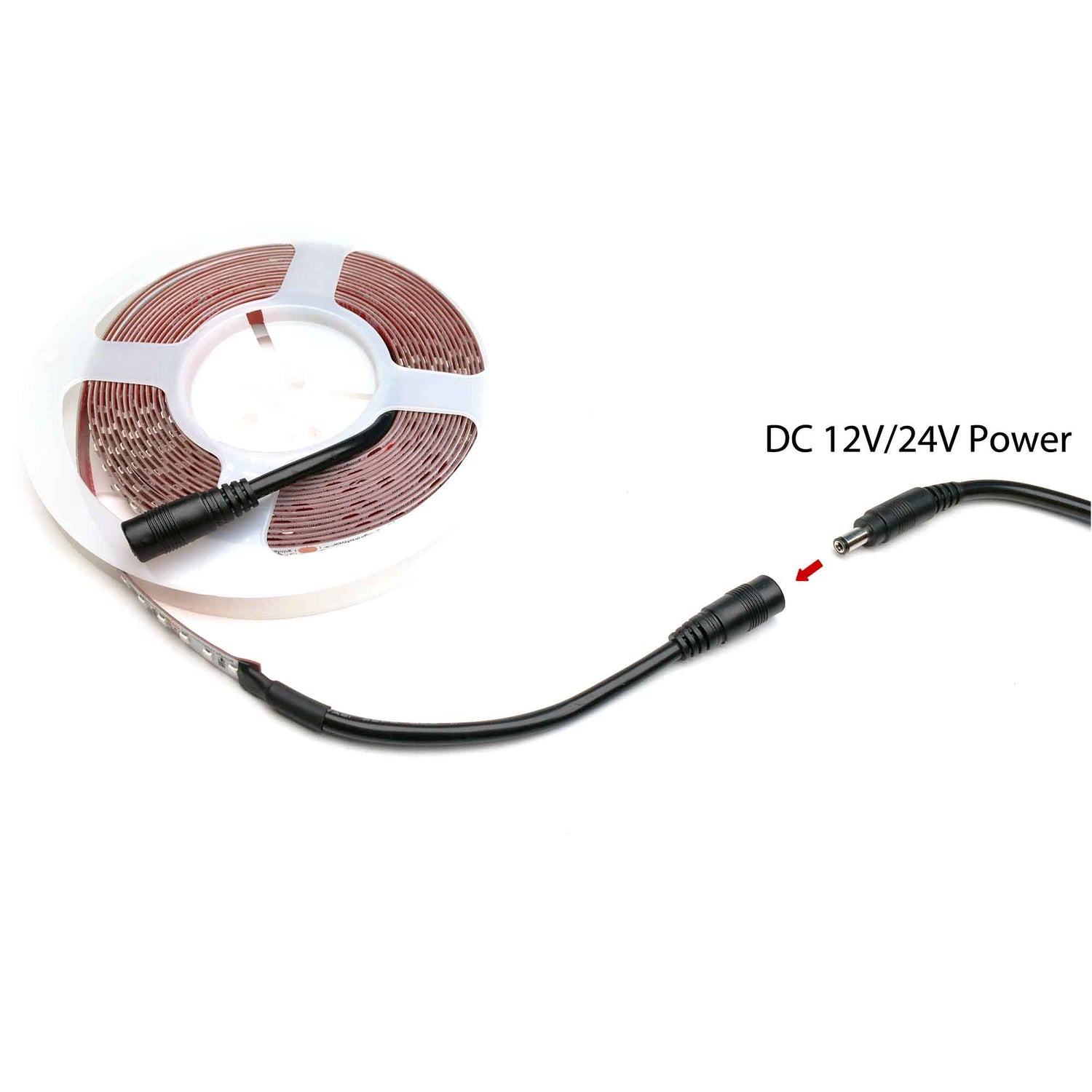 PLUG & PLAY
ABSOLUTE SERIES™ LED strips include DC plugs on both ends. Simply plug in and connect a 12V or 24V power supply - no tools, soldering or frustration!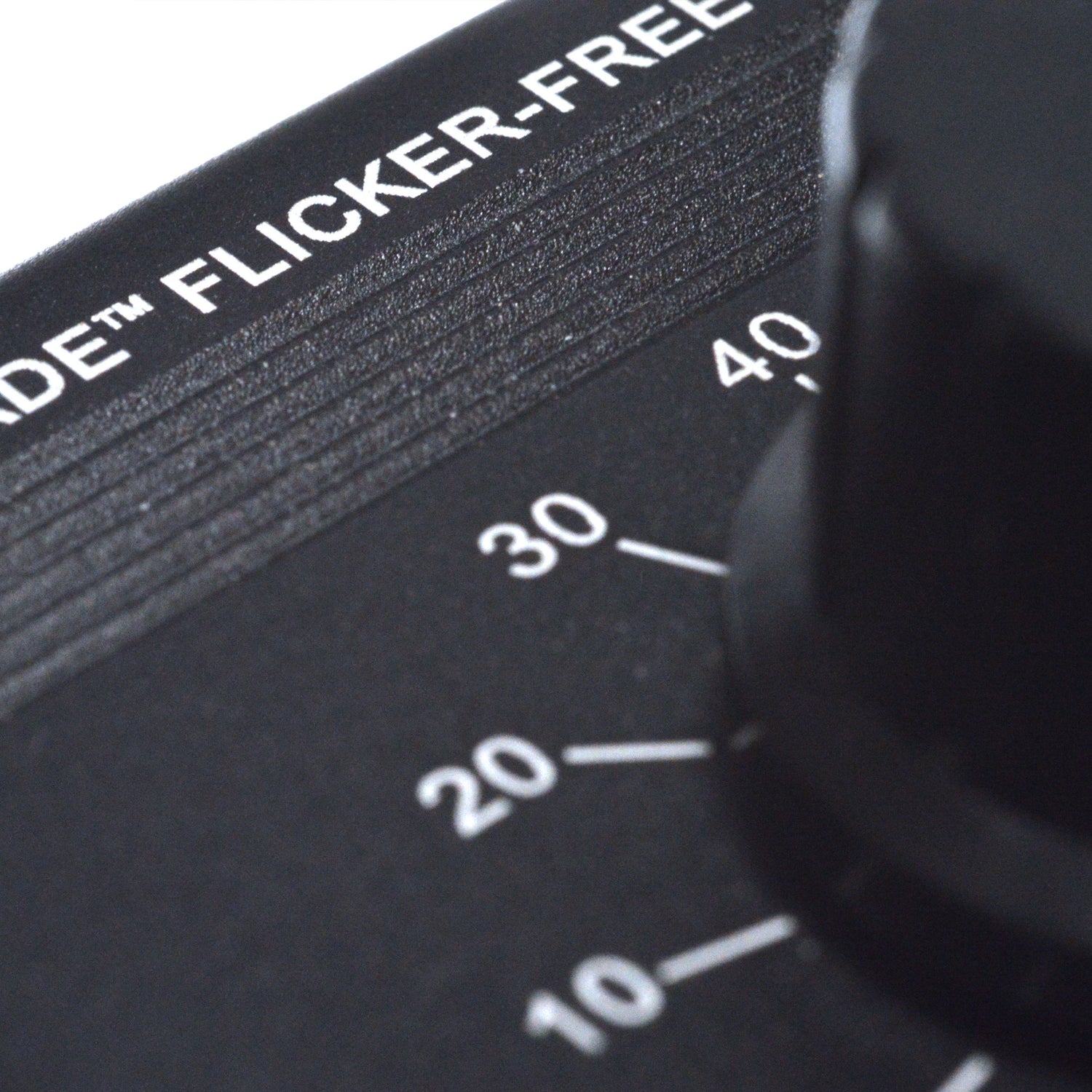 FLICKER-FREE DIMMING WITH FILMGRADE
ABSOLUTE™ LED strips are fully dimmable down to 0% with flicker-free output throughout. For an in-line PWM dimmer, see PN 3081. Wall-dimmer setups (e.g. Lutron/Leviton) will require a dimmable power supply (PN 3093). More info on LED strip dimming here.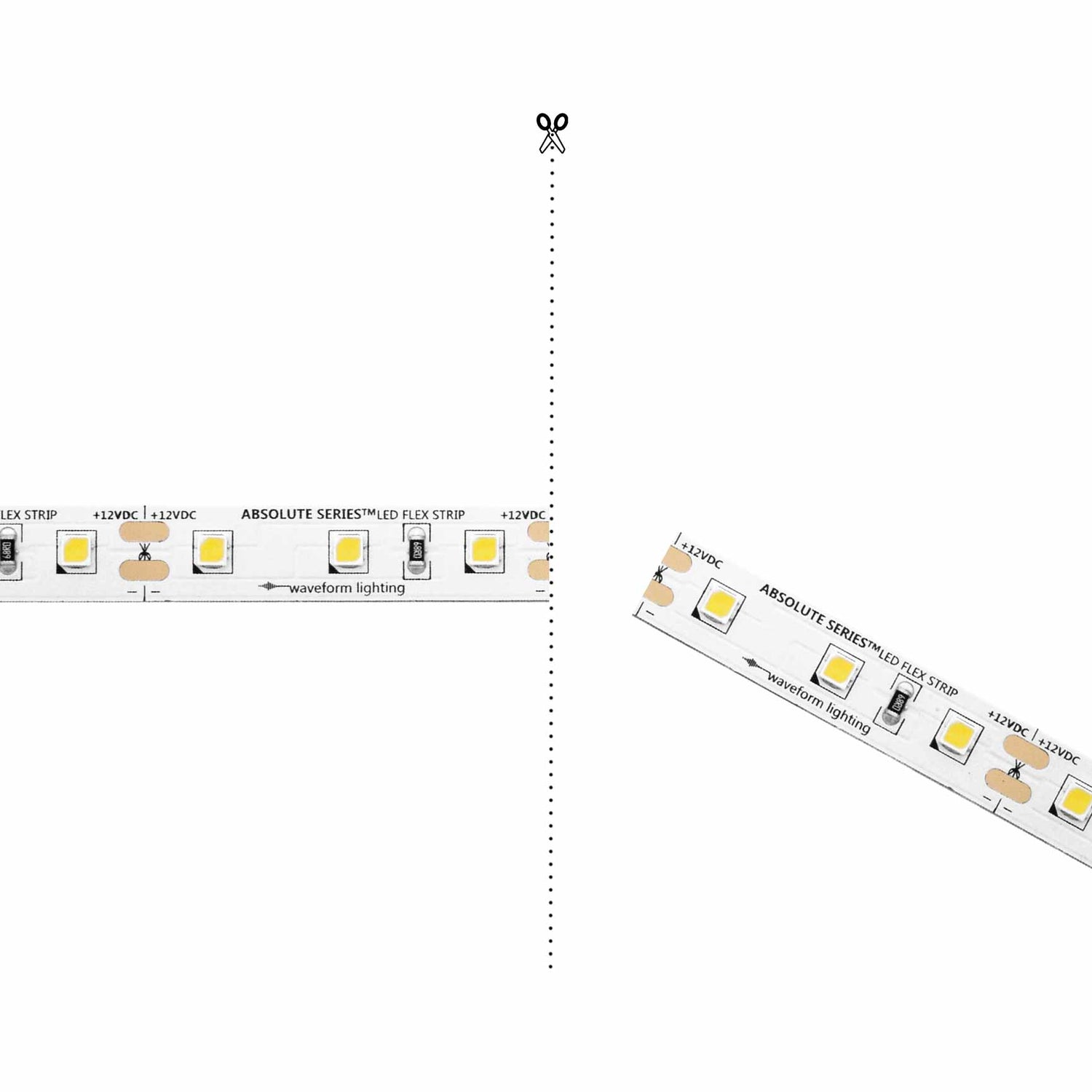 CUT-TO-LENGTH
These LED strips can be cut to length in 1 inch intervals using just a pair of scissors.
Install the ABSOLUTE™ LED strip lights into any application, regardless of its size or shape.
REJOIN LED SEGMENTS
Conveniently rejoin cut LED segments using our PN 3071 solderless connectors. The connector cable is flexible, so you can also turn corners or change the direction of your LED strip run.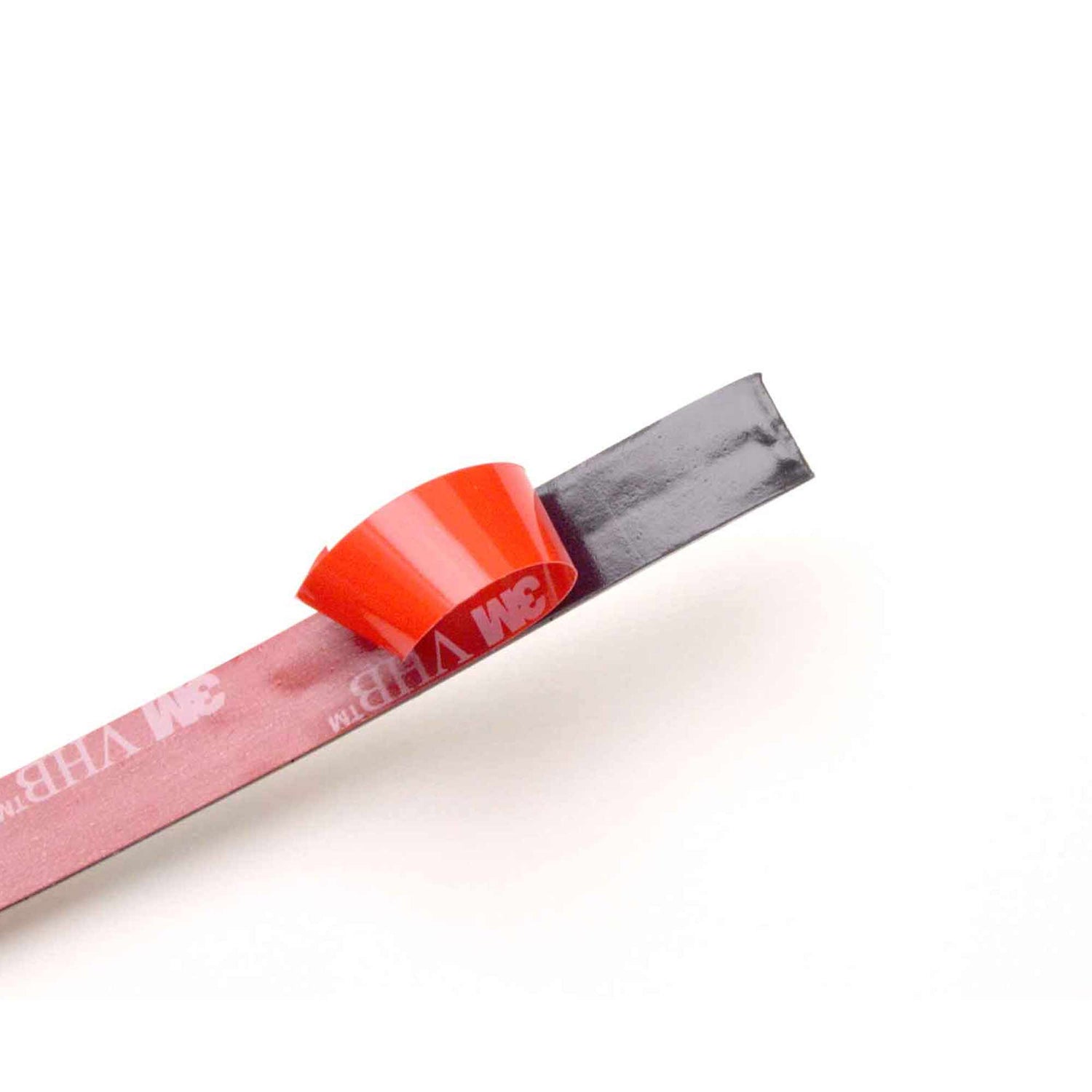 STRONG & SECURE ADHESION
Pre-applied 3M VHB double-sided tape on the back side allows for simple but reliable installation. Peel back the liner and apply to virtually any surface. Architectural-grade adhesive ensures your LED strips stay in place.
FAQ
What is the difference between 5000K (D50) and 6500K (D65)?

While both color options fall under the "daylight" category, 5000K most closely approximates noon sunlight, while 6500K is more similar to north-facing sky.

The difference can also be thought of in terms of relative amounts of "yellow" vs "blue." On a relative basis, 5000K is yellower than 6500K, and 6500K is bluer than 5000K.

Specifically, D50 is a standardized color point (ISO) that is used in color matching and inspection processes. On the other hand, D65 is used for digital arts and are often used to illuminate graphic arts studios.
What type of power supply do I need?

This LED strip product requires a DC 12V power supply to operate. For most residential and commercial installations, this means that the AC 120V (North America) or AC 240V (Europe) needs to be converted via a power supply unit.

When choosing a power supply unit, you must ensure that the output voltage matches the LED strip voltage (i.e. DC 12V or DC 24V), and that the power supply capacity is sufficient to operate the length of LED strip.

The power supply capacity needed is determined by the total length of LED strip connected. Each 1 foot section consumes 4.5 watts of power - so, for example, a 10 foot section will consume 45 watts of power, and we would therefore recommend a minimum power capacity of 45 watts.

Typically, however, it is a good idea not to run a power supply at its maximum capacity. We recommend providing an extra 5-15% of "headroom" above the actual LED strip power consumption.
How do I connect this product to a power supply?

Each reel of LED strip includes DC female plugs pre-mounted on both ends. Simply plug the power supply in, and the LED strip will immediately illuminate.

If using a power supply with wire leads, use an adapter such as PN 7095 to convert the DC plug to wire receptacles.
What is the maximum run length of this product?

The maximum run length is 16.4 ft (one full reel). The maximum run length represents the longest permitted length of LED strip that can be connected as a single consecutive run to a power supply.

If you need to install more than 16.4 ft, you must connect each run separately.
Can I daisy-chain short reels together?

No, unfortunately this product cannot be daisy-chained across multiple reels.
Do these LED strips require heatsinking?

Because the premium LEDs on this product are under-driven below their rated capacity, these LED strips can be operated without any heatsinking or additional thermal management.

Temperature rise of the LED strips is typically 50 degrees Fahrenheit (20 degrees Celsius) over ambient.
excellent customer service
There was an issue with my first order, and customer service was extremely helpful with a prompt replacement. The match to daylight is exactly what I was looking for and far outperforms standard lighting. I really appreciated the wealth of information on the website, but my only disappointment is that there is not an interactive product support option for advice when making a purchase. The lumens calculator predicted much less than what looks I will need for end use of artwork creation in my windowless room, and given the cost to purchase multiple strips from the Absolute series, it would be helpful to hear from a product expert whether "mixing and matching" with the Northlux or Centric Daylight bulbs could work as a more cost-effective option. While the returns/exchange process seems hassle-free, given the shipping time and upfront cost to try out multiple products, I'd prefer to reduce the chance of needing an exchange. Overall though I am very impressed with the Absolute series.
Best indoor lighting I've ever seen.
I believe good lighting is essential to good health. Normally "daylight" lights bother me, but these look genuinely like I'm outdoors.
Thank you for great support
Terrific lights and 3 years running
I purchased these lights for my living room 3 years ago in 2019 and they are still going strong. Beautiful lighting. Highly recommend.
All theirs claims about the products I bought were totally accurate. I've already recommended them to several friends.
Other ABSOLUTE SERIES™ Products
Regular price

$375.00 USD

Regular price

Sale price

$375.00 USD

Unit price

per

Regular price

From $55.00 USD

Regular price

Sale price

From $55.00 USD

Unit price

per