Jump to LED Strip Accessories →
Jump to LED Power & Dimmers →
LED Strip Knowledge Base
New to LED flex strips? Start here with an overview.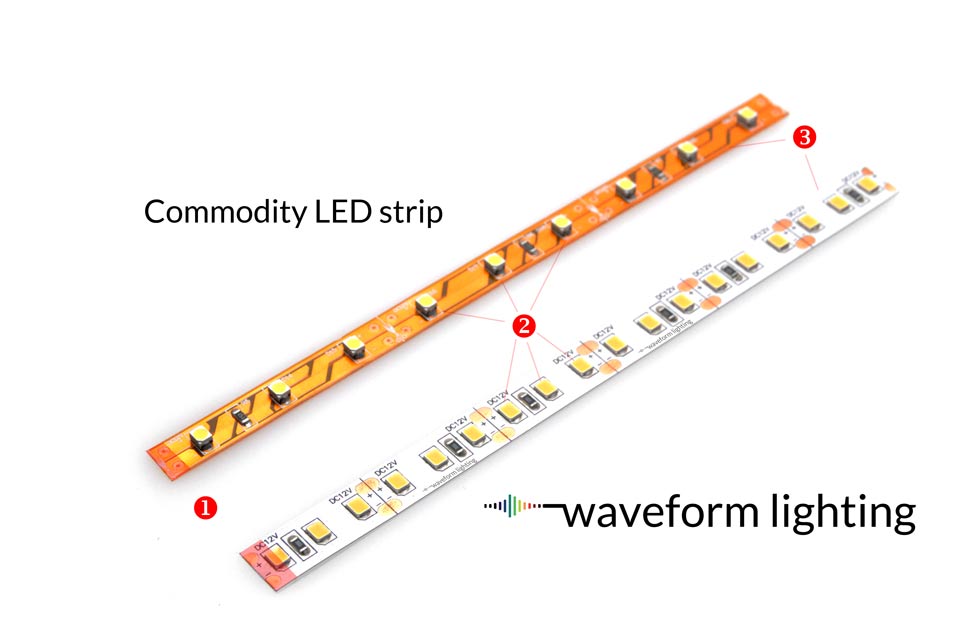 Higher power = higher brightness - Our LED strips run at more than 2x the power of standard LED strips. To accommodate this, we specified a PCB width of 10 mm, compared to 8 mm for competing products. This provides additional circuitry and power capacity necessary for our higher power setting.

  LED quantity & quality - We have specified 120 LEDs per meter rather than the standard 60 LEDs. More LEDs means more brightness. What's more, we only specify the highest quality diodes and phosphor materials to ensure maximum light quality, efficiency, and longevity.

  Superior substrate materials - In order to ensure quality and stability, we added extra copper to our substrate (4 oz). Most competitors will try to cut down on cost and only use 1 oz copper. Additionally, white soldermask is used to ensure high reflectance when used in conjunction with a diffuser.