Regular price
$149.00 USD
Regular price
Sale price
$149.00 USD
Unit price
per
Sale
Sold out
T8 LED tube light that fits into existing 4-ft fluorescent fixtures
Use with existing fluorescent fixtures or our

 

LED-ready fixtures
Features

 

TriplePlay™ technology

 

- works with both ballast and ballast-bypass fixtures
95 CRI, daylight-calibrated color temperature (D50/5000K or D65/6500K) for optimal art studio lighting
18 watt power consumption to replace 32 watt fluorescent lamps
25,000 hour lifetime, backed with a 3-year warranty
Not dimmable
USDA-approved for grain inspection, ETL listed for safety
User Manual
Specification Sheet
5000K Photometric Report
6500K Photometric Report
IES Report
Product Description

When working on graphic arts, consistent lighting conditions are extremely important for accurate color perception.

NorthLux™ products by Waveform Lighting replicate the consistency and quality of light coming in through a north-facing window. With a 95 CRI rating, colors and hues will appear just as they do under natural daylight, giving you the confidence to work on your projects during evening hours or where supplemental lighting is necessary.

NorthLux™ T8 LED tube lights conveniently work in virtually all 4-ft fluorescent lamp fixtures, making installation quick and easy. The lamps' built-in TriplePlay™ technology automatically detects and adjusts to the fixture's wiring configuration, so you don't have to worry about electrical compatibility.
Product Specifications

Color Temperature Options:

CRI (Ra): 95+
CRI R9: 80+
Brightness: 1800 lumens (W eq)
Voltage: 120-240V AC, 50-60 Hz
Power: 18.0 watts
Installation: G13 Medium Bi-Pin
Fixture Compatibility

The NorthLux™ T8 LED tube is designed to directly replace 4-ft T8 fluorescent lamps (F32T8), and can be directly installed into an existing 4-ft fluorescent fixture regardless of its configuration. ReadyWire™ technology ensures that the LED lamp will work with your fixture, with or without the fluorescent ballast, and whether or not it is single or double-ended.

The best way to determine if these lamps will fit and operate in your current fixture is to confirm the specifications of the fluorescent lamp that is currently installed in your fixture.

First, determine the length of the fluorescent lamp that is currently installed. If it is 4-ft (48") in length and has a 1 inch diameter, you have a T8 4-ft fluorescent lamp, which means that our lamp is compatible. You can also look for a model number or designator on the fluorescent tube: if the code F32T8 is printed on the lamp, this is most likely a compatible fluorescent tube specification.

For most customers, we recommend simply swapping out the fluorescent lamp with our T8 LED tube, as this approach provides the easiest method. For further information and instructions on rewiring for ballast bypass, please refer to our install guide / user manual.


Note on Ballast Compatibility: Our T8 lamps are designed to work with almost all T8 fluorescent ballasts. Please see here for a list of ballasts with which we have tested and confirmed compatibility. The T8 LED lamps can also be used without a ballast.

We recommend removing or bypassing T12 fluorescent ballasts for compatibility reasons.
Pricing & Ordering Information

This product is available in packs of 4 lamps or 24 lamps.Please see below for part numbers and corresponding specifications.

PN 4024.50.4P: 5000K, 4-pack
PN 4024.65.4P: 6500K, 4-pack
PN 4024.50.24P: 5000K, 24-pack
PN 4024.65.24P: 6500K, 24-pack

Unfortunately, we are unable to accommodate requests for single or partial quantities (e.g. 2 lamps) due to pre-designed packaging for the product required to protect the lamps during shipping.
Shipping & Returns

This item is in stock and typically ships within 1-3 business days.Shipping is free within the USA for orders over $50.

If you're not 100% satisfied with the performance, color or quality of your product, we'll work with you to make it right.

Simply contact us within 30 calendar days after delivery and we'll pay for return shipping (USA only) and offer you a full refund.

See our delivery policy,returns & refunds policy and warranty policy.
Share
View full details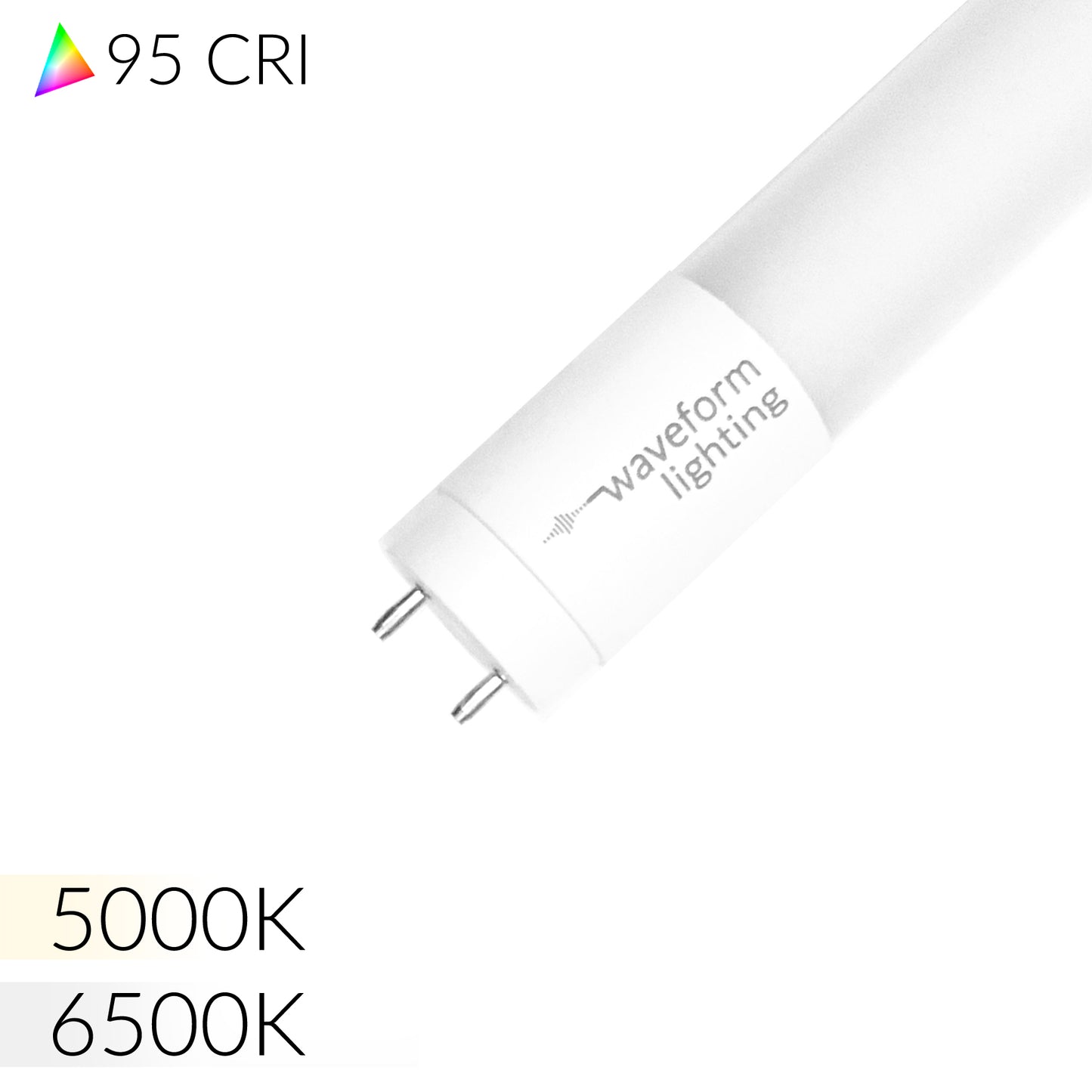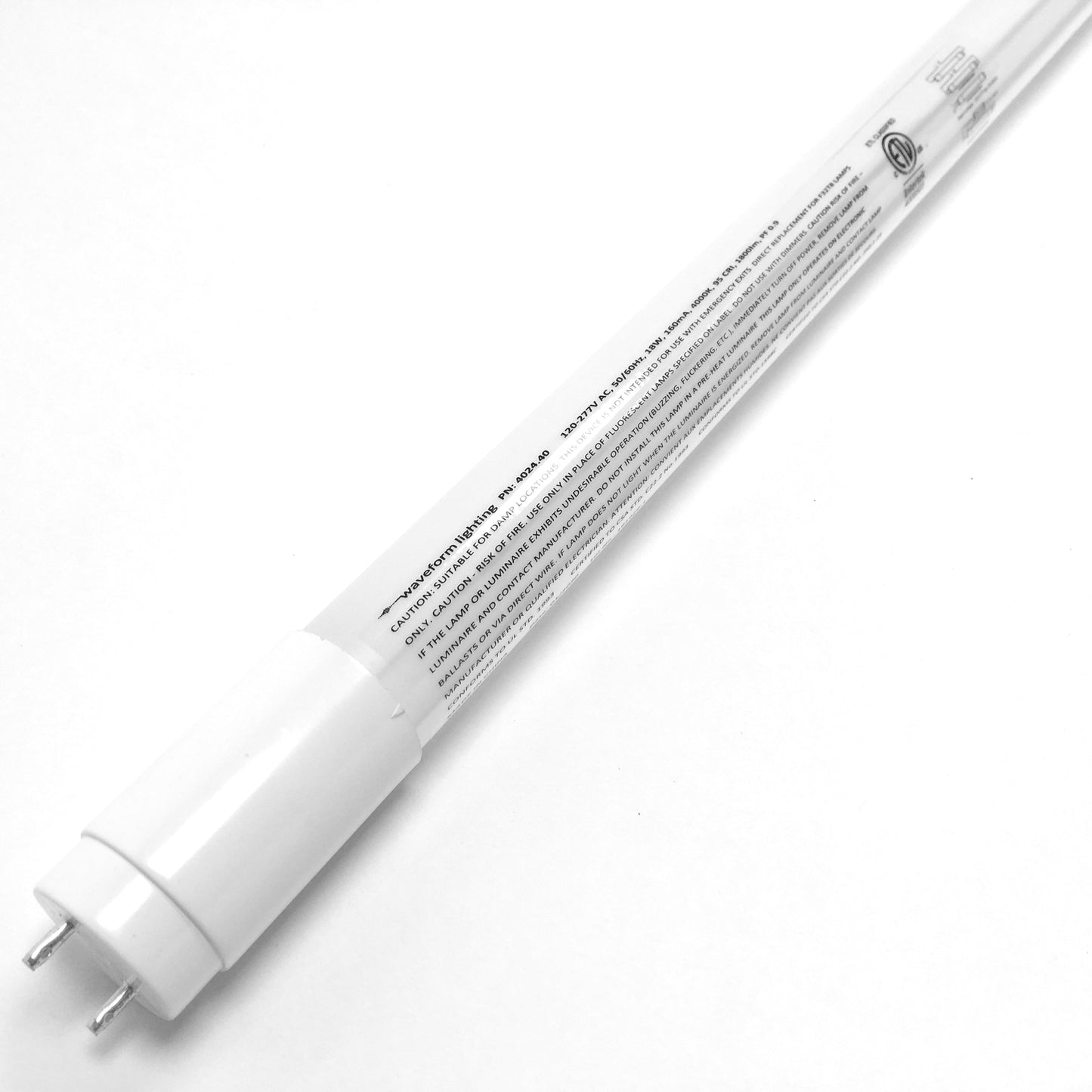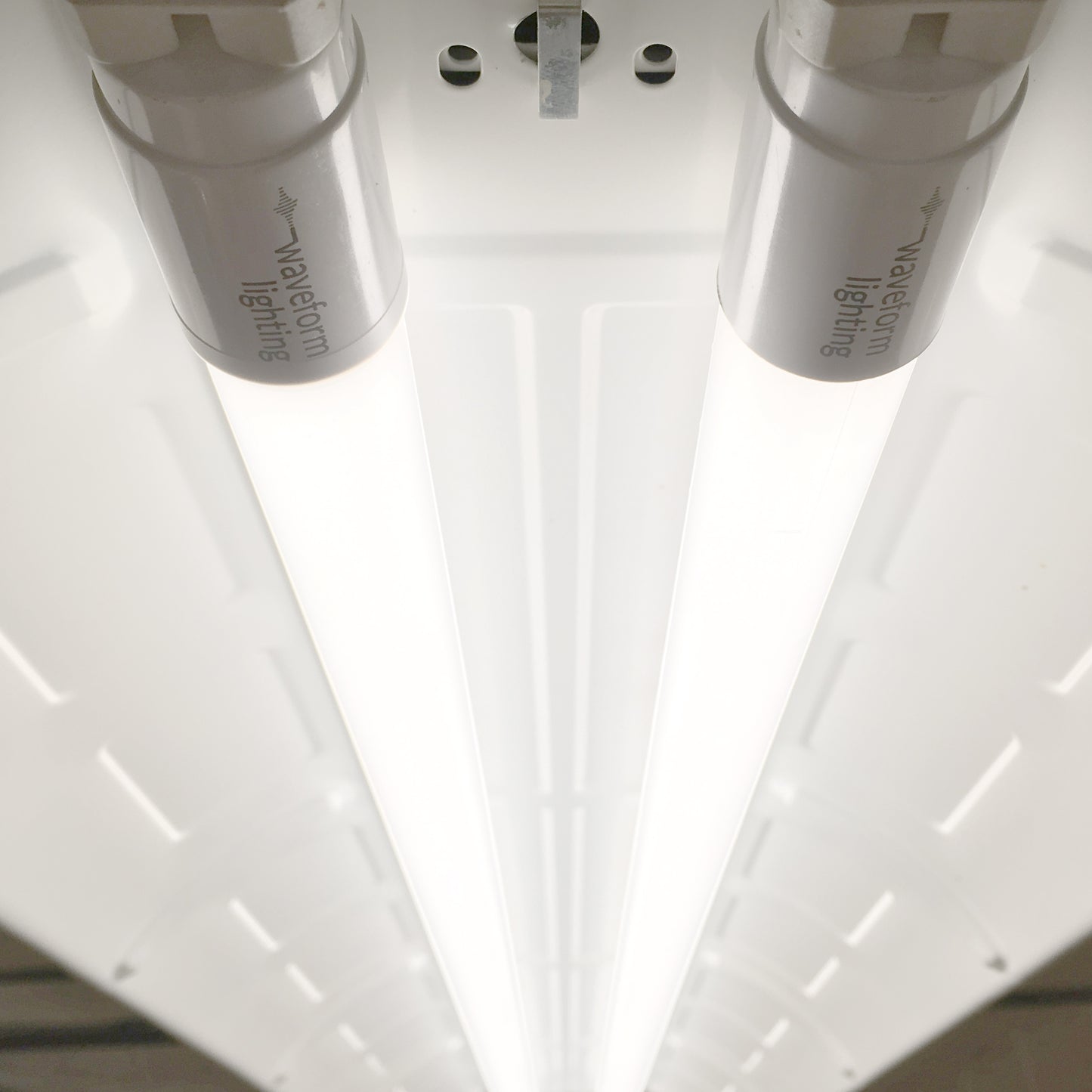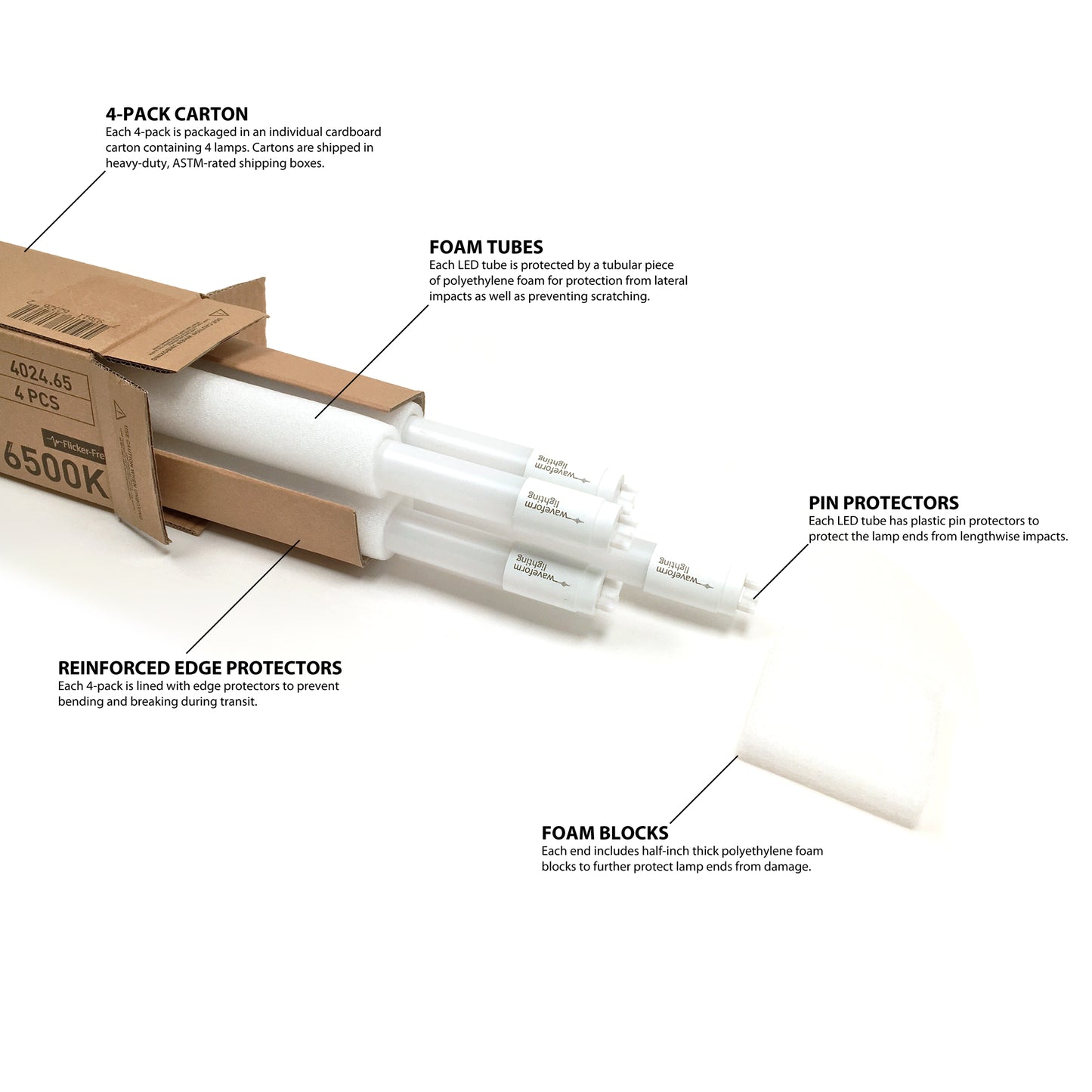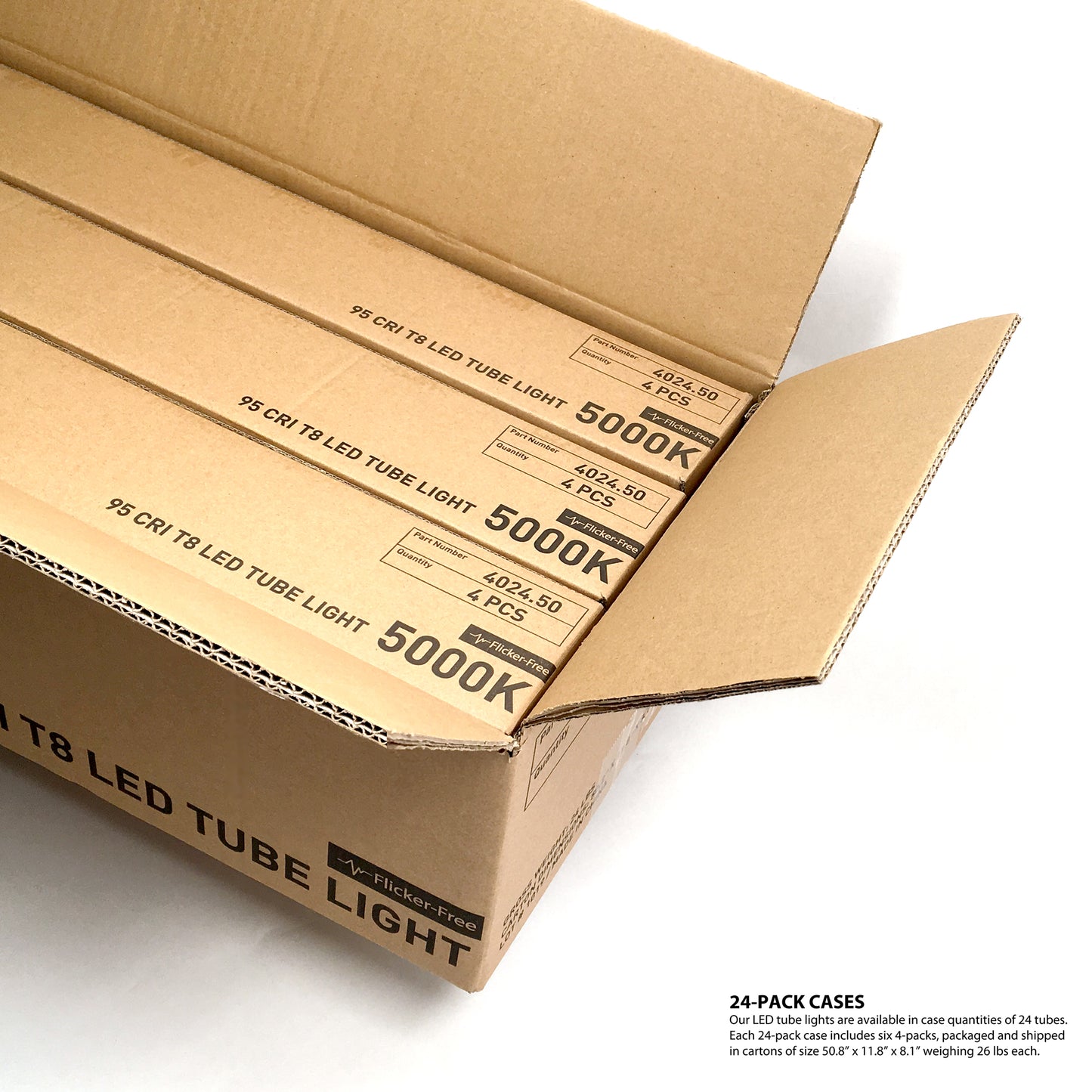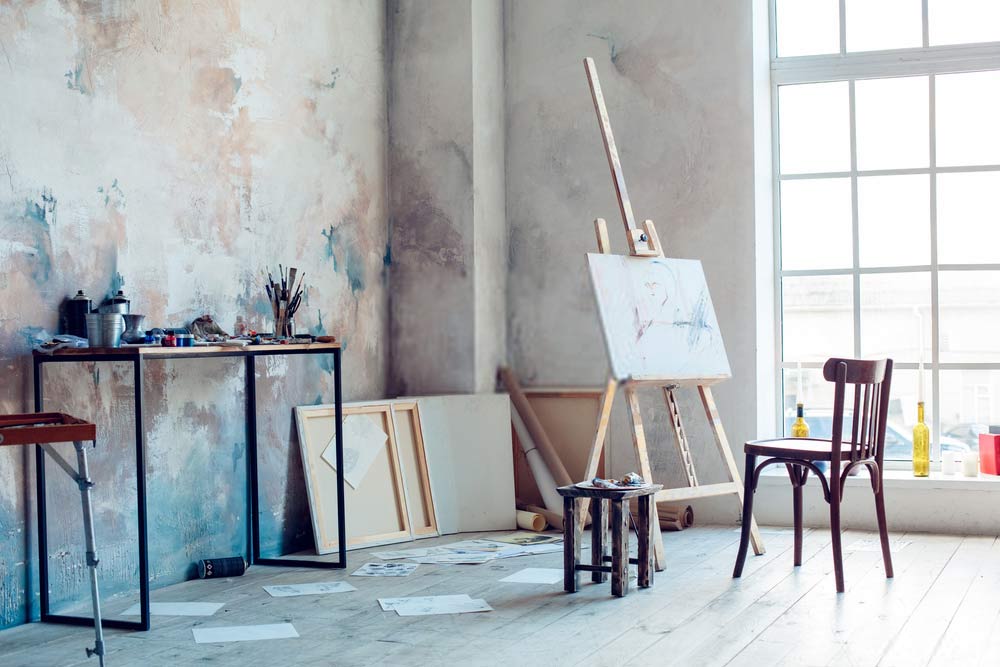 PERFECT & CONSISTENT LIGHTING
Our NorthLux™ products feature 95 CRI and a full daylight spectrum, making their light output virtually indistinguishable from natural daylight.
EASY & VERSATILE INSTALLATION
Our T8 LED tube lights feature ReadyWire™ technology. The lamp automatically detects the fixture's electrical connectivity, regardless of ballast and tombstone configuration.
Learn More
Excellent Lighting
I was looking for an LED bulb with high CRI and daylight color temperature that would drop into my existing fluorescent fixtures. They have worked well so far. I did bypass the existing ballasts in the fixtures, so minor electrical wiring experience is a plus if using these in T12 fixtures.
Good so far
They seem nice, the packaging was sufficient to protect the bulbs during shipping. I have yet to be able to paint with them since my studio is still under construction but I'm very excited to try.
Great Lights
These are great lights! I have installed the Northlux T8 5000k bulbs in part of an art gallery. The color temp, CRI and lumen output is great. I will be ordering more to fill out the rest of the gallery.
Perfect. Just Perfect.
I have an art studio in my home in Florida. For several years I was painting with lower quality, lower CRI lights and had no idea how "off" they were until I purchased the Munsell book of color chips. With my old lights strings of hues would look broken and not in the same family but when I walked outside and looked at the same string in daylight the colors looked correct. I purchased Waveform NorthLux LED tubes for my old T8 figures and they worked perfectly. The strings of color are as they look in outside daylight. I was amazed. These lights are so good I purchased a second set for a cabin in North Carolina where I paint regularly. I cannot recommend these LED lights highly enough. They are worth the price and will last for a very long time.
Wonderful colors
Finally the the colors in my studio are how they should be! So relaxing and refreshing on the eyes! Can't wait to buy more.