Home

<

CENTRIC DAYLIGHT™ 95 CRI LED Shop Light Fixture
Choose Your Daylight
Our CENTRIC DAYLIGHT™ lights are offered in a range of color temperatures. 4000K provides a warmer, softer white that matches the shade of morning sunshine. 5000K has a more balanced, noon sunlight color, while 6500K provides a crisp, high-energy light similar to what you would see from a north-facing window.
All color options provide 95 CRI, full spectrum light that very closely matches natural light.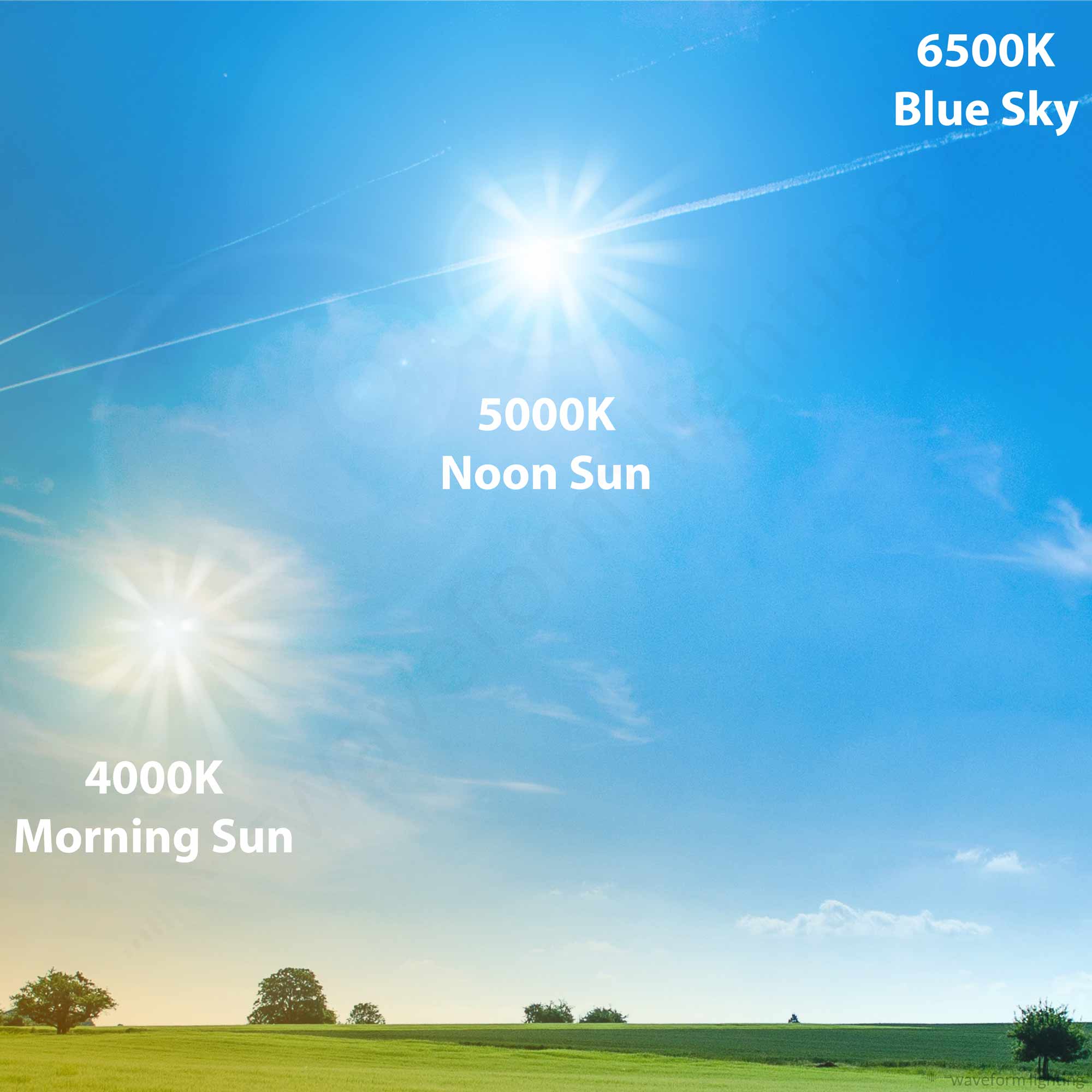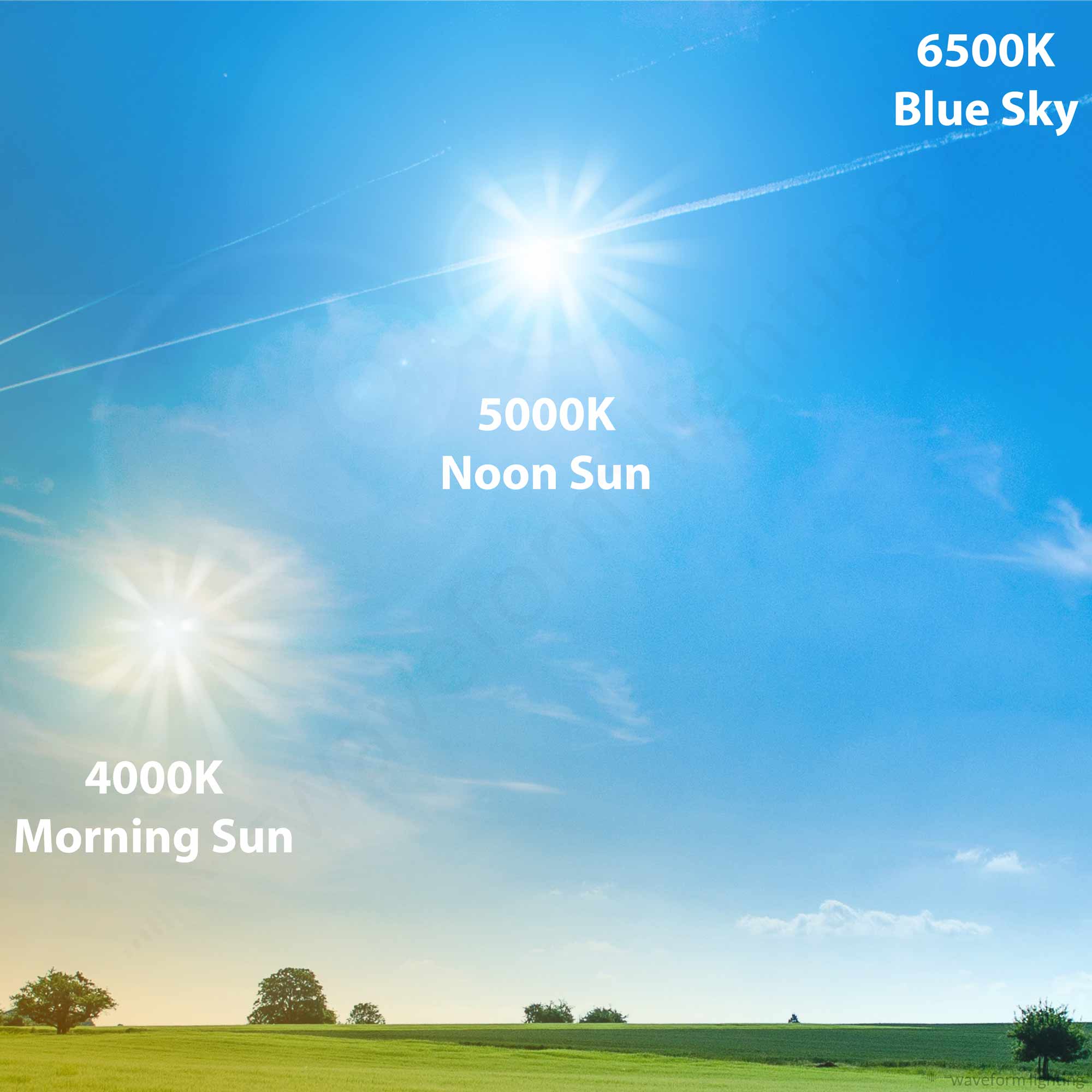 Choose Your Daylight
Our CENTRIC DAYLIGHT™ lights are offered in a range of color temperatures. 4000K provides a warmer, softer white that matches the shade of morning sunshine. 5000K has a more balanced, noon sunlight color, while 6500K provides a crisp, high-energy light similar to what you would see from a north-facing window.
All color options provide 95 CRI, full spectrum light that very closely matches natural light.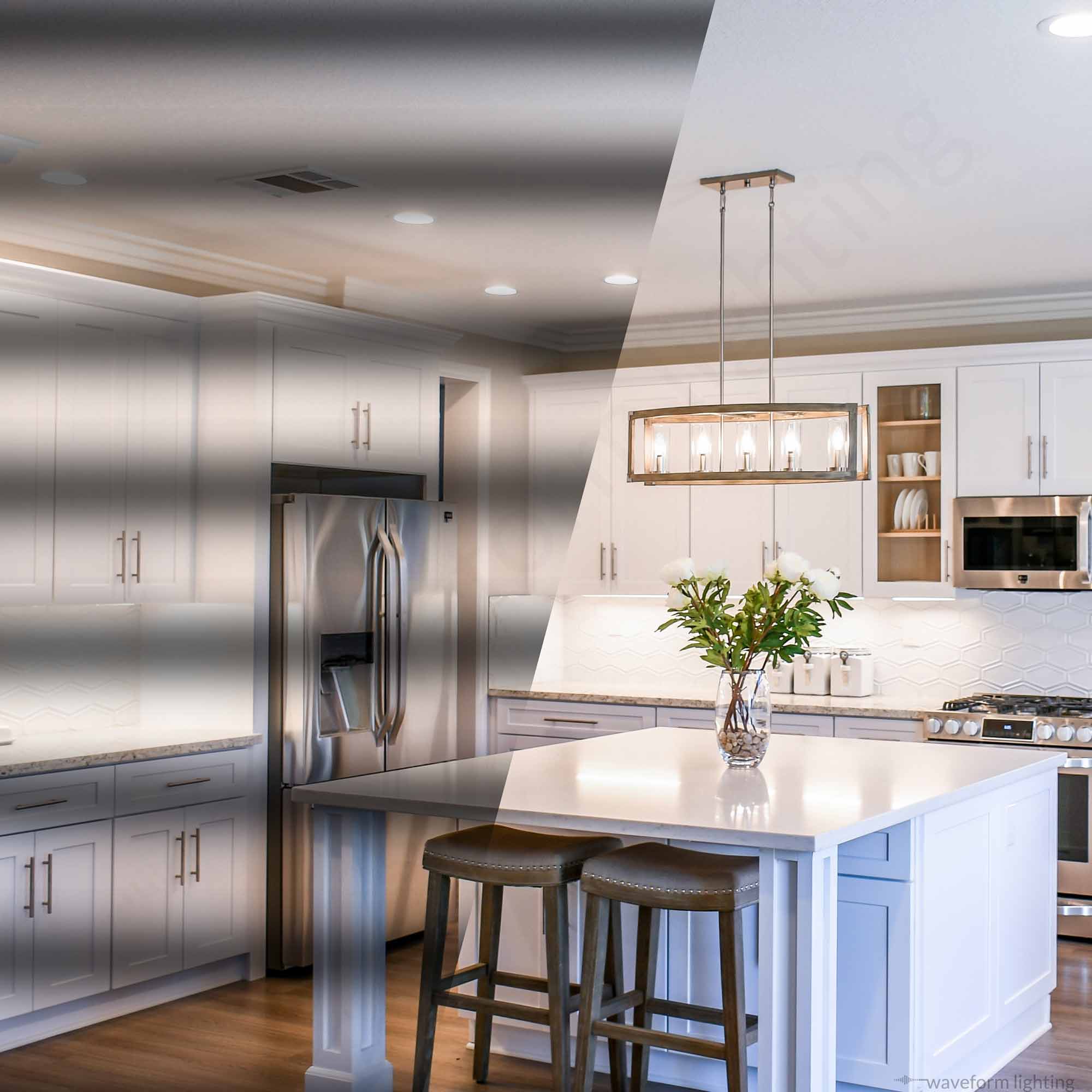 Flicker-Free & Healthy
Some LED lights will produce rapid flicker or pulses that aren't immediately visible to the naked eye, which can cause headaches, nausea and eye strain. Our CENTRIC SERIES™ products include additional electrical circuitry to achieve a truly flicker-free light output that produces a comfortable and stable light level. Learn more about flicker here, or watch our video demonstration below.

Full Spectrum & 95 CRI
CENTRIC DAYLIGHT products offer true full spectrum light, as measured by the Color Rendering Index (CRI) and CRI R9 metrics. With a 95 CRI, 80+ R9 rating, our lamps offer the closest reproduction of natural light in the industry.
Frequently Asked Questions

What is the difference between 4000K, 5000K and 6500K?

These color temperature options correspond to the various shades of natural light. 4000K is similar to the warmer and softer shade of morning sunshine. 5000K approximates the bright sun during mid-day, while 6500K is most similar to the crisp, blue color of the sky.

The choice between these colors is completely up to you! There is no correct answer, and this is a question of preference.

Regardless of your choice, all color options feature 95 CRI and flicker-free light output, which will provide you with all of the benefits of full-spectrum light.

Below are some articles that go into further detail:

Difference Between 5000K and 6500K

4 Things to Consider Before Buying 6500K Bulbs

Still not sure? Take advantage of our 30 day free-returns policy to try out the different colors. If you don't like it, simply let us know and we'll send over a return label.

Do these bulbs emit blue light?

Yes, they do!

You may have read or heard about the concerns regarding the blue light hazard. Excessive blue light exposure during evening hours is certainly a concern, but blue light is an essential and important part of our daily lives, as it is extremely abundant in natural daylight (the blue sky!) and an important signal to our bodies and circadian rhythms.


CENTRIC DAYLIGHT™ lights are the industry's best approximation of natural daylight (95 CRI), and therefore contain similar relative levels of blue light in the spectrum as natural light.

You can think of these lights as mini suns that you can turn on and off at the flip of a switch. If you are concerned about blue light during evening hours and the potential impact on your sleep, we would not recommend using these bulbs at night when the actual sun has already set.

During the daytime, however, these lights are an excellent way to supplement or substitute for natural light.

How many lights should I install in my space?

We generally recommend installing one shop light fixture for every 50 square feet of space. Simply divide the square footage of your space by 50 to get the number of light fixtures needed. For example, a 500 square foot area would require 500 divided by 50, or 10 light fixtures.

While this may seem like a lot of brightness, do keep in mind that daylight color temperatures generally require a higher level of brightness for comfort due to a phenomenon described by the Kruithof curve.

Are these bulbs good for visual arts, scientific or industrial applications?

These lights are a great fit for many applications that require a simulation of natural daylight.

For technical or visual arts applications that depend on visual assessment and a closer adherence to international standards such as D50 and D65, we recommend our NorthLux™ Series A19 LED lamps.

Are these lights dimmable?

Unfortunately, these lights are not dimmable. This means that they cannot be used on any electrical circuit which has a dimmer installed, even if you keep the dimmer at the maximum setting at all times.

Do these lights emit any UV radiation?

These lights do not emit any ultraviolet radiation. The light output covers the entire visible spectrum between 420 nanometers and 800 nanometers, but does not go below (UV-A) or above (infrared).

Do I need a separate light fixture for this product?

These LED shop light fixtures do not require any other housing or light fixtures for use. Simply mount them using the included hanging chains, and plug the fixture into a standard wall outlet. No separate lamps are required.

 

What is the voltage range of these lights? Can they be used overseas?

 

The voltage range of this product is AC 120V and 60 Hz. As such, they

cannot

be used in most countries outside of North America, Japan or Taiwan.
Beautiful and useful light comes from these fixtures.
We are very happy with these lights and give them full stars. That said, they could use an aesthetic overhaul, and offer a frosted cover. Further, for those who intend to install them permanently to switched power supplies, plug ends and pull chain switches should be optional. In comparison to other LED lighting, these well exceed in light color quality, and I highly recommend for those needing full spectrum. These are newly installed, and the studio is still being completed. My photos show how well they work with natural light also coming in, and how the feel is at the workbench top about 16 feet below the fixtures.
Works great without giving migraines
These lights work great on my back porch. They light these fixtures produce …
Is beautiful.
Makes colors vibrant.
Wakes people up (keep the party going).
Makes food look good.
Does NOT trigger migraines in an individual very sensitive to flicker.
Aids in safely do dangerous tasks that require focus because the the light is stable and comfortable,
Installation was easy since they are light,
Daisy chain feature makes them easy to use because I can control both with a single smart plug.
As a migraine sufferer in a state that is forcing the transition to LED lights, having a source for truly flicker free lighting is a huge deal.
Game Changer for Gloomy Skies
I've lived many years in higher latitudes, grey skies and only a few months of summer a year. These shop lights have completely changed the game for my mood and productivity. Having one of these over my home office is practically like having the sun shining overhead. Do not discount the importance of having luminous, sun-like light in your home when it comes to your body and resulting mood.
Best shop lights I've found
These lights are installed in a basement with virtually no outside light source, and where a high CRI was needed. The CRI is superb and the 4000K color temperature is ideal for this residential application. I've used quite a number of supposedly "high CRI" lights over the years. These lights are easily the best so far, and exactly as described. They were easy to install, and every unit of 12 that I've bought arrived in good condition and has worked flawlessly since installation.
Great quality lights but fixture design is limiting...
To be fair to Waveform, I didn't do a good enough job making sure these lights were what I needed before I bought them. I wanted to have some ceiling mounted lights for my new garage and have them hardwired to a light switch on the wall. I bought these without realizing that the way these fixtures are built, they have to be hung on hooks, they have to be plugged into an outlet (wall or daisy chained, using available outlet on fixture) and they have a pull chain to turn them on. There's no way of mounting the fixture directly on the ceiling and there are no electrical knock-outs to reroute the power cord to come out the top instead of the side.
All that being said, Waveform has been great to work with. I returned these and will be getting some of their T8 LED Tubes to use in some conventional fixtures that fit my application.
Specs are Legit!
Two thumbs up on our testing! Our Sekonic color meter gave it 4040K temperature with 97CRI and 1570lux at about 1 meter. I accidentally ordered 4000K, but will be swapping to 5000K. Ordering two six packs now. My only wish is these fixtures allowed for direct bolting rather than only hanging from chains.
Do not buy for plants/starting seeds
I bought 3 of these horticulture LED grow lights recently for this growing season and they did not work well at all. Last year I got better results placing plants in an aast facing window where they only got morning sun. If the lights were placed too close to the plants they burn (which was about 2 feet) and too far (3 feet) the plants are splindy and weak. Expensive grow light that has pictures of strong and healthy plants but not the case in reality. Not worth the money. Return policy is 30 days, which is good for this company, bad for the customer because you can't grow plants from seeds within 30 days. They need to change it to at least 60 days, preferably 90.
Workshop Lighting
Purchased one of the 5000K fixtures to try out in a workshop over the main workbench. Replaced an LED fixture purchased from a local big-box store. Light quality is much, much better due to being flicker-free. Noticeable difference in the "feel" of the light as compared to the cheap LED fixtures which can very annoying after a few hours. Will be purchasing several more to use in the main work areas. Fixture shipped quickly and packaging was excellent. Thanks for a great product!
My room became more colorful
I got the CENTRIC DAYLIGHT 6500K for my plants. Everything around the light looks more colorful than before. I really enjoy the quality of the light.
Artist application over drafting/watercolor table
I purchased the CENTRIC DAYLIGHT™ 95 CRI T5 LED Linear Light Fixture 5000K shop light for placement over my drafting table/watercolor painting area. I'm very satisfied with it in that it is the very best thing besides natural daylight. I was going to install a skylight but found this item instead.
The only thing I would change is to add a lense option to your selection. It is quite bright and I found myself wearing a visor hat to block the harsh effect. I then created a diffused piece of plexiglass and covered the fixture and solved the issue.
I used a lux meter to measure the fixture and have a reading of 2300+ with the unit hung approximately 22 inches above the table surface. My eyes are not the least fatigued at the end of a long day working with this fixture. So very happy with it and will be purchasing more for the parts of my studio.